The Seven Flags of the New Orleans Tri-Centennial
George Ross
Signer of the Declaration of Independence
GEORGE ROSS was born in May 10, 1730 in New Castle, Delaware. He studied law and established a practice in Lancaster, Pennsylvania. The son of a clergyman, young George, while still in his teens, read for the law in his brother John's office and was admitted to the bar when he was twenty years old. He soon established a successful law practice in Lancaster, Pennsylvania and married a lovely Scotts-Irish girl who was one of his first clients. 
Ross shied away from politics until at the age of thirty-eight he won a seat in the provincial assembly, where he served for seven years. In the Pennsylvania general assembly, Ross represented the county of Lancaster and was appointed to assist in forming rules of order for the convention, and for defining and settling what should be considered high treason and misprision of treason against the state, and the punishment which should be inflicted for those offenses. He was appointed by the convention that assembled, after the dissolution of the proprietary government, to prepare a declaration of rights. In 1774, he was elected to the First Continental Congress, being then loyal to Britain in his sympathies and opinions. He turned to the Patriot side in 1775, and for that reason he was removed from the Pennsylvania delegation. He was extremely popular in the Pennsylvania constitutional convention, suggested by the fact that only Ben Franklin got a larger vote than Ross in the balloting. It was the Pennsylvania constitutional convention that returned Ross to congress. Although too late to vote for independence, he was in time to sign the Declaration, which he did in a bold, underscored signature.
In June 1777, George Ross, in failing health, resigned his seat. In April 1779 he was appointed judge of the court of admiralty for the state of Pennsylvania, which post he filled until he died three months later. On July 14, 1779, at the age of forty-nine George Ross died from a violent attack of gout. On his deathbed, Ross said that he was sure he was going to a place where "there were most excellent wines" -- an indicator that he truly enjoyed good living.
Autograph document signed "Geo. Ross," dated "January Ten 1750." A response to a summons for Nathaniel Simpson of Cumberland County, Pennsylvania to appear regarding money owed to Jacob Snevley. George Ross as attorney for Nathaniel Simpson. One page measuring 7 ½ x 12 ½ inches.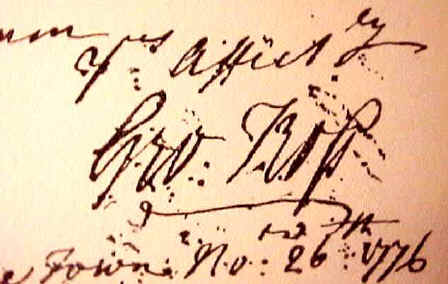 Source: Centennial Book of Signers
For a High-resolution version of the Stone Engraving


For a High-resolution version of the Original Declaration of Independence
We invite you to read a transcription of the complete text of the Declaration as presented by the National Archives.
&
The article "The Declaration of Independence: A History," which provides a detailed account of the Declaration, from its drafting through its preservation today at the National Archives.
Virtualology welcomes the addition of web pages with historical documents and/or scholarly papers on this subject. To submit a web link to this page CLICK HERE. Please be sure to include the above name, your name, address, and any information you deem appropriate with your submission.
National Archives and Records Administration
Control Number
NRFF-75-53A-54723
Media
Textual records
Descr. Level
Item
Record Group
75
Series
53A
Item
54723
Title
Enrollment for George Ross
Sample Record(s)
(larger access file - 161315 bytes)
Creating Org.
Bureau of Indian Affairs. Commissioner to the Five Civilized Tribes.
Scope & Content
Tribe: Cherokee
Type: Parent
Age: Not Reported
Sex: Male
Degree of Indian Blood: Not Reported
Census Card Number: D668
Post Office: Not Reported
Roll Number: Not Reported
See Also
Series Description: Dawes Rolls
Personal Ref.
Ross, George
Items
1 item(s)
Contact
NARA's Southwest Region (Fort Worth, TX) (NRFF), Building 1, Dock 1, 501 West Felix Street, Fort Worth, TX 76115 PHONE: 817-334-5525 FAX: 817-334-5621

The Congressional Evolution of the United States Henry Middleton
Unauthorized Site: This site and its contents are not affiliated, connected, associated with or authorized by the individual, family, friends, or trademarked entities utilizing any part or the subject's entire name. Any official or affiliated sites that are related to this subject will be hyper linked below upon submission and Evisum, Inc. review.
Copyright© 2000 by Evisum Inc.TM. All rights reserved.
Evisum Inc.TM Privacy Policy