The Seven Flags of the New Orleans Tri-Centennial
George Wythe
Signer of the Declaration of Independence
GEORGE WYTHE  was born in 1726 near Yorktown, Virginia. His father was a wealthy plantation owner and he grew up in luxury and comfort. When he reached the proper age he was placed in school but the knowledge that he obtained was very limited and superficial. Fortunately for young Wythe, his mother possessed unusual intelligence and she supplemented his early education. By her assistance, the powers of his mind, which were originally strong and active, rapidly unfolded. He became well versed in the Latin and Greek languages, and made commendable achievements in several of the sciences. 
The uncontrolled possession of a large fortune caused young Wythe to indulge in the extravagant amusements and pleasures that his wealth made easily obtainable. Losing his parents at such a rebellious age, he was deprived of their example and guidance and his literary pursuits were almost entirely neglected.  In 1748, upon the death of his wife, the former Ann Lewis to whom he was married for about a year, Wythe moved to Williamsburg where, at the age of twenty-six, he became a member of the Virginia House of Burgesses. At the age of thirty, the principles that had been instilled into his mind by his parents asserted power over his indulgences and he reformed himself. He abandoned his youthful follies and applied himself with unrelenting diligence to his studies. 
Wythe studied law under John Lewis, an eminent lawyer and quickly rose to the fore front of the Virginia bar. In 1755, he married Elizabeth Taliaferro, whose father had built a dignified house on the Palace Green that they occupied for many years before it became legally theirs at his death. He continued to expand his flourishing law practice and was already a leader in the Virginia bar when Thomas Jefferson came to Williamsburg to study law under his tutorage. 
Wythe continued to exert all his influence in favor of the independence of the colonies. He loathed the Stamp Act is credited with writing "Resolutions of Remonstrance" which was the strongest protest sanctioned by the Virginia legislature. In 1775, he was elected to the Virginia provincial congress and in August, was appointed a delegate of the Continental congress. He openly supported Richard Henry Lee's fight for independence and he signed the Declaration of Independence on August 27, 1776. 
In 1777, Wythe was elected speaker of the House of Delegates, and during the same year was appointed judge of the high court of chancery of Virginia. On the reorganization of the court, he was appointed sole chancellor, a station that he filled, with great ability, for more than twenty years.  
During the Revolution Wythe's wealth suffered greatly. His devotion to public service left him little opportunity to attend to his private affairs. Due to the dishonesty of his superintendent, he lost most of his slaves who were placed in the hands of the British. But by cost-cutting and careful management Wythe was able to payoff his debts and preserve his financial independence by combining what was left of his estate with his salary as chancellor. In 1779, he accepted the professorship of law in the College of William and Mary.  Wythe thus became the first professor of law in an American institution of higher learning. He held this position until 1790, and in later years when his judicial duties caused him to reside in Richmond, he had a law school there. Of his eminent law students, Jefferson worked with him longest, John Marshall and Henry Clay studied with him briefly.
Late in his life, Wythe freed all his slaves and provided them a means of support until they were able to support themselves. In his eighty-first year, while still fulfilling his duties as chancellor and full of vitality, he was poisoned. The death of this learned, liberal and respected man was believed to have been caused by his grandnephew, George Wythe Sweeny, the chief beneficiary of his will. Wythe apparently drank some coffee that had been laced with arsenic. Although Sweeny was tried for his crime, he was acquitted.     
Wythe died on June 8, 1806 in Richmond, Virginia, leaving all of his books to his friend, President Jefferson.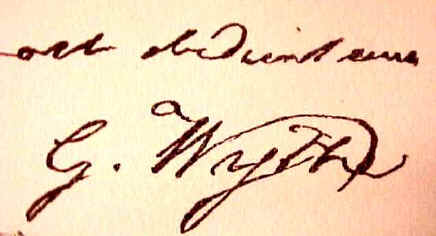 Source: Centennial Book of Signers
For a High-resolution version of the Stone Engraving


For a High-resolution version of the Original Declaration of Independence
We invite you to read a transcription of the complete text of the Declaration as presented by the National Archives.
&
The article "The Declaration of Independence: A History," which provides a detailed account of the Declaration, from its drafting through its preservation today at the National Archives.
Virtualology welcomes the addition of web pages with historical documents and/or scholarly papers on this subject. To submit a web link to this page CLICK HERE. Please be sure to include the above name, your name, address, and any information you deem appropriate with your submission.
Click Here to return to Rebels with of Vision

The Congressional Evolution of the United States Henry Middleton
Unauthorized Site: This site and its contents are not affiliated, connected, associated with or authorized by the individual, family, friends, or trademarked entities utilizing any part or the subject's entire name. Any official or affiliated sites that are related to this subject will be hyper linked below upon submission and Evisum, Inc. review.
Copyright© 2000 by Evisum Inc.TM. All rights reserved.
Evisum Inc.TM Privacy Policy