Appleton's Cyclopedia of American Biography, edited by James Grant Wilson, John Fiske and Stanley L. Klos. Six volumes, New York: D. Appleton and Company, 1887-1889 and 1999. Virtualology.com warns that these 19th Century biographies contain errors and bias. We rely on volunteers to edit the historic biographies on a continual basis. If you would like to edit this biography please submit a rewritten biography in text form . If acceptable, the new biography will be published above the 19th Century Appleton's Cyclopedia Biography citing the volunteer editor
Virtual American Biographies
Over 30,000 personalities with thousands of 19th Century illustrations, signatures, and exceptional life stories. Virtualology.com welcomes editing and additions to the biographies. To become this site's editor or a contributor Click Here or e-mail Virtualology here.
A
B
C
D
E
F
G
H
I
J
K
L
M
N
O
P
Q
R
S
T
U
V
W
X
Y
Z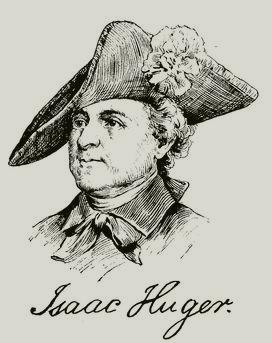 Click on an image to view full-sized
Daniel Huger
HUGER, Daniel (u'-gee), refugee, born in Loudun, France, 1 April, 1651; died near Santee river, South Carolina, 24 December, 1711. His father, John Huger, was a notary. Before the revocation of the edict of Nantes he fled from France, and eventually settled in South Carolina, where he had a grant of land.--His grandson, Daniel, patriot, born on Limerick Plantation, on Cooper river, South Carolina, 20 February, 1741; died in Charleston, South Carolina, 1 July, 1799, was educated in Europe. He was a delegate to the Continental congress from 1786 till 1788, and a representative to the first congress, serving from 1789 till 1793. --The second Daniel's brother, Isaac, soldier, born on Limerick Plantation, South Carolina, 19 March, 1742; died 17 October, 1797, after receiving an education in Europe, was commissioned lieutenant in a battalion raised by the colony, and commanded by Col. Thomas Middleton, for service against the Cherokee Indians in 1760. At the beginning of the Revolutionary war he was made lieutenant-colonel of the 1st regiment, and in 1776 was promoted to the colonelcy of the 5th regiment, South Carolina continental line. He was commissioned a brigadier-general in the United States army, 9 January, 1779, and participated in every battle of consequence fought by the southern army. He opposed the invasion of Georgia by General Archibald Campbell, commanded the left wing at the battle of Stono, 20 June, 1779, and was wounded while leading his men. He also led the Georgia and South Carolina militia in the unsuccessful attack on Savannah, and during the siege of Charleston was employed with a body of light troops to cut off supplies from the enemy and keep open communication between the town and country" but his force was defeated and dispersed by Tarleton and Webster at Monk's Corner, South Carolina He joined the army of General Greene, and commanded the Virginians at the battle of Guilford Court House, where he was severely wounded. At Hobkirk's Hill he commanded the right wing of the army. On the restoration of peace he was made vice president, and Major-General Moultrie president, of the Society of the Cincinnati of the state of South Carolina.--Another brother, John, patriot, born on Limerick Plantation, South Carolina, 5 June, 1744; died in Charleston, South Carolina, 22 January, 1804, completed his education in Europe. He was a member of the commons house of assembly, and in 1775 of the provincial congress, and, with his brothers Daniel, Benjamin, and Isaac, took an active part in the revolutionary movement of South Carolina. He was a member of the council of safety which assumed the sovereign control of the province until the adoption of its first state constitution. In 1792 he was intendent of Charleston, and continued at intervals in the service of his state and city until his death. He was secretary of South Carolina for a number of years. He was also a large and successful rice-planter.--Another brother, Francis, soldier, born 19 June, 1751; died 18 August, 1811, was educated in Europe. He was commissioned captain in the 2d South Carolina regiment, of which William Moultrie was colonel, and took part in the defence of Fort Moultrie against the fleet under Sir Peter Parker, 28 June, 1776. Soon afterward he was promoted lieutenant-colonel and made deputy quartermaster to General Mifflin, for the southern department, which post he resigned in 1778. Subsequently he resided on his plantation, "Midway," on Cooper river.--Another brother, Benjamin, patriot, born on Limerick Plantation, South Carolina, 30 'Dec., 1746; died in Charleston, South Carolina, 11 May, 1779, was a member of the house of assembly and of the provincial congress, and took a prominent part in the revolutionary movement in South Carolina. On 25 February, 1776, he was made major of the 1st regiment of riflemen, afterward known as the 5th South Carolina regiment on the continental establishment, and had become known as a capable and promising officer, when his career was suddenly ended by the fire from the lines of Charleston as he returned from reconnoitring the position of the British under General Prevost, then before the town. --Daniel's son, Daniel Elliott, jurist, born in South Carolina, 28 June, 1779; died on Sullivan's island, South Carolina, 21 August, 1854, was graduated at Princeton in 1798, studied law, was admitted to the bar in 1811, and began practice in Charleston. He became a judge in 1819, presided over various courts, and for nearly fifty years was identified with the public service of his State. He was a member successively of both houses of the legislature, and was elected United States senator as a state-rights Democrat, in place of John C. Calhoun, serving from 1843 till 1845, when he resigned. When the Federal party, of which he was a member, opposed the war of 1812, he refused to continue with them. During the nullification excitement in 1832 he was one of the small minority of Union men.--John's son, Alfred, statesman, born in Charleston, South Carolina, 1 November, 1788; died there, 14 May, 1872, was educated at Princeton, and on his return to Charleston studied law, which he soon abandoned to take charge of his plantation on Cooper river. He was a member of the state senate for ten years, and was conspicuous for his loyalty to the Federal government during the nullification agitation. In the convention of 1832 he was, with his friend and cousin Judge Huger, of the small minority that voted against that action. His powerful speech in the senate in opposition to resolutions denouncing President Jackson's course led to a request from a large body of his constituents for his resignation, which he declined, denying their right to "instruct" him. He was appointed postmaster of Charleston by President Jackson, which office he declined, being unwilling to depose Thomas W. Bacot, who had been placed there by General Washington. But when Bacot died Mr. Huger was reappointed, and held the office from 19 December, 1834, till the close of the civil war. He was again offered this post by President Johnson, but was unwilling to take the" iron-clad oath." He was ruined by the war, and in his old age was sent to the convention of 1866, which was his last appearance in public life. He was a finished orator, and in impromptu address had no superior.--Benjamin's son, Francis Kinloch, patriot, born in Charleston, South Carolina, in September, 1773; died there, 14 February, 1855, was sent to England for his education, and studied under the celebrated Dr. John Hunter. He became a surgeon, and in 1794 was for a short time attached to the medical staff of the English army, then in Flanders. Thence he went to Vienna, where his family associations with the Marquis de Lafayette induced him to join in an attempt to liberate General Lafayette from the Austrian fortress of Olmutz. The rescue was successful, though Lafayette was recaptured near the frontier. Mr. Huger, having given up the horse to his companion, Dr. Eric Bollmann, was arrested near the spot and taken to Olmutz, where he was harshly treated. After an imprisonment of nearly eight months, he was released in 1798, and sent across the frontier. He then returned to America, and was soon afterward commissioned a captain in the United States army. In 1811 he married a daughter of General Thomas Pinckney. At the beginning of the war of 1812 he was made a lieutenant-colonel in the 2d artillery, and placed on the staff of General Pinckney. On 6 April, 1813, he became adjutant-general with the rank of colonel. Subsequently he served in the state legislature.--John's grandson, Thomas Bee, born in Charleston, South Carolina, 12 July, 1820; died in New Orleans, Louisiana, 10 May, 1862, entered the United States navy as a midshipman, July, 1835. During the Mexican war he was at the siege of Vera Cruz, serving with the land forces. On the secession of South Carolina he resigned his commission and returned home. During the bombardment of Fort Sumter he commanded a battery on Morris island. As lieutenant-commander in the Confederate navy, he fought his vessel, the " McCrae," a converted merchant steamer, when the National fleet under Farragut forced its way up to New Orleans, where he fell mortally wounded, 24 April, 1862. He married Miss Mariamne Meade. a sister of General George G. Meade of the United States army.--Francis Kinloch's son, Benjamin, soldier, born in Charleston, South Carolina, in 1806; died there, 7 December, 1877, was graduated at the United States military academy in 1825, and brevetted 2d lieutenant in the 3d artillery. He served on topographical duty till 1828, when he went to Europe on leave of absence. He became a captain of ordnance, 30 May, 1832, and was in command of Port Monroe arsenal, Virginia, from 1832 till 1839. From 1839 till 1846 he was a member of the ordnance board, and in 1840-'1 of a military commission on professional duty in Europe, and he was again in command of Fort Monroe arsenal from 1841 till 1846. In 1847-'8 he was chief of ordnance in the army under General Winfield Scott in the war with Mexico, having charge of the siege-train at Vera Cruz, and was brevetted major for gallantry, 29 March, 1847. He was brevetted lieutenant-colonel at Molino del Rey, 8 September, 1847, and colonel at Chapultepec, 13 September, 1847. In 1852 South Carolina presented him with a sword of honor for meritorious conduct and gallantry in the war with Mexico. From 1848 till 1851 he again held command of the Fort Monroe arsenal, and from 1849 till 1851 was a member of a board to devise "a complete system of instruction for siege, garrison, sea coast, and mountain artillery," adopted, 20 May, 1851, for the United States service. In 1851-'4 he commanded the armory at Harper's Ferry, Virginia He became major on 15 February, 1855, and was stationed at Pikesville arsenal, Maryland, in 1854-'60, and the Charleston arsenal, South Carolina, in 1860. On 22 April, 1861, he resigned, and was made a brigadier-General in the Confederate army. He commanded, with the rank of major-general, at Norfolk, before its occupation by the National forces, 10 May, 1862, and subsequently led a division in the seven days' fight in front of Richmond. He was relieved from command of his division in consequence of his failure to cut off McClellan's retreat after the battle of Malvern Hill, 1 July, 1862. He was assigned to duty in the ordnance department in the trans-Mississippi, where he continued until the end of the war. He then became a farmer in Virginia.
Edited Appletons Encyclopedia, Copyright © 2001 VirtualologyTM

Unauthorized Site: This site and its contents are not affiliated, connected, associated with or authorized by the individual, family, friends, or trademarked entities utilizing any part or the subject's entire name. Any official or affiliated sites that are related to this subject will be hyper linked below upon submission and Evisum, Inc. review.
Copyright© 2000 by Evisum Inc.TM. All rights reserved.
Evisum Inc.TM Privacy Policy