Appleton's Cyclopedia of American Biography, edited by James Grant Wilson, John Fiske and Stanley L. Klos. Six volumes, New York: D. Appleton and Company, 1887-1889 and 1999. Virtualology.com warns that these 19th Century biographies contain errors and bias. We rely on volunteers to edit the historic biographies on a continual basis. If you would like to edit this biography please submit a rewritten biography in text form . If acceptable, the new biography will be published above the 19th Century Appleton's Cyclopedia Biography citing the volunteer editor
Virtual American Biographies
Over 30,000 personalities with thousands of 19th Century illustrations, signatures, and exceptional life stories. Virtualology.com welcomes editing and additions to the biographies. To become this site's editor or a contributor Click Here or e-mail Virtualology here.
A
B
C
D
E
F
G
H
I
J
K
L
M
N
O
P
Q
R
S
T
U
V
W
X
Y
Z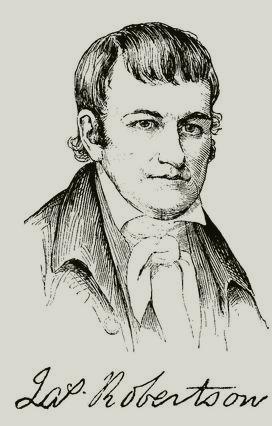 Click on an image to view full-sized
James Robertson
ROBERTSON, James, royal governor of New York, born in Fifeshire, Scotland, about 1710; died in England, 4 March, 1788. He was in his youth a private and then a sergeant in the British army, and in 1740, at Cartagena, New Granada, gained an ensigncy. He came to the American colonies in 1756 as major of the royal American troops that were raised at that time, was deputy quartermaster under General Abercrombie in 1758, becoming lieutenant-colonel on 8 July, accompanied Lord Amherst to Lake Champlain in 1759, and took part in the expedition to Martinique in 1762. He was for many years barrack-master in New York, in which post he acquired a fortune by various methods of peculation and extortion. He paid for government supplies in clipped half-ices and moidores, which came to be known as "Robertsons," until the Chamber of commerce resolved that such coins should be accepted only at their intrinsic value. He was promoted colonel in 1772, ordered to Loston in July, 1775, and at its evacuation connived at acts of rapine and shared in the plunder. He took command of the 60th regiment on 11 January, 1776, commanded a brigade at the battle of Long Island, and in February, 1777, returned to England on leave of absence, and intrigued against Gov William Tryon and Sir William Howe. He was commissioned as major-general on 29 August, 1777, was appointed civil governor of New York on 11 May, 1779, and arrived in New York city on 21 March, 1780. He brought a letter of instructions from Lord George Germaine, secretary of the colonies, ordering that the deserted property of rebels should be leased, and the rents appropriated to a fund for the aid of loyalist, refugees, He was directed to restore the civil law; yet, instead of reopening the constitutional courts of justice, he established arbitrary police courts with summary jurisdiction in all classes of eases, first on Long Island, then on Staten Island, and in December, 1780, in New York city, where, however, the new court could not decide civil eases involving more than £10. He ordered the neighboring farmers to deliver up half of their hay, and afterward seized a part of the remainder, had the wood cut on large estates near New York city, sequestrated the revenue of the markets and ferries, and committed many extortions in connivance with the military authorities, profiting greatly in his purse by all these acts, yet alienating many who might have been won over to the royal cause. When Major John Andre was captured, Governor Robertson conferred with General Nathanael Greene, but, instead of accepting the release of the British spy in exchange for Benedict Arnold, sealed his fate by showing a letter from Arnold threatening retaliation on the Americans. On the death of Gen William Phillips, he obtained the command in Virginia, and set out for the field, but returned when he heard of the arrival of Lord Cornwallis. He was made a lieutenant-general, 20 November, 1782, and returned to England on 15 April, 1783.
--BEGIN-James Robertson
ROBERTSON, James, pioneer, born in Brunswick county, Virginia, 28 , June, 1742 ; died in the Chickasaw country, Tennessee, 1 September, 1814. He was of Scotch-Irish descent, and his father, a farmer, removed to Wake county, North Carolina, about 1750, where the son worked on a farm, receiving no education. In 1759 he accompanied Daniel Boone on his third expedition beyond the Alleghanies. He discovered a valley, watered by the Watauga river, which he explored while Boone went to Kentucky, planted corn, and then returned to North Carolina, after losing his way and being saved from death by hunters. In the following spring Robertson led sixteen families to the west. The settlers were upon the huntinggrounds of one hundred thousand savages, but they planted and harvested their corn in peace for fully four years. The emigrants supposed they were within the limits of the province of Virginia, but when the line was run in the year 1772 it was found to be thirty miles to the northward, and they were therefore on the land of the Cherokees. A lease was concluded with the Indians, but in the midst of the festivities that followed a warrior was murdered by a white man, and the savages left the ground with threatening gestures. Hostilities were averted by Robertson, who went alone to pacify the savages, and they continued to be friends with the whites until 1776. In July of that year Oconostota (q.v.) invested a fort that John Sevier had built at Watauga; but Sevier and Robertson, with 40 men, withstood a siege of twenty days, and beat him off with a heavy loss in killed and wounded. After the Cherokees were subjugated the governor of North Carolina appointed Robertson to reside at the Indian capital to hold Oconostota in check and to thwart the designs of the British. In the spring of 1779 he explored the Cumberland region, and afterward emigrated there with others, mostly from the Watauga settlement, of which he left Sevier in charge. One division of the settlers founded Nashville, Tennessee, on 25 December, 1779, and after several months they were joined by the other division, and organized themselves into a civil and military body with Robertson at their head. The handful of pioneers had a long conflict with four savage nations, outnumbering them more than one hundred to one. Of 256 men, 39 fell within 60 days before the tomahawk of the Cherokee, and in a very few months 67 had perished. The crops were destroyed by a freshet and starvation was before them. Settlers began to leave, and of the original 250 persons only 134 remained. These tried to induce their leader to abandon his post, but he replied : "Each one should do what seems to him his duty. As for myself, my station is here, and here I shall stay if every man of you deserts me." With his eldest son, Isaac Bledsoe, and a faithful negro, he made his way to Daniel Boone, at Boonesborough, Kentucky, who gave him powder and shot. On 2 April, 1781, the fort of Nashville was besieged by 1,000 Indians, and Robertson's life was saved by the heroism of his wife. At the close of the Revolutionary war he was able to bring into the field about 500 men experienced in Indian warfare, and by his diplomacy he had made friends with the Choctaws and Chickasaws, severed their alliance with Great Britain, and effected peace with the Cherokees. The half-breed Creek chief, Alexander McGillivray (q. v.) concluded a treaty with the governor of Louisiana to exterminate the Americans west of the Alleghanies, and made war against Robertson in 1784, continuing at intervals for twelve years. Robertson constantly performed heroic deeds and beat him back with small numbers. Robertson was continually offered by the Spanish governor peace and the free navigation of the Mississippi if he would but cut loose from the Union and establish, with Watauga and Kentucky, an independent government. In 1790 he was appointed a brigadier-general by Washington, and his military services did not end till 1796. He shared with Sevier the honor and affection of the Tennesseeans, and held the post of Indian commissioner until his death. See "The Life and Times of General James Robertson," by Albigence W. Putnam (Nashville, 1859), and " The Rear-Guard of the Revolution," by James R. Gilmore (New York, 1886).--His wife, Charlotte Reeves, pioneer, born in Virginia, 2 January, 1751; died in Nashville, Tennessee, 11 June, 1843, married Robertson in 1767, and accompanied him to Watauga on its first settlement. She was one of the number that made the perilous journey down the Holston and Tennessee in 1780, and was in the fort of Nashville when it was attacked by 1,000 Cherokees, some of whom, in their attempt to capture the horses of the whites, made a gap in their ranks, through which the settlers fled. Robertson's wife, mounted on the lookout, rifle in hand, seeing the stampede of the horses and the break in the Indian line, ordered the sentry to "open the gates and set the dogs upon them." The dogs flew at the savages, who drew tomahawks upon them, and thus the whites were enabled to escape. She is reported to have said to her husband: " Thanks be to God, who gave to the Indians a dread of dogs and a love for horses." She shared all of her husband's perils, and was much esteemed for her noble qualities.--His grandson, Edward White, lawyer, born near Nashville, Tennessee, 13 June, 1823; died in Washington, D. C., 2 August, 1887. His parents removed to Iberville parish, Louisiana, in 1825, and he was educated at Nashville university, but not graduated. He began to study law in 1845, but served in the war with Mexico in 1846 as orderly sergeant of the 2d Louisiana volunteers, a six-months regiment. In 1847-'9 he was a member of the legislature, and after his graduation at the law department of the University of Louisiana in 1850 he practised in Iberville parish, served in the legislature, and was state auditor of public accounts in 1857-'62. He entered the Confederate service in March, 1862, as captain, and participated in the engagements around Vicksburg and the siege of that place, after which his regiment was not in active service. After the war he resumed practice in Baton Rouge, and was elected to congress as a Conservative Democrat, serving from 15 October, 1877, till 4 March, 1883. In 1886 he was chosen again, serving until the day of his death. --Edward White's son, Samuel Matthews, lawyer, born in Plaquemine, Louisiana, 1 January, 1852, was graduated at the University of Louisiana in 1874, studied law, was admitted to the bar, and served in the legislature. In 1880 he was made a member of the faculty of the State university and agricultural and mechanical college, where he served as professor of natural history and commandant of cadets until he was elected to the 50th congress as a Democrat, to fill the vacancy caused by the death of his father.
Edited Appletons Encyclopedia, Copyright © 2001 VirtualologyTM

Unauthorized Site: This site and its contents are not affiliated, connected, associated with or authorized by the individual, family, friends, or trademarked entities utilizing any part or the subject's entire name. Any official or affiliated sites that are related to this subject will be hyper linked below upon submission and Evisum, Inc. review.
Copyright© 2000 by Evisum Inc.TM. All rights reserved.
Evisum Inc.TM Privacy Policy