Appleton's Cyclopedia of American Biography, edited by James Grant Wilson, John Fiske and Stanley L. Klos. Six volumes, New York: D. Appleton and Company, 1887-1889 and 1999. Virtualology.com warns that these 19th Century biographies contain errors and bias. We rely on volunteers to edit the historic biographies on a continual basis. If you would like to edit this biography please submit a rewritten biography in text form . If acceptable, the new biography will be published above the 19th Century Appleton's Cyclopedia Biography citing the volunteer editor
Virtual American Biographies
Over 30,000 personalities with thousands of 19th Century illustrations, signatures, and exceptional life stories. Virtualology.com welcomes editing and additions to the biographies. To become this site's editor or a contributor Click Here or e-mail Virtualology here.
A
B
C
D
E
F
G
H
I
J
K
L
M
N
O
P
Q
R
S
T
U
V
W
X
Y
Z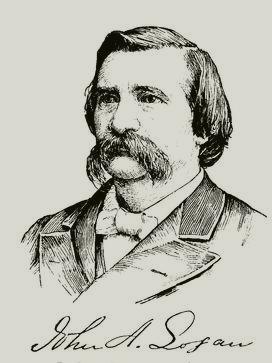 Click on an image to view full-sized
John Alexander Logan
LOGAN, John Alexander, statesman, born in Jackson county, Illinois, 9 February, 1826 ; died in Washington, D. C., 26 December, 1886. His father, Dr. John Logan, came from Ireland when a young man and settled in Maryland, but removed to Kentucky, thence to Missouri, and finally to Illinois. He served several terms in the legislature, having been chosen as a Democrat, and held several county offices. The son was educated at a common school and under a private tutor. This instruction was supplemented, in 1840, by attendance at Shiloh college. When war with Mexico was declared, he volunteered as a private, but was soon chosen a lieutenant in the 1st Illinois infantry, die did good service as a soldier, and for sometime was acting quartermaster of his regimenting. After his return from Mexico he began the study of law with his uncle, Alexander M. Jenkins, and in 1849 was elected clerk of Jackson county, but resigned to continue the study of law. In 1851 he was graduated at Louisville university, admitted to the bar, and became his uncle's partner. He soon grew popular, and his forcible style of oratory, pleasing address, and fine voice, secured his election to the legislature in 1852 and again in 1856. At the end of his first term he resumed practice with such success that he was soon chosen prosecuting attorney for the 3d judicial district. In 1852 he removed to Benton, Franklin County, Illinois He was a presidential elector in 1856 on the Buchanan and Breckinridge ticket. In 1858 he was elected to congress from Illinois as a Douglas Democrat, and was reelected in 1860. In the presidential campaign of that year he earnestly advocated the election of Stephen A. Douglas; but, on the first intimation of coming trouble from the south, he declared that, in the event of the election of Abraham Lincoln, he would "shoulder his musket to have him inaugurated." In July, 1861, during the extra session of congress that was called by President Lincoln, he left his seat, overtook the troops that were marching out of Washington to meet the enemy, and fought in the ranks of Colonel Richardson's regiment in the battle of Bull Run, being among the last to leave the field. Returning home in the latter part of August, he resigned his seat in congress, organized the 31st Illinois infantry, and was appointed its colonel, 13 September At Belmont in November he led a successful bayonet-charge and a horse was shot under him. He led his regiment in the attack on Fort Henry, and at Fort Donelson, while gallantly leading the assault, received a wound that incapacitated him for active service for some time. After he had reported for duty to General Grant at Pittsburg Landing, he was made a brigadier-general of volunteers, 5 March, 1862. He took an important part, in the movement against Corinth, and subsequently was given the command at Jackson, Tennessee, with instructions to guard the railroad communications. In the summer of 1862 his constituents urged him to become a candidate for re-election to congress, but he declined, saying in his letter: "I have entered the field to die, if need be, for this government, and never expect to return to peaceful pursuits until the object of this war of preservation has become a fact established." During Grant's northern Mississippi campaign General Logan commanded the 3d division of the 17th army corps under General McPherson, and was promoted major-general of volunteers, to date from 26 November, 1862. He participated in the battles of Port Gibson, Raymond, Jackson, and Champion Hills. In the siege of Vicksburg he commanded McPherson's centre, and on 25 June made the assault after the explosion of the mine. His column was the first to enter the captured city, and he was appointed its military governor. He succeeded General Sherman in the command of the 15th army corps in November, 1863. In May, 1864, he joined Sherman's army, which was preparing for its march into Georgia, led the advance of the Army of the Tennessee in the fight at Resaca, repulsed Hardee's veterans at Dallas, and drove the enemy from his line of works at Kenesaw Mountain. General Sherman says in his report of the battle of Atlanta, speaking of General McPherson's death: " General Logan succeeded him and commanded the Army of the Tennessee through this desperate battle with the same success and ability that had characterized him in the command of a corps or division." In fact it was mainly his skill and determination that saved Sherman's army from a serious disaster during that engagement. After the fall of Atlanta, 1 September, 1864, he went home and took an active part in the presidential campaign of that year. He rejoined his troops, who had accompanied Gem Sherman in his famous "march to the sea," at Savannah, and remained in active service with Sherman's army till the surrender of General Joseph E. Johnston, 26 April, 1865. On 23 May he was appointed to the command of the Army of the Tennessee; but, as soon as active service in the field was over, he resigned his commission, saying that he did not wish to draw pay when not on active duty. He was appointed minister to Mexico by President Johnson, but declined. In 1866 he was elected a representative from Illinois to the 40th congress as a Republican, and served as one of the managers in the impeachment trial of President Johnson. He was reelected to the 41st congress, and did good service as chairman of the committee on military affairs in securing the passage of an act for the reduction of the army. He was re-elected to the 42d congress, but before that body convened he was chosen by the Illinois legislature United States senator for the term beginning 4 March, 1871. He succeeded Vice-President Wilson as chairman of the senate committee on military affairs at the beginning of the third session of the 42d congress, 2 December. 1872. After the expiration of his term of service, 3 March, 1877, he resumed the practice of law in Chicago. He was again returned to the United States senate, and took his seat on the convening of that body in extra session, 18 March, 1879. Both in the house and senate he maintained his reputation for brilliancy and success. While a representative his more important speeches were "On Reconstruction," 12 July, 1867; "On the Impeachment of President Johnson," 22 February, 1868 ; "Principles of the Democratic Party," 16 July, 1868; and "Removing the Capitol," 22 January, 1870. In the senate he spoke in "Vindication of President Grant against the Attack of Charles Sumner," 3 June, 1872; in reply to Senator Gordon on the "Ku-klux in Louisiana," 13 January, 1875; "On the Equalization of Bounties of Soldiers, Sailors, and Marines of the late War. for the Union," 2 March, 1875 ; and "On the Power of the Government to enforce the United States Laws," 28 June, 1879. On 6 June, 1880, he delivered an able speech on the Fitz-John Porter case, maintaining, as he always had done, that General Porter had been justly condemned and should not be restored to his rank in the army. At the Republican national convention in Chicago in June, 1884, on the first ballot for a candidate for president, General Logan received 631/2 votes against 3341/2 for James G. Blaine, 278 for Chester A. Arthur, and 93 for George F. Edmunds. After the subsequent nomination of Mr. Blaine, General Logan was nominated for vice-president. When General Logan's sudden death was announced to him, James G. Blaine thus briefly summarized his character: "General Logan was a man of immense force in a legislative body. His will was unbending, his courage, both moral and physical, was of the highest order. I never knew a more fearless man. He did not quail before public opinion when he had once made up his mind any more than he did before the guns of the enemy when he headed a charge of his enthusiastic troops. In debate he was aggressive and ***effective .... I have had occasion to say before, and I now repeat, that, while there have been more illustrious military leaders in the United States and more illustrious leaders in legislative halls, there has, I think, been no man in this country who has combined the two careers in so eminent a degree as General Logan." His personal appearance was striking. He was of medium height, with a robust physical development, a broad and deep chest, massive body, and small hands and feet. He had fine and regular features, a swarthy complexion, long jet-black hair, a heavy moustache and dark eyes. General Logan published "The Great Conspiracy," a large volume relating to the civil war (New York, 1886), and "The Volunteer Soldier of America" (Chicago, 1887). See "Life and Services of John A. Logan," by George Francis Dawson (Chicago, 1887).--His wife, Mary Simmerson Cunningham, daughter of John M. Cunningham, born in Petersburg, Boone County, Missouri, 15 August, 1838, lived amid the hardships of frontier life, and was subsequently sent to the Convent of St. Vincent in Kentucky. On leaving that institution she assisted in preparing the papers that were needed by her father, who, on his return from the Black Hawk and Mexican wars, had been elected sheriff and county clerk of Williamson county, and appointed register of the land office at Shawneetown, Gallatin County, Illinois, by President Pierce. Blank forms for any legal documents were then rare, and Miss Cunningham, through her industry in her father's case, supplied the deficiency. While thus engaged she met General Logan, who was at that time prosecuting attorney. She was married, 27 November, 1855, and was identified with her husband's career, becoming his best adviser in the gravest crises of political and civil life.
Edited Appletons Encyclopedia, Copyright © 2001 VirtualologyTM

Unauthorized Site: This site and its contents are not affiliated, connected, associated with or authorized by the individual, family, friends, or trademarked entities utilizing any part or the subject's entire name. Any official or affiliated sites that are related to this subject will be hyper linked below upon submission and Evisum, Inc. review.
Copyright© 2000 by Evisum Inc.TM. All rights reserved.
Evisum Inc.TM Privacy Policy