Appleton's Cyclopedia of American Biography, edited by James Grant Wilson, John Fiske and Stanley L. Klos. Six volumes, New York: D. Appleton and Company, 1887-1889 and 1999. Virtualology.com warns that these 19th Century biographies contain errors and bias. We rely on volunteers to edit the historic biographies on a continual basis. If you would like to edit this biography please submit a rewritten biography in text form . If acceptable, the new biography will be published above the 19th Century Appleton's Cyclopedia Biography citing the volunteer editor
Virtual American Biographies
Over 30,000 personalities with thousands of 19th Century illustrations, signatures, and exceptional life stories. Virtualology.com welcomes editing and additions to the biographies. To become this site's editor or a contributor Click Here or e-mail Virtualology here.
A
B
C
D
E
F
G
H
I
J
K
L
M
N
O
P
Q
R
S
T
U
V
W
X
Y
Z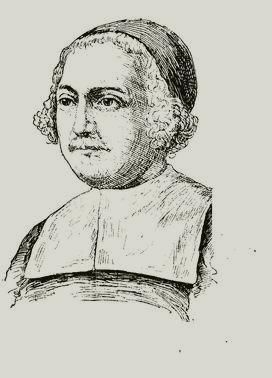 Click on an image to view full-sized
John Davenport
DAVENPORT, John, clergyman, born in Coventry, England, in 1597; died in Boston, Massachusetts, 15 March 1670. His father had been mayor of the City. He was educated at Oxford, and became chaplain in Hilton castle, neat' Durham. Subsequently he reached in London, and later became minister of St. Stephen's Church in Coleman Street. Here he became celebrated not only for his high accomplishments as a preacher, but also for very faithful discharge of his pastoral duties. In 1625 he re-turned to Oxford and passed his examinations for the B. D. and M. A. degrees. During the following year, in conjunction with Drs. Richard Sibbs and William Gouge, the lord-mayor of London, and others, he devised a plan to purchase "lay impropriations," from the profits of which a number of ministers should be maintained over destitute congregations. But Archbishop Laud regarded it as favorable to the cause of non-conformity, and procured its condemnation, with the confiscation of the money to the king's use. A few years later Davenport was summoned before the archbishop and subjected to considerable trouble and expense on account of his puritan principles. About this time John Cotton had resigned his charge, with 8 view of escaping to America, and Davenport, after an interview with him, became convinced of the desirability of withdrawing from the Established Church. He then resigned from St. Stephen's, and near the end of 1633 removed to Holland, where he became the colleague of Rev. John Puget, pastor of the English Church in Amsterdam ; but, as he objected to the promiscuous baptism of infants, he relinquished his pastoral work and conducted private classes until 1635, when he returned to England. Meanwhile he had been actively concerned in obtaining the patent of the Massachusetts Colony, and had contributed both money and time in its aid. A favorable account of the success of the colony having reached him, he sailed on the "Hector," reaching Boston on 26 June 1637. He was heartily welcomed, and was regarded as an important aid in sustaining the interests of religion. During August of the same year he sat with the famous synod of Cambridge. In March 1638, with many of the families that had accompanied him from England, he sailed from Boston to Quinipine, which they afterward named New Haven. The party reached their new home on 14 April and on the following day, which was the Sabbath, Mr. Davenport preached under the branches of a large oak on "The Temptations of the Wilderness." In June of the following year "all the free planters" met in 8 barn for the purpose of holding a constitutional assembly. It was resolved that only Church members should be burgesses, and Davenport was chosen one of the "seven pillars" to support the civil government. His carefulness in regard to the admission of members to the Church gave him also the keys of political power. When the regicides, William Goffe and Edward Whalley, were flying in 1660, he concealed them in his own house for more than 8 month, and delivered a sermon, for the purpose of enlisting sympathy in their behalf, from the text " Blake thy shadow as the night in the midst of noonday, hide the outcasts, betray not him that wandereth." he continued in New Haven until 1667, when, on the death of John Wilson, he was invited to succeed him as pastor of the first Church in Boston. This call he accepted, and was installed on 9 December 1668. ,]'he "half-way covenant," which had been adopted by the synod held in Boston in 1662, provided that all persons who had been baptized in their infancy, and who, on arriving at years of discretion, would recognize their covenant obligations, should be allowed to bring their children for baptism. This Mr. Davenport was unwilling to accept, and he vigorously opposed its execution; consequently some of the members withdrew from the first Church, and were organized into the " Old South Church." The controversy continued between the two Churches for many years, but Mr. Davenport died of apoplexy soon after it began, and was buried in the tomb of his friend, John Cotton. He published many sermons, theological tracts, and controversial pamphlets, and also "Instructions to Elders of the English Church "(1634);" Catechism containing the Chief Heads of Christian Religion" (1659); and "A Discourse about Civil Government in 8 New Plantation" (1673).--His son, John, born in England in 1635; died in Boston, Massachusetts, 21 March 1677, appears to have remained in England "in care of kind friends" until 1639, when he came to New Haven in one of the only two ships that ever arrived at that port from England. In May 1657, he was admitted a freeman in New Haven, and later appears to have been one of the judges in the courts of New Haven. He removed to Boston in 1668, and was register of probate in 1675-'6, and also a merchant.--His son, John, clergyman, born in Boston, 22 February 1668; died in Stamford, Connecticut, 5 February 1731, was graduated at Harvard in 1687, and began preaching in 1690. Early in the following year he was invited to the Church in Easthampton, L. I., but declined the offer, and in 1694 was ordained pastor of the Church in Stamford, where he remained until his death. Prior to his settling in Stamford he appears to have taught the Hopkins grammar school in New Haven, and he was a member of the corporation of Yale College from 1707 till 1731.--His son, Abraham, lawyer, born in Stamford, Connecticut, in 1715; died there, 20 November 1789, was graduated at Yale in 1732, and practiced law in his native town. During the Revolution he was a staunch patriot, and served on the state committee of safety. He was a man of stern integrity and generous beneficence, and in times of scarcity and high prices sold the product of his farm to the poor at less than the current, value. For some time he was 8 member of the executive council of Connecticut, for twenty-five years he was a member of the state legislature, and state senator from 1766 till 1784. He also held the office of judge of the court of common pleas. When he was a member of the council in Hartford, on the dark day in 1780, it was proposed to adjourn, as some thought the day of judgment was at hand; but he objected, saying: "That day is either at hand or it is not: if it is not, there is no cause of adjournment ; if it is, I choose to be found doing my duty. I wish, therefore, that candles may be brought."--James, another son of John, clergyman, born in Stamford, Connecticut, in 1716; died in Hopewell, New Jersey, 10 November 1757, was graduated at Yale in 17;32. and subsequently pursued his theological studies in New Haven. He is supposed to have preached first in New Jersey, and then was called to Southold, L. I., where he was ordained on 26 October 1738. Soon after his settlement the revival known as the "Great awakening" occurred, during which he was .very active and successful. Subsequently he held services at Baskingridge, New Jersey, where likewise there was a revival, and in 1741 he visited Connecticut, preaching in various places, everywhere exciting great attention, At Stonington one hundred persons are said to have been converted by his first sermon. Thence he proceeded to Westerly, R. I., accompanied by the people in solemn procession, singing as they moved along the road. His zeal in effecting conversions, and the methods employed, were not altogether to the liking of his Connecticut brethren, and later the assembly decided "that the behavior, conduct, and doctrines advanced by said James Davenport, do, and have a natural tendency to disturb and destroy the peace and order of this government. Yet it further appears to this Assembly that the said Davenport is under the influence of enthusiastic impressions and impulses, and thereby disturbed in the rational faculties of his mind, and therefore to be pitied and compassionated, and not to be treated as otherwise he might be." He was expelled from the colony, but shortly afterward appeared in Boston, where his erratic actions led to his arrest and imprisonment. In the trial that followed he was declared "non compos mentis, and therefore not guilty." His relations with the Southold congregation were severed by a council of ministers in 1742, and a curious document giving the reasons for such action was published. In March 1743, he went to New London, by request of a company of his partisans, to organize them into a Church. Here he continued his peculiar habits, destroying by fire "wigs, cloaks, breeches, hoods, gowns, rings, jewels, necklaces, and certain books." in order "to cure his people of their idolatrous love of worldly things." He was prostrated by a serious illness, and influenced to publish a retraction of his errors in the Boston "Gazette" in July 1744. In September 1746, he became a member of the New Brunswick presbytery, and two years later was transferred to the New York presbytery, preaching in various places. In 1750 he visited Virginia for his health, where his labors proved acceptable and successful. On his return he was installed, in October 1754, as pastor of the Newside Church of Hopewell and Maidenhead. During the same year he was moderator of the New York synod, and delivered the opening sermon, with the title "The Faithful Minister Encouraged." Mr. Davenport continued with this parish until his death, and lies buried near Pennington, N.J. Whitefield speaks of him as "a sweet, pious soul."--John, son of Abraham, lawyer, born in Stamford, Connecticut, 16 January 1752; died there, 28 November 1830, was graduated at Yale in 1770, and was a tutor there during 1773-'4. After studying law, he was admitted to the bar and practiced in Stamford. During the Revolutionary war he served in the commissary depart-merit, and attained the rank of major. He was elected to congress as a federalist, and served continuously from 2 December 1799, till 3 March 1817. --James, son of Abraham, lawyer, born in Stamford, Connecticut, 12 October 1758 ; died there, 3 August 1797. He was graduated at Yale in 1777, and served in the commissary department in the war of the Revolution. He was a judge of the court of common pleas, and a representative in congress from 5 December 1796, till 3 August 1797. He was a member of the corporation of Yale College from 1793 till 1797, and President Dwight says of him : "Few persons have been more, or more deservedly, esteemed than the Hon. James Davenport."
Edited Appletons Encyclopedia, Copyright © 2001 VirtualologyTM

Unauthorized Site: This site and its contents are not affiliated, connected, associated with or authorized by the individual, family, friends, or trademarked entities utilizing any part or the subject's entire name. Any official or affiliated sites that are related to this subject will be hyper linked below upon submission and Evisum, Inc. review.
Copyright© 2000 by Evisum Inc.TM. All rights reserved.
Evisum Inc.TM Privacy Policy