Appleton's Cyclopedia of American Biography, edited by James Grant Wilson, John Fiske and Stanley L. Klos. Six volumes, New York: D. Appleton and Company, 1887-1889 and 1999. Virtualology.com warns that these 19th Century biographies contain errors and bias. We rely on volunteers to edit the historic biographies on a continual basis. If you would like to edit this biography please submit a rewritten biography in text form . If acceptable, the new biography will be published above the 19th Century Appleton's Cyclopedia Biography citing the volunteer editor
Virtual American Biographies
Over 30,000 personalities with thousands of 19th Century illustrations, signatures, and exceptional life stories. Virtualology.com welcomes editing and additions to the biographies. To become this site's editor or a contributor Click Here or e-mail Virtualology here.
A
B
C
D
E
F
G
H
I
J
K
L
M
N
O
P
Q
R
S
T
U
V
W
X
Y
Z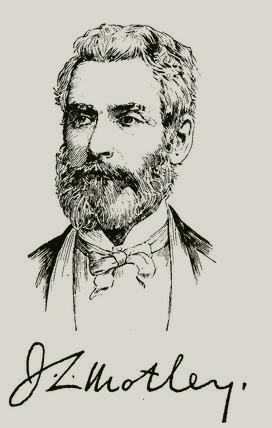 Click on an image to view full-sized
John Lothrop Motley
MOTLEY, John Lothrop, historian and diplomatist, , born in Dorchester, Massachusetts (now part of Boston), 15 April, 1814, died near Dorchester, England, 29 May, 1877. His father was a merchant, a man of wit and literary tastes, who inherited through his mother the blood of two much-respected Boston clergymen, the Reverend John Lothrop and the Reverend Samuel Checkley. John Lothrop was a rather delicate boy, but fond of skating and swimming, a great reader, with much liking for plays and declamation. Among the companions of his boyhood were Wendell Phillips and Thomas G. Appleton. His mother described him as sensitive, excitable, with a quick sense of honor, and scrupulously truthful. He went to school first to Mr. Green at Jamaica Plain, and after that at Round Hill, under the charge of Dr. Cogswell and Mr. Bancroft. At the age of thirteen he entered the freshman class at Harvard, where he took high rank at first, but cared too much for general literature to devote himself very closely to the regular studies of the college course. He was an insatiable reader, especially of novels and poetry, and early began writing in prose and verse. He was a great favorite, admired for his brilliancy, his great personal beauty, and his generous, impulsive character. After graduation in 1831 he studied at the universities of Berlin and Gottingen. At Gottingen he became intimate with Bismarck, with whom his friendly relations were continued in after-life. The great chancellor says of him : " The most striking feature of his handsome and delicate appearance was uncommonly large and beautiful eyes. He never entered a drawing-room without exciting the curiosity and sympathy of the ladies." In 1837 Mr. Motley married Mary Benjamin, sister of Park Benjamin, a lady of great personal charm and beauty of character. Three of their children, daughters, are living, all well known and well connected in English society, one being the accomplished wife of Sir William Vernon Harcourt. Two years after his marriage appeared his first published work, an historical novel called " Morton's Hope" (1839). As a story it was not a success, but it contained many eloquent passages, and as a self-portraiture still possesses a peculiar interest. In the autumn of 1841 Mr. Motley was appointed secretary of the American legation at Petersburg, but returned home after a few months. A second novel, "Merry Mount, a Romance of the Massachusetts Colon);," had been lying by him for some years when it was published in 1849. This was recognized as a great advance on his first effort, but it had become evident to his friends and to himself that history rather than imaginative story-telling was the literary pursuit best fitted to his natural endowments. His studies had been long and laborious in that direction. Before committing himself to any of the more considerable works he had in view, Mr. Motley tried his hand in an elaborate historical article in the "North American Review" for October, 1845. This was a narrative and critical essay on the life and character of Peter the Great of Russia. His friends found their predictions as to his future success as a historian fully justified by this brilliant paper. Some marks of his youthful, almost boyish, vivacity might perhaps be found in this remarkable essay, but it was generally conceded that the writer had in him the stuff for a powerful historian. No man needed the encouragement of criticism more than Motley. The limited success of his first novel satisfied him that he must discontinue invertebrate story-telling and deal with subjects that had backbones of their own. The fascination which the region of romance still had for him is shown in his article on the novels of Balzac, published in the " North American Review" for July, 1847. Two years later, in the same review, he published, in the form of a review of a work on the colonization of New England, an essay on the " Polity of the Puritans." All his love of liberty, all his thorough Americanism, show themselves unmistakably in this able essay. Two events in Mr. Morley's personal history require special mention. In 1847 he lost his most intimate friend, Mr. Joseph Lewis Stackpole, killed by an accident on a railroad, and this loss was never made up to him. Mr. Stackpole, older than Mr. Motley, a man of cultivation and high character, was more than a brother to him, and exercised the best influence upon him, being of a more equable and calmer temperament. The other circumstance was his election as a member of the Massachusetts house of representatives. His political career in this capacity was brief and, to himself at least, far from satisfactory. He was made chairman of the committee on education. He wrote a report which he thought was unanswerable, but a young man from the country, well known since that time in the polities of the country, got up and, according to Motley's own account, demolished it. He could not defend it against the attack of his rural assailant. Mr. Boutwell says that his failure was not due to his want of faculty, or to the vigor of his opponent, but that he was on the weak and unpopular side.
As early as 1846 Mr. Motley had been collecting materials for a history of Holland. While maturing his plans he learned through his friend, Stack-pole, that Mr. Prescott was at work on a history which would fully cover the same ground as that which he contemplated. Like a perfectly frank and generous-hearted man, as he was, Motley went directly to Prescott and told him of his project and his apprehensions that if it were carried out there might be an interference in their works. The story of Prescott's reception of his young rival, who was unavoidably approaching his own ground, would form an interesting chapter in a work on the friendships and enmities of authors. Prescott recognized the ability in Motley from what he had already seen of his writings, and was well aware that he was about to have a formidable competitor in a field in which he had hitherto been unchallenged. In pursuance of his plans of writing a history of the Dutch Republic, Mr. Motley went to Europe and followed his previous studies, with investigations at Berlin, Dresden, the Hague, and Brussels. One year was spent quietly at Vevay. It was ten years from the time when he first conceived the project of writing his history of the Dutch Republic before the work was ready for the press. He had some difficulty in finding a publisher. Mr. Murray declined the manuscript, a mistake which he found occasion to regret, and the work was published at the author's expense by John Chapman (1856). The history was received with enthusiasm in Europe and in America. Mr. Froude characterized the work as "complete as industry and genius can make it, one which will take its place among the finest stories in this or any language." In this country Dr. Lieber, Mr. Everett, Mr. Irving, Mr. Bancroft, Mr. Sumner, and the generous Mr. Prescott all joined in the chorus of praise. M. Guizot superintended a translation of it into French, and himself wrote the introduction. Both in England and America the work was sold largely, and Mr. Motley found himself everywhere recognized as a great historian. He returned with his family to the United States in 1856, and spent the winter of 1856-'7 in Boston, taking a modest house in Boylston place for his residence. In 1858 he returned to England, where he was most cordially welcomed and received as an honored guest in the highest social circles, where he took his place Dei gratia as naturally as the first-born of a princely household. Mr. Motley took much interest in the " Atlantic Monthly," and in the first number, dated November, 1857, is an article by him entitled "Florentine Mosaics," continued in the December number. It is a pleasant series of descriptions of churches and other public edifices and the works of art they contain, interesting as showing his tastes and illustrating his peculiarities of thought and style. He was too busy with more serious work to continue writing for periodicals, and does not appear again in the" Atlantic Monthly" until December, 1868, when he wrote a review of Sarah Edwards Henshaw's history of the work of the northwest sanitary commission. Here again the characteristics of the writer show themselves, his ardent patriotism, his large humanity, his eloquence, and his scholarly fastidiousness, which in the midst of his generous sympathy and admiration takes offence at such words as "tireless" and "mentality," and leads him to say: "We would implore her on our bended knees not to call a soldier in the National armies a ' Federal.' It used to be bad enough to hear this from the London ' Times.' "
In 1860 Mr. Motley published the first two volumes of his second great work, "The History of the United Netherlands," which were received with a hearty welcome from critical authorities as well as the public. "Mr. Motley combines as an historian two qualifications seldom found united--to great capacity for historical research he adds much power of pictorial representation." This is from an article in the " Edinburgh Review," and expresses what would be the general verdict of scholars: With that power of pictorial representation went a certain vivacity which occasionally betrayed him into a mode of expression that reminded the friends of his early days of his youthful dash and play of expression, a something more juvenile than we should have expected in a scholar who could tire out the laborious drudges around him by his indefatigable labor. The four years that followed the publication of the first two volumes of the " History of the United Netherlands " were not favorable to the calm pursuits of the historian. Fond as he was of his historical studies, he loved his own time and his own country with a passion still more fervent than his scholarly enthusiasm. He was excited to the highest point at finding the animus of the leading classes in England so largely in sympathy with the south at the beginning of the civil war, and he did his best to uphold the cause of freedom and of the north at a time when the dearest interests of both were imperilled. His two letters to the London " Times " remain as an imperishable record of his patriotism and his ability as the champion of liberty and humanity. No other American voice could probably have been as effective at that par-titular moment, and the country can hardly know all it owes to its prompt and spirited defender.
In 1861 Mr. Motley was appointed by President Lincoln as minister to Austria. His daughter, Lady Harcourt, says of him:" In the first dark years the painful interest of the great national drama was so all-absorbing that literary work was entirely put aside, and with his countrymen at home he lived only in the varying fortunes of the day, his profound faith and enthusiasm sustaining him and lifting him above the natural influence of a by no means sanguine temperament. Later, when the tide was turning and success was nearing, he was more able to work." His successor at Vienna, Mr. John Jay, some two years after he left that post of official duty, said: " I had occasion to read most of his despatches, which exhibited a mastery of the subjects they treated, with much of the clear perception, the scholarly and philosophic tone and decided judgment which, supplemented by his picturesque description, full of life and color, have given character to his histories." But notwithstanding the acceptable manner in which he had performed services of great importance to his country, Mr. Motley resigned his office as minister to Austria in 1867 in consequence of an attack from an obscure source, which should have been ignored by his government and was not deserving of the importance he attached to it. In 1868 the two concluding volumes of the " History of the Netherlands" were published and sustained the reputation he had gained by his previous labors. In June, 1868, Mr. Motley returned to Boston and established himself at No. 2 Park street. This same year he delivered two important addresses: " Four Questions for the People at the Presidential Election," an electioneering speech, as its title implies, but noble in thought and language; and one before the New York historical society, entitled " Historic Progress and American Democracy." Soon after the election of General Grant as president, Mr. Motley received the appointment of minister to England. His sudden recall in 1870 was never explained to the satisfaction of his friends and the public. The blow was wholly unexpected and unprepared for, a cruel surprise, from which he never recovered. There was nothing left for him but to return to his historical labors. He had meant to occupy his later years with a work of wider scope than those already given to the public. Before beginning this great undertaking he employed himself in writing a biography that was itself more like a history. It was entitled " The Life and Death of John of Barneveld, Advocate of Holland, with a View of the Primary Causes and Movements of the 'Thirty-Years' War." This was characterized by the London " Quarterly Review" as "a fine and continuous story, of which the writer and the nation celebrated by him have equal reason to be proud; a narrative that will remain a prominent ornament of American genius while it has permanently enriched English literature on this as well as on the other side of the Atlantic." The most authoritative of the Dutch critics subjected it to close questioning, but recognized it as perhaps the most classical of Motley's productions. With his strong feeling for religious as well as political liberty he could not avoid disturbing the prejudices of the old-fashioned Calvinists like Groen yon Prinsterer. In the story of John of Barneveld the careful reader will get at many points of Morley's personal history and feelings through the thin disguise of his narrative. The death of Mrs. Motley in 1874 found him already in an enfeebled state and left him with little hope of any future activity, yet never wholly giving up the thought of further literary labors. An attack of an apoplectic nature had practically disabled him. He seemed to live almost wholly in the past, yet his affections were warm toward the living, and with his few friends he was always as interesting, and occasionally as cheerful, as in his earlier days. He passed the summer and a part of the autumn of 1875 in Boston and its vicinity. This was his last visit to the United States, and those who met him saw but too clearly that his working-days were over. His first apoplectic attack was in August, 1873. This left some partial paralysis, so that he walked with an imperfect gait and was glad of a friendly arm to assist him. His mental powers were not clouded, but he was not equal to any serious intellectual labor. On 29 May, 1877, Sir William Gull, who had been his medical adviser for years, was summoned to his daughter's residence in Devonshire, where Motley was staying, but did not reach the place until he was no longer living. He was buried by the side of his wife in Kensall Green cemetery, near London. On 3 June, Dean Stanley delivered a sermon in Westminster Abbey, in which he referred with feeling and eloquence to Motley as "one of the brightest lights of the western hemisphere, the high-spirited patriot, the faithful friend of England's best and purest spirits, the brilliant, the indefatigable historian, who told as none before him had told the history of the rise and struggle of the Dutch Republic. So long as the tale of the greatness of the house of Orange, of the siege of Leyden, of the tragedy of Barneveld, interests mankind, so long will Holland be indissolubly connected with the name of Motley in that union of the ancient culture of Europe with the aspirations of America, which was so remarkable in the ardent, laborious, soaring soul that has passed away." Expressive tributes of respect to his memory were paid by the historical societies of Massachusetts and New York. The list of honors conferred upon him is very long, and includes degrees from the English universities, from Harvard and New York, and honorary membership in many learned associations of various countries. The last honor, and one of the highest conferred on him, was his election as foreign associate of the French academy of moral and political sciences. A uniform edition of his works, in nine volumes, is published in New York. See "John Lothrop Motley, a Memoir," by Oliver Wendell Holmes (Boston and London, 1878).
Edited Appletons Encyclopedia, Copyright © 2001 VirtualologyTM

Unauthorized Site: This site and its contents are not affiliated, connected, associated with or authorized by the individual, family, friends, or trademarked entities utilizing any part or the subject's entire name. Any official or affiliated sites that are related to this subject will be hyper linked below upon submission and Evisum, Inc. review.
Copyright© 2000 by Evisum Inc.TM. All rights reserved.
Evisum Inc.TM Privacy Policy