Appleton's Cyclopedia of American Biography, edited by James Grant Wilson, John Fiske and Stanley L. Klos. Six volumes, New York: D. Appleton and Company, 1887-1889 and 1999. Virtualology.com warns that these 19th Century biographies contain errors and bias. We rely on volunteers to edit the historic biographies on a continual basis. If you would like to edit this biography please submit a rewritten biography in text form . If acceptable, the new biography will be published above the 19th Century Appleton's Cyclopedia Biography citing the volunteer editor
Virtual American Biographies
Over 30,000 personalities with thousands of 19th Century illustrations, signatures, and exceptional life stories. Virtualology.com welcomes editing and additions to the biographies. To become this site's editor or a contributor Click Here or e-mail Virtualology here.
A
B
C
D
E
F
G
H
I
J
K
L
M
N
O
P
Q
R
S
T
U
V
W
X
Y
Z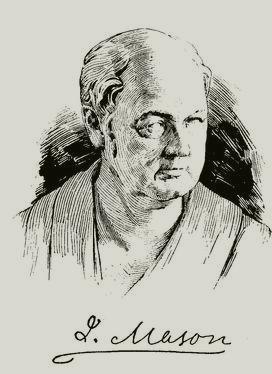 Click on an image to view full-sized
John Mason
MASON, John, soldier, born in England in 1600; died in Norwich, Connecticut, in 1672. After serving in the Netherlands under Sir Thomas Fairfax, he came about 1630 to Dorchester, Massachusetts, whence in 1635 he removed to Connecticut, and aided in founding there the town of Windsor. The slaughter of a party of whites at Wethersfield by Pequot Indians in April, 1637, called for retaliatory measures, and Mason was commissioned by the general court to descend the Connecticut with ninety men and attack the savages at the mouth of Pequot (now Thames) river. Accompanied by seventy friendly Mohegan Indians, he reached the English fort at Saybrook in the middle of May, and put off into Long Island sound, intending to follow the coast, to the Narragansett country, and fall upon his enemies by a retrograde march along the shore. On the 3d he landed in Narragansett bay, near Point Judith, secured the cooperation of 200 Narragansetts, and, having sent back his boats to meet him at the mouth of the Pequot, proceeded by quick marches to Mystic river, in the neighborhood of which were the enemy's two principal forts. Although his Indian allies were now swelled in numbers to about 500, such was their terror of the Pequots that Mason was compelled to begin the attack almost unaided. Before daybreak on the 26th he surprised the nearest fort, and, gaining an entrance within the palisades, fell, sword in hand, upon the enemy. Finding it difficult to dislodge the Indians, he set fire to their wigwams, the whites and their allies forming a circle around the fort to prevent escape. Between 600 and 700 Pequots perished, seven were captured, and seven escaped. Of the English, two were killed and twenty wounded. He then marched to the mouth of Pequot river, into which his vessels sailed soon afterward. They were attacked on the way by 300 Indians from the other fort, who soon retired. Mason, putting his wounded aboard the vessels, marched with a small detachment by land to Saybrook. Aided by a party from Massachusetts, he then pursued the remnant of the Pequots toward New York, killed and captured many more, and divided the few who remained in Connecticut between the Mohegans and Narragansetts, stipulating that the very name of Pequot should become extinct. By these prompt measures a handful of whites was within a few weeks enabled to annihilate a powerful native tribe and to secure a general peace with the Indians, which remained unbroken for forty years. After the Pequot war he settled at Saybrook, at the request of the inhabitants, for the defence of the colony, whence in 1659 he removed to Norwich. He was major of the colonial forces more than thirty years, and between 1660 and 1670 he was deputy governor of Connecticut. He was also a magistrate from 1642 till 1668. At the request of the general court of Connecticut he prepared an account of the Pequot war, published by Increase Mather in his "Relation of Trouble by the Indians" (1677), and republished, with an introduction and notes, by the Reverend Thomas Prince (Boston, 1736). See his "Life," by George E. Ellis, in Sparks's "American Biography" (Boston, 1844).--Jeremiah, senator, fifth in descent from Major John Mason, born in Lebanon, Connecticut, 27 April, 1768; died in Boston, Massachusetts, 14 October, 1848, was the son of Jeremiah, a colonel in the Revolutionary army, who commanded a company of minutemen at the siege of Boston. The son was graduated at Yale in 1788, admitted to the bar in 1791, and began to practise at Westmoreland, New Hampshire. He removed to Walpole in 1794, and to Portsmouth, New Hampshire, in 1797, and ere long became engaged in an extensive practice. In 1802 he was appointed attorney-general of New Hampshire. In 1807 Daniel Webster came to Portsmouth, and he and Mr. Mason were on opposite sides in most of the important eases in New Hampshire. He was elected to the United States senate as a Federalist, serving from 13 June, 1813, until 1817, when he resigned to resume the practice of his profession. While in the senate he took an active part in debates on subjects that grew out of the war of 1812. He was with difficulty induced to prepare any of his speeches for the press. Those that were written out most fully by him are on the "Embargo" and on the Conscription bill, and were delivered respectively in 1814 and 1815. He was for several sessions a member of the New Hampshire legislature, in which he took an active part in the revision of the state code. He drafted the report of the legislature on the Virginia resolutions referring to the Missouri compromise. In 1829 Mr. Mason was the involuntary cause of the repeal of the charter of the United States bank. He had been appointed president of the Portsmouth, New Hampshire, branch of that institution, and by his skilful management and legal acumen had saved the bank a large amount of money, with the loss of which it was threatened through the operations of a defaulter. Isaac Hill, of New Hampshire, then second comptroller of the treasury, and other adherents of Jackson in that state, were anxious to secure Mason's removal, and based a movement looking to that end on some slight dissatisfaction caused by Mason's vigor in enforcing the payment of certain protested notes, and generally by the prompt and uncompromising discharge of his official duties. It was also charged that Mason owed his appointment to political influence, and especially to being the friend of Daniel Webster, and two petitions were forwarded to the parent bank urging his removal. These led to a correspondence, lasting from June till October, that finally resolved itself into a passage-at-arms between Nicholas Biddle, president of the United States bank, and Samuel D. Ingham, secretary of the treasury, which resulted in President Biddle's refusal to entertain the protests. On the contrary, the bank, by way of answer, re-elected the implicated official. The victory, however, was short-lived, as in his message to congress in December President Jackson, incensed because he could not dispose of the bank appointments like other Federal patronage, in a brief paragraph sounded what proved to be the death-knell of the institution. In the summer of 1882 Mason removed to Boston, and, although sixty-four years of age, he continued to practise in the courts until he had entered his seventieth year, after which he retired, but was still consulted as chamber counsel. He received the degree of LL. D. from Bowdoin in 1815, Harvard in 1817, and Dartmouth in 1823. He was personally little known out of New England, but his name and presence were familiar to every lawyer of his own and the adjoining states; in fact, nothing could exceed the respect, and almost terror, that was felt at the bar for the acuteness, rapidity, and vigor of his mind. "I am bound to say," said Daniel Webster in referring to him, "that of my own professional discipline and attainments, whatever they may be, I owe much to that close attention to the discharge of my duties, which I was compelled to pay for nine successive years, from day to day, by Mr. Mason's efforts and arguments at the same bar The characteristics of his mind, as I think, were real greatness, strength, and sagacity, he was great through strong sense and sound judgment."--Another descendant, Theodore Lewis, physician, born in Cooperstown, New York, 30 September, 1803; died in Brooklyn, New York, 12 February, 1882, was educated under his grandfather, Reverend Isaac Lewis, D. D., and was graduated at the New York college of physicians and surgeons in 1825. After practising at Wilton, Connecticut, he lived in New York city from 1832 until 1834, when he went to Brooklyn. When Dr. Mason moved to that city there was no provision there for the medical relief of the poor. Through his efforts the common council appropriated & small annual sum, by means of which a hospital was opened, mid Dr. Mason became its senior surgeon. It was soon closed, owing to a change in municipal legislation, but; public sentiment had in the mean time been aroused, and a movement was begun which resulted in the establishment of a permanent city hospital, of which he continued to act as the senior surgeon. In 1858 ha was active in the organization of the Long Island college hospital. He was chosen the first president of the collegiate department, and he remained such until & year before his death, when age and failing health compelled him to resign--a period of twenty-one years. Dr. Mason was early interested in sanitary reform, and was a founder of the Inebriates' home for Kings county, and of the American association for the cure of inebriates, of which he became president in 1875. He wrote and spoke extensively on the subject of inebriety, and one of his addresses, "Inebriety a Disease," was afterward published and extensively circulated, not only in this country but in England, where it was quoted extensively in arguments urging the establishment of inebriate asylums throughout Great Britain. He was twice president of the Kings county medical society, and belonged to other professional associations. He was a founder of the Long Island historical society, and was chosen in 1874 vice-president of the American colonization society.--Another descendant, Charles, lawyer, born in Pompey, Onondaga County, New York, 24 October, 1804; died in Burlington, Iowa, 25 February, 1882, was graduated at the United States military academy in 1829, and assigned to the engineer corps. After serving two years at the academy as principal assistant professor of engineering, he resigned from the army, 31 December, 1831, and, having meantime studied law, was admitted to the bar in 1833. He practised two years in Newburg, New York, and then removed to New York city, where he was a frequent contributor to the "Evening Post," of which he acted as editor (luring William Cullen Bryant's absence in Europe, 1834-'6. He afterward removed to the west, and purchased a large tract of land in the town of Burlington, Iowa, where he made his home. In 1838, on the organization of the territory of Iowa, he was made chief justice, which office he filled until he resigned, 16 May, 1847. He was attorney for the state in the adjustment of its southern boundary from 1847 till 1850. In 1848 he was appointed one of three commissioners to draft an entire code of laws for the state, which was adopted in 1851. He was judge of Des Moines county court in 1851-'2, United States commissioner of patents from 1853 till 1857, and commissioner to adjust the extent of the Des Moines river land grant in 1858-'9. In 1861 he acted as commissioner to control & state war fund of $800,000. He then returned to the practice of his profession, and devoted much time to the promotion of various public works in Burlington.--Another descendant, John S., soldier, born in Steubenville, Ohio, 21 August, 1824. He was graduated at the United States military academy in 1847, and assigned to the artillery, served in the war with Mexico, and acted as regimental quartermaster from 1854 till 1858. He was commissioned captain, 14 May, 1861, and was made colonel of the 4th Ohio regiment on 3 October of the same year. He was made brevet lieutenant-colonel for gallantry at the battle of Fredericksburg, and became brigadier, general of volunteers, 29 November, 1862. He was promoted major, 14 October, 1864, and brevetted colonel and brigadier-general, in the regular army, 13 March, 1865, for gallant and meritorious services during the war, since which time he has been chiefly engaged in frontier duty with different regiments. He was made lieutenant-colonel, 11 December, 1873, and colonel, 9th infantry, 2 April, 1883, & commission he still (1888) holds.
Edited Appletons Encyclopedia, Copyright © 2001 VirtualologyTM

Start your search on John Mason.
Unauthorized Site: This site and its contents are not affiliated, connected, associated with or authorized by the individual, family, friends, or trademarked entities utilizing any part or the subject's entire name. Any official or affiliated sites that are related to this subject will be hyper linked below upon submission and Evisum, Inc. review.
Copyright© 2000 by Evisum Inc.TM. All rights reserved.
Evisum Inc.TM Privacy Policy