Appleton's Cyclopedia of American Biography, edited by James Grant Wilson, John Fiske and Stanley L. Klos. Six volumes, New York: D. Appleton and Company, 1887-1889 and 1999. Virtualology.com warns that these 19th Century biographies contain errors and bias. We rely on volunteers to edit the historic biographies on a continual basis. If you would like to edit this biography please submit a rewritten biography in text form . If acceptable, the new biography will be published above the 19th Century Appleton's Cyclopedia Biography citing the volunteer editor
Virtual American Biographies
Over 30,000 personalities with thousands of 19th Century illustrations, signatures, and exceptional life stories. Virtualology.com welcomes editing and additions to the biographies. To become this site's editor or a contributor Click Here or e-mail Virtualology here.
A
B
C
D
E
F
G
H
I
J
K
L
M
N
O
P
Q
R
S
T
U
V
W
X
Y
Z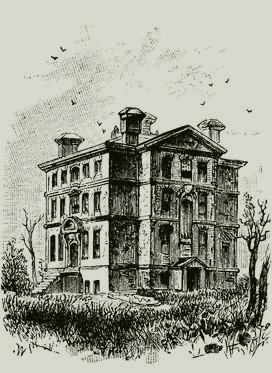 Click on an image to view full-sized
John Page
PAGE, John, merchant, born in Bedfont, England, in 1627; died in Williamsburg, Virginia, 23 January, 1692. He was a member of the colonial council in the reign of William and Mary, and acquired a large estate. His son, Matthew, planter, born in Virginia in 1659; died there, 9 January, 1703, was one of the original board of trustees of William and Mary college, a member of the council under Queen Anne, and active in public affairs. Matthew's son, Mann, planter, born in Virginia in 1691; died there, 24 January, 1730, was, next to Lord Fairfax, the largest landholder in Virginia, owning nearly 70,000 acres in Frederick, Prince William, Spottsylvania, and other counties, besides the plantation of Rosewell, in Gloucester county, on which he built, in 1725, the largest and costliest mansion in the colony. The house, which is still standing and is shown in the accompanying illustration, was built of brick, with marble casements and mahogany wainscoting and balustrades, all the material being imported. In one of its rooms, which are all of cubic dimensions, Thomas Jefferson is said to have drafted the Declaration of Independence. The lead from the window-casements was used for bullets in the Revolutionary war. Of his three sons, MANN inherited Rosewell; JOHN removed to North End in that part of Gloucester county that is now Matthews county, and was a member of the last royal council in Virginia; and ROBERT settled at Broadneck, in Hanover county.--The second Mann's son, John, governor of Virginia, born at Rosewell, Gloucester County, Virginia, 17 April, 1744; died in Richmond, Virginia, 11 October, 1808, was graduated in 1763 at William and Mary, where he was the associate and intimate friend of Thomas Jefferson, of whom he was a follower' in politics afterward. He was with Washington in one of his western expeditions against the French and Indians. Afterward he was a representative in the Virginia house of burgesses and a member of the colonial council. In 1776 he was a visitor of the College of William and Mary. In the same year he was a delegate to the convention that framed the Virginia state constitution. During the Revolutionary struggle he rendered important services as a member of the committee of public safety, and as lieutenant-governor of the commonwealth, contributing from his fortune to the public cause. He was an officer for the county of Gloucester' during the war, where he raised a regiment of militia to repel a British invasion. He also contributed freely from his private fortune to the public cause. There is still in existence a letter from Edmund Pendleton urging Governor Page to accept payment for the lead taken from Rosewell for making bullets. He was elected one of the earliest representatives in congress from Virginia, upon the adoption of the Federal constitution, and was re-elected three times, serving from 4 March, 1789, till 3 March, 1797. In 1800 he was chosen one of the elector's for president, and in December, 1802, was made governor of Virginia, succeeding James Monroe. After serving three years he was followed by William Cabell, as the state constitution at that time did not permit the same person to hold the office more than three years in succession, and was soon appointed by President Jefferson United States commissioner of loans for Virginia, which office he held at the time of his death. Governor Page published "Addresses to the People" (1796 and 1799). He was distinguished for his theological learning, as well as for his soldierly and statesman-like qualities, and at one time his friends desired him to take holy orders in order to become the first bishop of Virginia. There is a portrait of him executed in 1758 by Benjamin West, also a later one by Charles W. Peale. Governor Page preserved many letters from leaders of the Revolution, and left these and other material for memoirs of his time. These papers were lost after his death, but many of them were recovered in Boston in 1887.--The second John's half-brother. Mann, member of the Continental congress, born at Rosewell in 1749; died at Mansfield, near Fredericksburg, Virginia, was a delegate from Virginia to the old congress in 1777, his colleagues being Thomas Jefferson, Thomas Nelson, and George Wythe.--The second John's cousin, Carter, soldier, born in North End, Gloucester (now Matthews) County, Virginia, in 1758; died in Willis Fork, Cumberland County, Virginia, in April, 1825, was one of the students that left William and Mary college in 1776 to join the American army. He rose to the rank of major, and served as aide-de-camp to General Lafayette during the campaign against Lord Cornwallis in Virginia, fie married in 1783 Mary, a daughter of Archibald Cary, and in 1799 Lucy, a daughter of Thomas Nelson.--Carter's brother, Robert, born in North End, Gloucester (now Matthews) County, Virginia, in 1764; died in Janesville, Clarke County, Virginia, 1 January, 1840, also left William and Mary college to join the army, and was promoted to captain of infantry. He and his brother were among the veterans that were present at the reception of General Lafayette in Leesburg, Virginia, 9 August, 1825. He was a member of congress from Virginia in 1799-' ' nephew, Hugh Nelson, naval officer, born in North End, Gloucester County, Virginia, in September, 1788; died in Norfolk, Virginia, 3 June, 1871, entered the service as a midshipman on 1 September, 1811, and served under Captain Oliver H. Perry at the battle of Lake Erie, where he was wounded. He bore Perry's despatch to General William H. Harrison, announcing the victory, and subsequently took part in the ineffective operations against Fort Mackinaw. He rose to the rank of captain, 29 May, 1850, was retired in 1855, and resigned his commission on the secession of Virginia.--The second John's grandson, Thomas Jefferson, born at Shelly, Gloucester County, Virginia, 4 January, 1808, was appointed a midshipman on 1 October, 1827, passed for promotion on 10 June, 1833, and was commissioned as lieutenant on 20 December, 1839. He served on the coast survey for several years, circumnavigated the globe in the "Dolphin," and on his return home suggested to the secretary of the navy, William A. Graham, a plan for a survey of the China seas, and obtained an appropriation from congress for the construction of a steamer for the purpose. When John P. Kennedy took charge of the navy department, he greatly enlarged the scope of the expedition, and placed Commander Matthew C. Perry in command, offering the second place to Lieutenant Page, who, however, declined. In 1853 he was placed in command of an expedition for the exploration of the tributaries of the Rio de la Plata and adjacent countries. He was well received by President Carlos A. Lopez, of the republic of Paraguay, and carried out his mission without obstruction till February, 1855, when his steamer, the " Water-Witch," was fired upon from a Paraguayan fort on the Parana river, and one man was killed. He returned the fire, but his vessel was not fitted for offensive operations. He returned to the United States in May, 1856, after an absence of three years and four months. A naval demonstration, in January, 1859, secured reparation from the Paraguayan government. Page, who had been promoted commander on 14 September, 1855, resumed his surveys, and completed them in December, 1860. Turning over to the navy department the charts, notes, and journals, which embrace several thousand miles of river navigation previously unexplored, and not yet described in print, he resigned his commission on the secession of his state. He was offered an admiral's commission 1)y the Italian government, which desired his aid in the reorganization of its navy; yet he elected to serve in the cause of the southern states, he commanded the heavy batteries at Gloucester Point on York river, and began the building of gun-boats at West Point, but burned them and retreated after Yorktown was abandoned. In 1862 he was commissioned as commodore, and went to England to take command of an iron-clad then building in the Mersey, and when the British government, under a threat of war from the United States minister, took possession of the vessel, he assumed command of a small iron-clad then lying at Copenhagen which put to sea under the name of "Stonewall," and which afterward, when she entered a Spanish harbor, was seized by the officers of Queen Isabella. His career in the Confederate service being thus brought to a close, he went to the Argentine Republic, where the benefits rendered to the country by his explorations found a high recognition. For many years he was associated with his old friend, ex-President Uzquiza, in sheep and cattle farming. Then going to England in the commission of the government, he superintended the construction of two iron-clads and two gun-boats which formed the nucleus of the Argentine navy. Commander Page has since resided in Florence, Italy. His son, a fleet-captain in the Argentine navy, has recently resumed the explorations of the tributaries of the River Plata at the point where ends the descriptive account of his father, who after his return from his first expedition to South America published a narrative entitled "La Plata: the Argentine Confederation and Paraguay," describing 3,600 miles of river navigation and explorations on land extending over 4,400 miles (New York, 1859).--Carter's grandson, Richard Channing Moore, physician, born at Turkey Hill, Albemarle County, Virginia, 2 January, 1841, entered the University of Virginia in 1860, but in July, 1861, enlisted in the Confederate artillery. He was commissioned as captain in April, 1862, and commanded a battery in nearly all the battles of the Army of Northern Virginia. He was severely wounded at Gettysburg. In October, 1864, after being pro-rooted major, he was assigned to duty on the staff of General John C. Breckinridge as chief of artillery. He studied medicine at the close of the war in the medical department of the University of the city of New York, and after graduation in 1868 served as house physician in Bellevue hospital, and afterward as house surgeon in the Woman's hospital. Dr. Page has been professor of general medicine and diseases of the chest in the New York polyclinic since 1885. He has contributed to the New York "Medical Record" and other periodicals. He is the author of a "Genealogy of the Page Family in Virginia" (New York, 1882) and of a "Sketch of Page's Battery, Jackson's Corps, Lee's Army" (1885); also of a "Chart of Physical Diagnosis" (1885).--Governor John's great-grandson, Thomas Nelson, author, born in Oakland, Hanover County, Virginia, 23 April, 1853, was brought up on the family plantation, which was a part of the original grant to his ancestor, Thomas Nelson. He was educated at Washington and Lee university, studied law, receiving the degree of LL.B. from the University of Virginia in 1874, and has practised his profession in Richmond, Virginia The degree of LL. D. was conferred on him by Washington and Lee in 1887. He began to write stories and poems in the negro dialect, for his own amusement, and one of these, entitled "Marse Chan," a tale of the civil war, when published in 1884, several years after it was written, attracted much attention, and was followed by "Meh Lady " and others in the same vein. A collection of these has been published under the title of "In Ole Virginia " (New York, 1887). His serial, "Two Little Confederates," is now (1888) appearing in the "St. Nicholas."
Edited Appletons Encyclopedia, Copyright © 2001 VirtualologyTM

Start your search on John Page.
Unauthorized Site: This site and its contents are not affiliated, connected, associated with or authorized by the individual, family, friends, or trademarked entities utilizing any part or the subject's entire name. Any official or affiliated sites that are related to this subject will be hyper linked below upon submission and Evisum, Inc. review.
Copyright© 2000 by Evisum Inc.TM. All rights reserved.
Evisum Inc.TM Privacy Policy