Appleton's Cyclopedia of American Biography, edited by James Grant Wilson, John Fiske and Stanley L. Klos. Six volumes, New York: D. Appleton and Company, 1887-1889 and 1999. Virtualology.com warns that these 19th Century biographies contain errors and bias. We rely on volunteers to edit the historic biographies on a continual basis. If you would like to edit this biography please submit a rewritten biography in text form . If acceptable, the new biography will be published above the 19th Century Appleton's Cyclopedia Biography citing the volunteer editor
Virtual American Biographies
Over 30,000 personalities with thousands of 19th Century illustrations, signatures, and exceptional life stories. Virtualology.com welcomes editing and additions to the biographies. To become this site's editor or a contributor Click Here or e-mail Virtualology here.
A
B
C
D
E
F
G
H
I
J
K
L
M
N
O
P
Q
R
S
T
U
V
W
X
Y
Z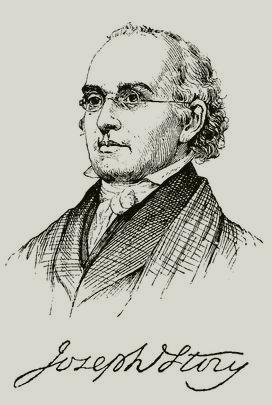 Click on an image to view full-sized
Joseph Story
STORY, Joseph, jurist, born in Marblehead, Massachusetts, 18 September, 1779; died in Cambridge, Massachusetts, 10 September, 1845. His father, Dr. Elisba Story, was one of the "Boston tea-party," and subsequently a surgeon in the Revolutionary army. In his boyhood the son manifested unusual powers of observation and an intense craving for knowledge. In 1798 he was graduated at Harvard, delivering the poem at the commencement exercises, and, choosing the law for his profession, studied under Samuel Sewall and Samuel Putnam. In 1801 he began practice in Salem, and prepared and published a "Selection of Pleadings in Civil Actions" (Salem, 1805). He published also "The Power of Solitude, with Fugitive Poems" (1804), a literary venture which he afterward deeply regretted. Becoming interested in feudalism, he made a profound study of the old blackletter law of England, and mastered the intricate and technical rules which govern the law of real property. Rising rapidly to eminence, he was soon retained in important cases, and took rank with the leaders of the New England bar. In 1805 he was elected a representative of Salem in the legislature, where he was a vigorous and accomplished debater, and became the acknowledged leader of the Republican party Though Democratic in his political views, he was never a slave to party, and on questions of national politics was of the school of Washington and Marshall. In 1808, in opposition to Christopher Gore, then at the zenith of his fame, Story defended the embargo as the only measure short of a declaration of war which the administration could have adopted without submitting to ignominious restrictions on American commerce by the belligerent powers. In the same year he was elected a representative to congress, where, in opposition to the administration, he labored to procure a repeal of the embargo, on the ground that it was expedient only as a temporary, not as a permanent, measure, and that its continuance would be disastrous to New England. When the embargo was finally repealed, President Jefferson attributed that result to Story, whom he styled "a pseudo-Republican." Another measure that Story advocated in opposition to the administration was an increase of the navy On his return home, he was re-elected to the Massachusetts house of representatives, and in 1811 became its speaker. In November of the same year, at the early age of thirty-two, Story was appointed by I)resident Madison an associate justice of the supreme court of the United States. His circuit embraced four states--Maine, New Hampshire, Massachusetts, and Rhode Is]and--and his judicial duties were onerous in the extreme. Among the questions that came before him for adjudication were curious and perplexing ones of admiralty law, of the law of salvage, and that of marine insurance, also of prize law, the principles of all which, now clearly defined, were then unsettled and imperfectly understood. Of the law relating to these subjects, and of the patent law, he was in a great measure the creator. He also divided with Chancellor Kent the honor of having-founded the American system of equity jurisprudence. In 1819 he denounced the slave-trade, still carried on in the ports of New England, so vehemently in his charges to the grand juries that he greatly contributed to its extinction. Though denounced by the press as deserving "to be hurled from the bench," he redelivered the charge, and in the case of " La jeune Eugdnie," branded the traffic in a masterly judgment as a violation of the law of nations. In the same year he gave his opinion in the celebrated Dartmouth college case, which is one of his best. When the Missouri compromise was agitating the country his feeling on the subject was so strong that he took part in a public meeting at Salem to protest against that measure. In 1820 he made, in the convention called to revise the constitution of Massachusetts, a powerful and brilliant speech, the best, he afterward thought, that he ever made, in opposition to a motion that the legislature should have authority to diminish the salaries of the judges of the supreme court. In 1829, when Nathan Dane founded a professorship of law at Harvard, he was elected to fill it, in accordance with the stipulation of its founder, and delivered an able and polished inaugural discourse. He now removed to Cambridge, where he resided for the rest of his life. The school, hitherto unsuccessful, now attracted students from all parts of the land. The number rose from one, the only student in attendance the year before, to thirty, to one hundred and twenty in 1842, and to one hundred and fifty-six in 1844. The annual salary that Story received during his professional life was $1,000. As a teacher of law Judge Story has had few if any equals. His vast acquirement, extraordinary fluency, sympathy with learners, and personal magnetism, eminently fitted him for that office. His familiar bearing toward "the boys," as he called the students, his frankness and abandon, his bubbling humor, his merry and contagious laugh, and his inexhaustible fund of incident and anecdote, with which he gave piquancy and zest to the driest themes, won for him not only the attention but the love of his pupils, whose professional careers, after they left the school, he watched with fatherly interest. He conducted his lectures as conversational exercises on the text-books, and two or three times a week held moot-courts in the library. His manner when lecturing was that of an enthusiast rather than that of a professional teacher. In 1831 Judge Story was offered the chief justiceship of Massachusetts, but he declined. After the death of Chief-Justice Marshall, being the senior member by appointment, he presided over the deliberations of his associates until the confirmation of Chief-Justice Taney. It had been the wish of Marshall that Story should succeed him, but, as he was not in sympathy with the administration, that was impossible. During the illness of Taney in 1844 he again filled tile chief justice's place for a few months. Judge Story had nearly completed his preparations for retiring from the bench and devoting his energies exclusively to the law-school, when he was stricken with a fatal illness. In 1818 he was elected an overseer of Hat-yard, and that university conferred on him the degree of LL.D. in 1821, while Brown similarly honored him in 1815, and Dartmouth in 1824. For many years he was president of the Merchants' bank in Salem, and in 1842 he was active in establishing tile alumni association of Harvard, of which he became vice-president. Though for thirty-three years a laborious judge of the supreme court of his country, and during the last sixteen years of his life an eminently successful teacher of law, Story gave to the world more text-books on jurisprudence than any other writer of his time. The list comprises his "Commentaries on the Law of Bailments" (Cambridge, 1832); "Commentaries on the Constitution of the United States," a work remarkable alike for its depth of research, vivid historical sketches, and treasures of political wisdom (3 vols., 1833) ; "Commentaries on the Conflict of Laws," his ablest and most original work (Boston, 1834) ; "Commentaries on Equity Jurisprudence," the first logical and systematic discussion of that subject (2 vols., 1835-'6); " Equity Pleadings" (1838) ; "Law of Agency" (1839); "Law of Partnership" (1841); "Law of Bills of Exchange " (1843); and "Law of Promissory Notes" (1845). He also edited" Chitty on Bills of Exchange and Promissory Notes" (boston, 1809) ; "Abbot on Shipping" (1810); and "Laws on Assumpsit" (1811), with notes of American statutes and cases. All of these works have passed through many editions, and are recognized not only by British judges, but on the continent, where they have been translated into German and French. as of the highest authority. Edward Everett writes: "For an American judge to be daily cited in the British courts from the highest of all, the court of parliament, down, and to have his books alluded to as the proof that certain branches of jurisprudence, and these the nobler ones, are more extensively and successfully cultivated in America than in England, may well be regarded as an offset for the taunts of tourists and reviewers." Story's decisions as a circuit-court judge are contained in thirteen octavo volumes, being the reports of Cranch, Wheaton, Peters, and Howard, from 1811 to 1845. The reports of the supreme court during his judicial life fill thirty-five volumes, of which his judicial opinions, remarkable alike for their compact logic, luminous clearness, wealth of learning, and fulness of illustration, form a large part. The notes he contributed to Wheaton's reports fill 184 closely printed pages. Besides all these legal labors, he delivered many discourses on literary and other themes, wrote numerous biographical sketches of his contemporaries, and contributed elaborate papers to the "North American Review" and the "American Jurist." He also wrote for his friend Dr. Lieber's "Encyclopaedia Americana" articles filling 120 pages, prepared reports on codification, etc., and drafted some of the most important acts of congress. He left an unpublished "Digest of Law" in three manuscript folio volumes, which is in the Harvard law library. The secret of these colossal achievements was ceaseless, systematic industry, an extraordinary memory equally tenacious of principles and of cases, frequent change of labor, and concentration of mind. He economized odd moments, changed his work when weary, and wrought with all the force of his intellect. Judge Story had fine colloquial powers, which manifested themselves not in wit or epigram, but in a continuous flow of genial and sparkling remark. His favorite English poets were Pope and Gray" his favorite Latin poet was Virgil, of whose works, when travelling, he always carried with him a well-thumbed pocket edition. A collection of his "Miscellaneous Writings" was published during his life-time (1835), and an enlarged edition, edited by his son, William W. Story, appeared after his death (2 vols., Boston, 1851). See also " Life and Letters of Joseph Story," by William W. Story (2 vols., 1851). A selection from his decisions, entitled "Notes on the Principle and Practice of Prize Courts," was edited by E. T. Pratt (London, 1854). --His son, William Wetmore, artist, born in Salem, Massachusetts, 12 February, 1819, was graduated at Harvard in 1838, and at its law department in 1840, where he studied under his father's direction. He was admitted to the bar, and devoted his attention largely to the preparation of the "Reports of Cases argued and determined in the Circuit Court of the United States of the First Circuit" (3 vols., Boston, 1842-'7)""Treatise on the Law of Contracts not under Seal" (1844); and "Treatise on the Law of Sales of Personal Property" (1847). At the same time he was a frequent contributor of both prose and verse to the "Boston Miscellany" and other periodicals. Mr. Story was the poet of his class, and in 1844 delivered the + B K poem at Harvard on "Nature and Art," in which he indicated the tastes which were to govern his future life. His first volume of "Poems" was published in 1847, and in 1856 he delivered a poem at the dedication of the statue of Beethoven at the Boston music-hall. In 1848 his fondness for art led to his going to Italy, where he has since resided, devoting his attention chiefly to sculpture. His statue of his father in the chapel of Mount Auburn cemetery, of Edward Everett in the Boston public garden, busts of James Russell Lowell, Theodore Parker, and Josiah Quincy, are well-known examples of his art, and he modelled a bronze statue of George Peabody, which was erected in London in 1869, and a replica of which was presented in 1888 to the city of Baltimore through the liberality of Robert Garrett. He was a United States commissioner on fine arts to the World's fair at Paris in 1879, and has received decorations from France and Italy. Mr. Story holds a professorship in the Academia degli arcadi Sta. Cecilia, and has received the degree of D. C. L. from the University of Oxford and an honorary degree from the University of Bologna on its 800th anniversary. Among his other works are "Sappho" (1862); "Saul" (1863); "Delilah" (]866); "Helen" (1869) ; "Judith" (1872); "Sardanapalus" (1878) ; "Jerusalem in her Desolation" (1870) ; and "Thetis and Achilles" (1887-'8). His "Cleopatra" (1864) and "Semiramis" (1872) are now in the Metropolitan museum of art in New York city. Mr. Story is also an accomplished musician. Since his residence abroad he has published "Life and Letters of Joseph Story" (2 vols., Boston, 1851); "Poems" (1856); "The American Question" (London, 1862) ; "Roba di Roma, or Walks and Talks about Rome" (1862); "Proportions of the Human Figure according to a New Canon for Practical Use" (1866); "Graffiti d'Italia" (1869) ; "The Roman Lawyer in Jerusalem " (1870) ; "Tragedy of Nero" (1875) ; " Castle St. Angelo" (1877); "He and She, or a Poet's Portfolio" (1883); " Fiammetta" (1885); and "Poems" (2 vols., 1886). His sons are artists of promise, WALDO being a sculptor and JULIAN a painter, whose works are well known in London, Paris, and Rome.--Joseph's cousin, Isaac, poet, born in Marblehead, Massachusetts, 25 August, 1774; died there, 19 July, 1803, was the grandson of Reverend Simon Brad-street, and son of Reverend Isaac Story (1749-1816), who was minister of Marblehead from 1771 till 1800. The son was graduated at Harvard in 1793, and, after studying law, followed his profession in Castine, Maine, where he also edited the "Journal," and at Rutland, Massachusetts He contributed to current literature, notably to "The Farmer's Museum," and a series to the "Columbian Centinel," which he signed "The Traveller." In 1800 he delivered a eulogy on Washington at Sterling, Massachusetts, where he then resided, and in 1800 a Fourth-of-July oration in Worcester, Massachusetts, which was published. Mr. Story issued in book-form "An Epistle from Yarico to Inkle" (Marblehead, 1792) ; "Consolatory Odes, dedicated to those Unfortunate Beings who labor under the Malignant Influence of the Democratic Mania" (Worcester, 1799) ; and "A Parnassian Shop opened in the Pindaric Style, by Peter Quince, Esq." (Boston, 1801).
Edited Appletons Encyclopedia, Copyright © 2001 VirtualologyTM

Unauthorized Site: This site and its contents are not affiliated, connected, associated with or authorized by the individual, family, friends, or trademarked entities utilizing any part or the subject's entire name. Any official or affiliated sites that are related to this subject will be hyper linked below upon submission and Evisum, Inc. review.
Copyright© 2000 by Evisum Inc.TM. All rights reserved.
Evisum Inc.TM Privacy Policy