Appleton's Cyclopedia of American Biography, edited by James Grant Wilson, John Fiske and Stanley L. Klos. Six volumes, New York: D. Appleton and Company, 1887-1889 and 1999. Virtualology.com warns that these 19th Century biographies contain errors and bias. We rely on volunteers to edit the historic biographies on a continual basis. If you would like to edit this biography please submit a rewritten biography in text form . If acceptable, the new biography will be published above the 19th Century Appleton's Cyclopedia Biography citing the volunteer editor
Virtual American Biographies
Over 30,000 personalities with thousands of 19th Century illustrations, signatures, and exceptional life stories. Virtualology.com welcomes editing and additions to the biographies. To become this site's editor or a contributor Click Here or e-mail Virtualology here.
A
B
C
D
E
F
G
H
I
J
K
L
M
N
O
P
Q
R
S
T
U
V
W
X
Y
Z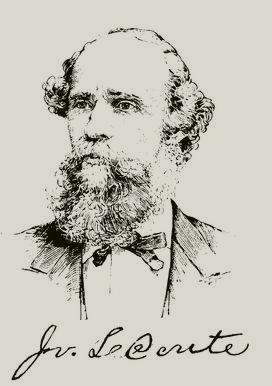 Click on an image to view full-sized
Lewis Le Conte
LE CONTE, Lewis, naturalist, born near Shrewsbury, New Jersey, 4 August, 1782; died in Liberty county, Georgia, 9 January, 1838. He was descended from a French Huguenot family that settled, about the close of the 17th century, in New Rochelle, New York, and was graduated at Columbia in 1799, after which he studied medicine with Dr. David Hosack. Mr. Le Conte was soon afterward called to the charge of the family estates of Woodmanston, in Georgia, and gave up his profession, but cultivated several branches of the natural and physical sciences. He established a botanical garden on his plantation, which was especially rich in bulbous plants from the Cape of Good Hope, and a laboratory in which he tested the discoveries of the chemists of the day. In consequence of an aversion to appearing in print, he published nothing, but gave the fruits of his investigations to his scientific friends. The monographs of his brother, John Eatton Le Conte, were enriched by his observations. Stephen Elliott, of South Carolina, and other contemporary botanists, acknowledged their obligations to him. He also devoted much attention to mathematical subjects, and among others to that of "magic squares." His death resulted from poison that was taken into his system while he was dressing a wound for a member of his family.--His brother, John Eatton, naturalist, born near Shrewsbury, New Jersey, 22 February, 1784-d. in Philadelphia, Pennsylvania, 21 November, 1860, entered the corps of topographical engineers of the United States army in 1818, and remained in the service till 1831, attaining, in 1828, the brevet rank of major for ten yea, 's' faithful service. He had been associated with his elder brother in the study of botany in New York city. Major Le Conte published special studies on utricularia, gratiela, ruellia, tillandsia, viola, and pancratium; also on native grape vines, tobbacco, and the pecan nut. He also wrote several papers on mammals, repiles, batrachians, and crustacea, mostly of a systematic character, and collected a vast amount of original material for the natural history of American insects, as may be seen by a single installment that was published in Paris in conjunction with Boisduval upon "North American Butterflies." His specialty was coleoptera, particularly during the latter part of his career, though he published only four papers upon them, and chiefly upon the histeridae. He not only gathered a considerable collection, but left an extensive series of water color illustrations of American insects and plants that he made with his own hands. Major Le Conte was a member of the New York lyceum of natural history, and vice president of the Philadelphia academy of natural sciences, to whose proceedings he contributed sol-entitle papers.--Lewis's son, John, physicist, born in Liberty county, Georgia, 4 December, 1818, was graduated at Franklin college, of the University of Georgia, in 1838, and at the College of physicians and surgeons, New York, in 1841. He settled in Savannah, Georgia, in 1842, and there began the practice of his profession, but in 1846 was called to the chair of natural philosophy and chemistry in Franklin college, which he held until 1855. He lectured on chemistry at the College of physicians and surgeons at New York, in 1855-'6, and in 1856 became professor of natural and mechanical philosophy in South Carolina college, at Columbia. In 1869 he was appointed professor of physics and industrial mechanics in the University of California, and, after holding the office of president of the university, in addition to his chair, during 1876-'81, retired in the latter year to the chair of physics, which he still (1887) retains. His scientific work extends over nearly fifty years, and at first was in the line of medical investigation, but subsequently became confined almost exclusively to physical science. It includes more than fifty communications that have appeared in scientific journals both in the United States and in England, also in the "Proceedings of the American Association for the Advancement of Science," of which organization he was general secretary in 18,57. During the same year he delivered a course of lectures on the "Physics of Meteorology" at the Smithsonian institution in Washington, D. C., and in 1867 one of four lectures on the "Stellar Universe" at the Peabody institute in Baltimore, Maryland Professor Le Conte received the degree of LL. D. front the University of Georgia in 1879. Since 1878 he has been a member of the National academy of science. A treatise on "General Physics," which had been nearly completed by him, was destroyed by fire in the burning of Columbia, South Carolina, in 1865.--Another son of Lewis, Joseph, geologist, born in Liberty county, Georgia, 26 February, 1823, was graduated at Franklin college, of the University of Georgia, in 1841, obtained his medical degree at the College of physicians and surgeons, New York, in 1845, and, settling inalacon, Georgia, practised for several years. In 1850 he entered the Lawrence scientific school of Harvard, and there devoted his attention principally to the natural sciences and geology under Louis Agassiz. He received the degree of B. S. in 1851, and during the same year accompanied Agassiz on an exploring expedition to Florida. In 1852 he became professor of natural science in Oglethorbe college, and a year later was called to the chair of geology and natural history in Franklin college. He accepted, in 1857, the professorship of chemistry and geology in South Carolina became professor of geology and natural history in the University of California, which chair he still (1887) retains. During the civil war he served as chemist to the Confederate laboratory for the manufacture of medicines in 1862-'3, and "in a similar capacity to the nitre and mining bureau in 1864-'5. Professor Le Conte's work includes numerous original investigations in geology and physiological optics, and he has written essays on subjects pertinent to the development theory, that have been contributed to scientific journals, to the reviews, or to the transactions of societies with which he is connected. He received the degree of LL. D. from the University of Georgia in 1879, and is a member of numerous scientific societies, including the National academy of sciences, to which he received an election in 1875. Professor Le Conte has published "Religion and Science," a series of Sunday lectures (New York, 1873); "Elements of Geology" (1878). "Sight" an Exposition of the Principles of Monocular and Binocular Vision" (1880); "Compend of Geology" (1884); and "Evolution-its Nature, its Evidences, and its Relation to Religious Thought" (1887).--John Eatton's son, John Lawrence, naturalist, born in New York city, 13 May, 1825; died in Philadelphia, Pennsylvania, 15 November, 1883, was graduated at Mount St. Mary's college, Emmettsburg, Maryland, in 1842, and at the College of physicians and surgeons of New York in 1846. As a student he devoted considerable attention to the study of natural history, visiting Lake Superior and the upper Mississippi in 1844, the Rocky mountains in 1845, and the Lake Superior region again in 1846. He visited this region for a third time, with Louis Agassiz, in 1848, and during the following year went to California, where he remained until 1851, exploring the Colorado river. In 1857 he spent several months in Honduras, during the survey of the interoceanic route across that country, and in 1867 he visited parts of Colorado and New Mexico while the survey for the Kansas Pacific railroad was in progress. Subsequently he made other expeditions at various times to Panama, Europe, Egypt, and Algiers, collecting valuable material on the fauna of the world. In 1852 he moved to Philadelphia, where he resided until his death. Soon after the beginning of the civil war he enlisted in the United States army as surgeon of volunteers, and was advanced to the office of medical inspector with the rank of lieutenant-colonel, which he retained until the end of the war. He became chief clerk of the United States mint in Philadelphia in 1878, and held that place until his death. Dr. Le Conte was a member of various scientific societies, held the vice presidency of the American philosophical society in 1880-'3, and was one of the founders of the American entomological society, he was one of the charter members of the National academy of sciences, and in 1873 was elected president of the American association for the advancement of science, delivering his retiring address at the Detroit meeting on "Modern Biological Inquiry," in which he collated the known facts concerning the actual distribution of certain American eoleoptera. Dr. Samuel H. Scudder calls him "the greatest entomologist that this country has yet produced." His specialty was the coleoptera, and full lists of his papers are given by. Louis Agassiz in his "Bibliographia Zoologiae," and by Hermann A. Hagen in his "Bibliotheca Entonologica." The Smithsonian collections include his "Classification of the Coleoptera of North America" (part i., 1862, part ii., 1873), "List of Coleoptera of North America" (part i., 1866), and "New Species of North American Coleoptera" (part i., 1866; part it., 1873).
Edited Appletons Encyclopedia, Copyright © 2001 VirtualologyTM

Unauthorized Site: This site and its contents are not affiliated, connected, associated with or authorized by the individual, family, friends, or trademarked entities utilizing any part or the subject's entire name. Any official or affiliated sites that are related to this subject will be hyper linked below upon submission and Evisum, Inc. review.
Copyright© 2000 by Evisum Inc.TM. All rights reserved.
Evisum Inc.TM Privacy Policy