Appleton's Cyclopedia of American Biography, edited by James Grant Wilson, John Fiske and Stanley L. Klos. Six volumes, New York: D. Appleton and Company, 1887-1889 and 1999. Virtualology.com warns that these 19th Century biographies contain errors and bias. We rely on volunteers to edit the historic biographies on a continual basis. If you would like to edit this biography please submit a rewritten biography in text form . If acceptable, the new biography will be published above the 19th Century Appleton's Cyclopedia Biography citing the volunteer editor
Virtual American Biographies
Over 30,000 personalities with thousands of 19th Century illustrations, signatures, and exceptional life stories. Virtualology.com welcomes editing and additions to the biographies. To become this site's editor or a contributor Click Here or e-mail Virtualology here.
A
B
C
D
E
F
G
H
I
J
K
L
M
N
O
P
Q
R
S
T
U
V
W
X
Y
Z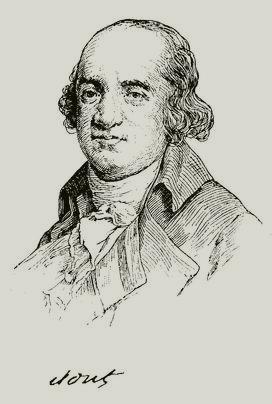 Click on an image to view full-sized
Pierre Samuel Du Pont de Nemours
DU PONT DE NEMOURS, Pierre Samuel, political economist, born in Paris, France, 14 December 1739" died near Wilmington, Def., 6 August 1817. He was of Huguenot parentage. At the age of twenty-three he published two pamphlets on the finances, which attracted the attention of the celebrated Quesnay, and led to Du Pont's enrolment among the " economists," as the believers in Quesnay's newly discovered principles of political economy were called. They waged unrelenting warfare against the errors and abuses that dwarfed commercial enterprise and ruined the tillers of the soil.
Du Pont devoted himself to the cause with zeal, and did more than any one else to give currency to the philanthropic doctrines of the school. His first important book, " De l'exportation et de l'importation des grains" (1764), had a great success. Turgot, then intendant at Limoges, sought the young author's acquaintance, and a close and lasting intimacy ensued. During the next few years Du Pont's chief publications were "Physiocratie, a compendium of Quesnay's system (1768)" "De l'origine et du progres d'une science nouvelle" (1768); " Du commerce de la eompagnie des Irides" (1769)" "Histoire abregee des finances de l'Angleterre" (1769)" "Analyse du poeme des saisons" (1769); and "Observations sur les effets de la liberte du oommeree des grains et sur aux des prohibitions " (1770). He also edited the "Journal de l'agrieult ure, du commerce, et des finances " (1765'6), and from May 1768, the "EphSmSrides du citoyen," the organ of the economists. To a minister of the questionable expedients of the Abbey Terray a man like Du Pont could not fail to be obnoxious, and in 1772 the publication of the " Ephemdrides" was forbidden.
Though persecuted at home, its editor received various titles and decorations from foreign princes, and in 1774 went to Poland, at the instance of King Stanislas Augustus, to organize a general system of national education. Later in the year, when Turgot succeeded Terray as comptroller general of the finances, Du Pont was named inspector general of commerce, and ordered to return forthwith to France. At the head of the bureau in the ministry of finance, to which all affairs of importance were referred, he took a prominent part in all the measures of reform that Turgot instituted. The famous "Report on the Municipalities," which was really the draft of a liberal constitution, was the work of Du Pont though Turgot did not remain long enough in office to submit it to the king.
Upon Turgot's disgrace in 1776, Maurepas, his successor, placed Du Pont upon the retired list and banished him to the country, where he busied himself with agricultural and literary pursuits until recalled to active duty in 1778 by Vergennes, who employed him in the task of negotiating with the English envoy, Dr. Hutton, the treaty of 1783, by which Great Britain formally recognized the independence of the United States, and later in the still more delicate undertaking of arranging the terms of the commercial treaty that France and England signed in 1786.
In recognition of these services he was made councilor of state. He was appointed secretary-general of the assembly of notables in 1787, and drew up the various measures of reform that Calonne presented, the personal interference of Louis XVI alone saving Du Pont from a second banishment after the fall of that minister. From 1772 till 1789 Du Pont's principal works were a translation into French verse of a portion of Ariosto's " Orlando Furioso" (1781); a memoir of Turgot (1782); and his "Lettre a la chambre du commerce de Normandie" (1788), in which he refuted the attacks on the treaty of 1786 he was a member of the states general from Nemours at the beginning of the Revolution, and later of the constituent assembly, of which he was twice elected president, and was one of the leaders of the moderate party that advocated a constitutional monarchy. His fearless opposition to the issue of an irredeemable paper currency nearly cost him his life at the hands of the mob, 10 September 1790. After the dissolution of the assembly he edited the "Correspondance patriotique," and published various pamphlets in the interest of law and order, among others his memorable letters denouncing Petion, mayor of Paris.
Du Pont was marked for destruction after 10 August 1792, when he and his son were at the Tuileries among the armed defenders of the king, but escaped to the country, after being hidden in the observatory for several weeks by the astronomer Lahmde, and while in concealment wrote his "Philosophie de l'univers." He was finally arrested and imprisoned, and only the death of Robespierre, 28 July 1794, saved him from the guillotine. As soon as he was released he renewed his opposition to the Jacobins, appearing in print with his " Plaidoyer de Lycias," which compared the enormities of the "terror" with an episode in Athenian history, and with his " Constitution pour la rdpublique Francaise" (1795), and other productions. He also founded and edited the "Historian," a political journal. He was elected to the council of ancients in 1'795, and became its president in 1797" but, when the Jacobins broke up the councils with Augereau's troops, Du Pont was again imprisoned, his house and property being pillaged and destroyed.
In 1799 he immigrated with his family to this country, where he was received with much consideration, and at Jefferson's request prepared a work on national education in the United States (2d ed., 1812). The author's plan, though not carried out in the country for which it was intended, has been partially adopted in his native land. Returning to France in 1802, Du Pont de Nemours was instrumental in promoting the treaty of 1803, by which Louisiana was sold to the United States. He was strongly opposed to Napoleon, refusing to hold office under his government, but became president of the Paris chamber of commerce and of several charitable institutions. Besides numerous scientific and literary papers for the French institute. of which he was a member, he published "Sur le droit de marque des cuirs" (1804); "Sur la banque de France" (1806); and "Mdmoires sur diffdrents sujets" (1807). In 1814 he became secretary of the provisional government that prepared the return of Louis XVIII., but when Napoleon escaped from Elba in 1815 Du Pont de Nemours rejoined his sons in America. His last work was " Examen de Malthus et lettre a Say" (Philadelphia, 1817).
His son, Victor Marie Du Pont, born in Paris, France, 1 October 1767; died in Philadelphia, Pennsylvania, 30 January 1827, entered the diplomatic service in 1787 as attach6 of the French legation to the United States, where he remained for several years. In 1795, when M. Adet was minister, he had become first secretary of legation, and the same year was appointed French consul at Charleston, S.C. He was promoted to consul general of France at New York in 1798; but the president refused him an exequatur on account of the grave difficulties that had arisen with the French republic. Returning to Europe, he left the government service and immigrated to the United States, arriving in Newport, R. I., 1 January 1800, with his father and brother.
In connection with the former he founded the business house of Du Pont de Nemours, ills et cie, of New York, which was very successful until ruined by heavy advances made to refit and provision the French squadron from Santo Domingo, payment of the drafts on the French treasury being refused by order of Napoleon, who saw a favorable opportunity of striking a political enemy. In 1806 Victor Du Pont went to Angelica, New York, and three years later joined his brother near Wilmington, Del., where he established a cloth manufactory, in which, later, his oldest son, Charles Irdnde Du Pont, assisted him. Victor Du Pont was a member of the Delaware legislature, and a director of the bank of the United States and lived in Delaware till his death.
Another son, Eleuthere Irenee Du Pont, born in paris, France, 24 June 1771 ; died in Philadelphia, Pennsylvania, 31 October 1834. His tastes turned early toward scientific pursuits, and his father's friend, Lavoisier, the eminent chemist, whom Turgot had made superintendent of the government powder mills, offered to take him in charge and secure his reversion to that important post. This led to his going to the royal mills at Essonne to acquire a practical knowledge of the manufacture of gunpowder, where he remained until the French Revolution seemingly changed his whole career. He was summoned to Paris, 8 June 1791, to take charge of the printing and publishing house that his father had established, and found himself conducting a great business almost alone.
He was three times imprisoned, and was in the utmost peril after 10 August 1792, when he and his father were at the Tuileries among the armed supporters of Louis XVI. When the Jacobins, beaten at the polls, called in Augereau's soldiers to overthrow the government, 5 September 1797, his father was imprisoned, and the printing house was sacked and destroyed. The family sailed for the United States in 1799. Some months after his arrival an accidental circumstance called Irenee du Pont's attention to the bad quality of the gunpowder made in this country, and gave him the first idea of erecting works for its manufacture. He went back to France in January 1801 and revisited Essonne to procure plans and models, returning to the United States in August with some of the machinery. Thomas Jefferson was very anxious that the works should be built in Virginia ; but there, as in Maryland, Irenee Du Pont was deterred by the institution of slavery and its effects upon the white race.
In June 1802, he bought a tract of land, with waterpower, on the Brandywine River, near Wilmington, Del., arrived there with his family on 19 July and set to work at once. After many disappointments and losses, Ms energy and coatage surmounted every obstacle, His works, the largest of their kind in the country at the time of his sudden death from cholera, have been greatly increased under the management of his sons, ALFRED VICTOR (1798 - 1856), HENRY, and ALEXIS IRENEE (1814 - 1857), and of his grandsons, ELEUTHERE IRENEE (1829 - 1877), LAMMOT (1831-1884), EUGENE, FRANCIS GURNEY, HENRY ALGERNON, and WILLIAM.
Since 1850 the business has been under the direction of Henry Du Pont, second son of its founder, born near Wilmington, Del., 8 August 1812, a graduate of the U. S. military academy.
Edited Appletons Encyclopedia, Copyright © 2001 VirtualologyTM

Unauthorized Site: This site and its contents are not affiliated, connected, associated with or authorized by the individual, family, friends, or trademarked entities utilizing any part or the subject's entire name. Any official or affiliated sites that are related to this subject will be hyper linked below upon submission and Evisum, Inc. review.
Copyright© 2000 by Evisum Inc.TM. All rights reserved.
Evisum Inc.TM Privacy Policy