The Seven Flags of the New Orleans Tri-Centennial
Where's the Sizzle?
A Patriot Walk Of Glory
By: Stan Klos

Click Here to visit the Fort Pitt Museum
The new convention center, ballparks, and the many entrepreneurial efforts of revitalization in Pittsburgh are all components that streak a bleak economic sky with a multitude of silver linings.
Most fiscally astute people maintain that Pittsburgh is in trouble, serious trouble. Clearly, Pittsburgh is struggling, with Allegheny County ranking third in population loss in the last decade – 9.6%. Faced with 342,243 less people from the baby boom of the 1950's (1950 - 676,806 down to 334,563 in 2000) Pittsburgh's seemingly impossible challenge is to keep its infrastructure of roads, bridges, sewer, public water system, along with its parks, schools, public buildings and a whole host of other services humming along. The problem is that such services were planned to be supported by 700,000 citizens. With less then 334,000 taxpayers to carry the burdens of an aging infrastructure, it is no wonder our elected officials felt compelled to announce in November 2003 that they are seeking "distressed status" for the city of Pittsburgh to avoid filing for bankruptcy.

As a native New Yorker, who married a Pittsburgh Lady and is raising eight children in Allegheny County, I feel compelled, at the very least, to suggest a direction for the town fathers:
Embrace and Broadcast the life of Young George Washington.
Yes, the Father of Our Country, George Washington got his historic start in Pittsburgh!
In October 1753 Governor Robert Dinwiddie of Virginia sent young George Washington to what was then Western Virginia to warn the French to stay out of the Alleghenies. He kept a detailed diary and on November 24th, 250 years ago, Washington reached the Point and wrote:
As I got down before the Canoe, I spent some Time in viewing the Rivers, and the Land in the Fork; which I think extremely well situated for a Fort, as it has the absolute Command of both Rivers. The Land at the Point is 20 or 25 Feet above the common Surface of the Water; and a considerable Bottom of flat, well-timbered Land all around it, very convenient for Building: The Rivers are each a Quarter of a Mile, or more, across, and run here very near at right Angles: Aligany bearing N. E. and Monongahela S. E. The former of these two is a very rapid and swift running Water; the other deep and still, without any perceptible fall.
Washington continued his mission to reach the French Commander Legardeur de Saint Pierre who was headquartered in Erie. The young lieutenant arrived at Fort Presque Isle on December 11th requesting of the French Commander "by what Authority he had made Prisoners of several of our English Subjects," Pierre replied "that the Country belonged to them; that no Englishman had a Right to trade upon those Waters; and that he had Orders to make every Person Prisoner who attempted it on the Ohio, or the Waters of it." The French Commander's formal letter to the Governor of Virginia was delivered by Washington in Williamsburg on January 16, 1754 and it was equally as firm.
The arduous expedition and detailed diary led to Washington's promotion to Colonel and an outfitting of men to re-claim The Point for Virginia, King and Country. The French, wasting no time in Washington's five month absence built Fort Duquesne in less than four months. It was on May 28th, 1754 at Jumonville Glen that Washington launched his almost miraculous military career by intercepting a small French encampment detached from Fort Duquesne to scout for British resistance. Washington, instead of parlaying, fired the first shot, captured the detachments and this act was the final spark that ignited the French and Indian War in America. George Washington's military career was born on this spring day in May.
Young George Washington's courage and military ability were to be tested several more times in the course of what became commonly known as the French and Indian War. After his altercation at Jumonville Glen Washington retreated east and hastily constructed Fort Necessity to prepare for the imminent French retaliation from Fort Duquesne. The French arrived at Great Meadows in late June and by July 3rd Washington had no other option but to accept the terms of surrender permitting him and the garrison to "retire into his own country." Shortage of supplies, ammunition, lack of men and a poorly designed fort had led to the first defeat of Washington's career despite a valiant defense.
In February 1755, a new British Campaign headed by Major General Edward Braddock left Alexandria, Virginia for The Point. Young George Washington was sought out by the British Commander and became the only colonial officer admitted to the prestigious general staff. Their mission and the British mind-set was best summed-up by Braddock:

"After taking Fort Duquesne," said the general, "I am to proceed to Niagara; and, having taken that, to Frontenac if the season will allow time, and I suppose it will, for Duquesne can hardly detain me above three or four days; and then I can see nothing that can obstruct my march to Niagara."

The expedition made slow progress, but at last drew near the fort, and crossed the Monongahela where General Braddock and his 2400 British regulars were surprised by a force of 900 French and Native Americans. Most of Braddock's troop's panicked and over 1200 men were killed or seriously wounded. Of Braddock's staff, only Colonel Washington was alive, relatively well, and managed to lead the surviving troops to safety. Braddock, himself, was mortally shot through the arm and into his chest. He died during the British retreat to eastern Virginia. General Braddock was buried in the middle of the road near Fort Necessity to avoid his body's detection by the Indians.
In the autumn of 1758 British Brigadier General John Forbes was placed in command of the expedition against Fort Duquesne. The Forbes Campaign numbered 1,200 highlanders, 350 royal Americans, and about 5,000 provincials, including about 1,000 Virginians under the command of Colonel George Washington. The expedition took a new route through Western Pennsylvania that was uneventful except for Forbes taking ill and Washington almost being killed by friendly fire at Fort Ligonier. Passing the field where the bones of Braddock's men lay unburied, the expedition finally reached Fort, Duquesne on November 25th. The Fort had been blown up and abandoned by the French on the previous day. Washington's men took possession of the Point and the Virginia Colonel personally raised the British Flag over the Three Rivers thus ending his military campaign began 5 years earlier. Forbes renamed The Point Fort Pitt, in honor of William Pitt, who had planned the campaign. After concluding treaties with the Native American Tribes on the Ohio, Forbes and Washington returned to Philadelphia.
<![if !supportLineBreakNewLine]>
<![endif]>
It was the campaigns against Fort Duquesne that honed Washington's military instincts, and taught him the methods of British and French Tactical Warfare. These campaigns also established Washington's reputation as a war hero throughout the colonies and Great Britain.
By the reign of the King George III the war was all but won but the cost in gold and wealth to the treasury crippled the British Empire. In an attempt to recover the war losses the British levied taxes on the 13 colonies but quickly learned its colonial citizens, who were now battle harden patriots, believed they earned the right to govern and tax their own holdings in North America. Ultimately it was the French and Indian War campaign experiences, physical forts, and bountiful British arms that enabled the colonists to successfully oppose Britain's taxes and wage a revolution against England from 1775 to 1783. It was also the French and Indian War campaigns against Fort Duquesne that fashioned a hardened commander-in-chief aspirant who understood how supply, equip and lead an army against British Regulars. The Continental Congress' selection of George Washington on July 3, 1775 as Commander-in-Chief was primarily due to Virginia connections, military experience and training that all stemmed from his campaigns against Fort Duquesne.
***** It was The Point that launched Washington's destiny and the subsequent chain of events that won our Independence from Great Britain. Consequently, Pittsburgh's historians can make a creditable case that Pittsburgh is the commencement of George Washington's March to Independence. ******

Last Fall I made this case to Chuck Smith, Director of the Fort Pitt Museum and Martin West, Director of Fort Ligonier at a small Chinese restaurant in Ligonier. It was like preaching to the choir. What the choir didn't know, however, was that the auto-biographical account by Washington, in his own hand, against the French at The Point was being auctioned off at Christies in New York City later that month. With lightening speed they contacted Laura Fisher of the War for Empire Consortium and upon her bidding we constructed a simple paragraph on why Western Pennsylvania must acquire this autobiography for their archives. Simply stated we concurred that:
"Washington's 11 page handwritten Autobiography, covering his campaigns against Fort Duquesne, is the most important and significant single artifact in Western Pennsylvania History".
Laura Fisher, with almost unheard of speed raised the necessary capital through the War for Empire Consortium and with the help of two equally driven manuscript dealers purchased Washington's 11 page handwritten auto-biography from the Malcolm Forbes' Christies Auction.
Despite the local and national monumental importance of this autobiography I have tossed and turned for months knowing the acquisition required sizzle to gain both the local and national prominence it so richly deserves. Like Pittsburgh's quality of life, the beef is there to the nth degree but virtually no one knows that Our Nation and Washington's road to Independence began at The Point. What we need, I proclaimed to all that would listen these past months is an attraction so monumental that the sizzle will enable Pittsburgh to broadcast young Washington's exploits in such a manner that it will capture "International Sound bite Spotlight".
At first I envision monuments on the scale of St. Louis's Archway but as I analyzed our city budgets and congressional clout it became clear we needed a venue simple but bold, affordable but irreplaceable and most importantly one that mirrors the true character of Pittsburghers and their Founding Father George Washington.
It came to me one night as I flicked through the channels and viewed another ho hum epideictic celebrity blubbering over their newly unveiled star in Hollywood between clips of another awards banquet. I reasoned, why not take a page out of Hollywood's book of sound bite glamour spin and create a "Walk of Fame" around The Point? Yes the walk could use Stars, perhaps Comets, or even the Great Seal to mark the honorees. Personally, I envision the Patriot's names marked by Old Glory on a Patriot Walk of Glory.
The point is (no pun intended) that we use sensational sound bite publicity to immortalize The Point's significance in shaping our nation's history. By establishing a Patriot Walk of Glory honoring history's true stars from young George Washington to Neil Armstrong, Pittsburgh opens-up all kind of doors for meaningful publicity and visitors eager to experience the Patriot Walk of Glory venue. To start off, the Patriot Walk of Glory can begin with setting a plaque for Young George Washington on the 250th anniversary of his visit on November 24th. On a regular basis the walk can be filled with American Patriots from the 18th and 19th Centuries requesting appropriate relatives, historical societies, museums etc … to accept the honors bestowed on these great men and women posthumously.
Once this "dead", albeit extremely important, section is completed, the public relations excitement begins with the addition of living Patriots. History's living heroes and heroines come not to Hollywood Boulevard to unveil stars but to The Point to mark their accomplishments along side George Washington marked by Old Glory. Due to the significance of the honorees, it is essential that the Patriot Walk of Glory be designed and hallowed in such a manner that living Patriots will feel compelled to come to their "Old Glory" unveiling.
This Patriot Walk of Glory, by its very nature will provide an interpretive trail mapping not just Pittsburgh but our nation's history that will last the ages. Additionally, The Point would become a venue to support a variety of public exhibits. The Point's Patriot Walk of Glory would shine a bright national spotlight on the accomplishments of American Pioneers such as Madeline Albright or Rosa Parks. Perhaps the public might surprise us (as they often do) and such honorees would gain more attention than the Hollywood Star unveilings of entertainers like Madonna or George Clooney. Wouldn't it be prudent to positively focus National Attention on Great American Patriots two or three times a year at The Point where it all began for young George Washington?
In addition to the Patriot Walk of Glory the city or local benefactors should find the funds to re-construct Fort Duquesne (the French did it in 4 months with a small contingent of men in 1754), which would become an instant international attraction being French. Imagine the controversy that would be started over a Fort Duquesne in the heart of Fort Pitt filled with French soldiers awaiting the arrival of young George Washington and British regulars. Physically it also makes sense as Fort Duquesne is much smaller to re-construct than Fort Pitt, made of wood, and can fit easily on the open ground already existing in the park unlike the massive Fort Pitt that once expanded past the bridge's maze of connecting arteries. Historically, Fort Duquesne is more significant then Fort Pitt as it was the venue that defied Britain's rights to the headwaters of the Ohio while claiming the Northwest Territory for France.
<![if !supportLineBreakNewLine]>
<![endif]>
I say let Hollywood and Cleveland have their Movie Star Walk and Rock & Roll Hall of Fame. Pittsburgh's Patriot Walk of Glory around The Point surrounding a re-constructed Fort Duquesne will appropriately honor men and women who forged our great history starting with the Father of our Country. The Patriot Walk of Glory and re-constructed Fort will provide George Washington's 11 page auto-biography and Pittsburgh the SIZZLE necessary to turn-on that International Spotlight and attract international visitors. Once the focus shifts, people will be in awe of Pittsburgh's culture centers, magnificent ballparks, our Green Convention Center and the quality of life second to none in the United States. Pittsburgh will become a destination city not only for fellow Americans but for British and French citizens who wish to inspect our "frontier" interpretation of the Great War for Empire in North America.
It is time for a new vision for Andrew Carnegie's Steel Town and it just so happens that the settlement belonged to George Washington all along. It's time to commemorate The U.S. Road to Independence Beginning at The Point which one can unmistakably witness by reading George's handwritten autobiography.
<![if !supportLineBreakNewLine]>
<![endif]>
Fort Pitt
Click Here to visit the Museum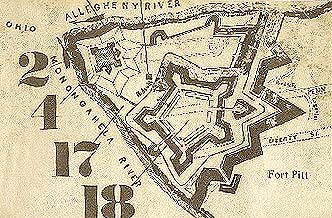 Fort Pitt was the key fortification in the struggle for empire between Britain and France in Western Pennsylvania and the Northwest Territory. Located alongside the source of the Ohio River the fort insured control of the this important River, which is formed by the confluence of the Allegheny and Monongahela Rivers. Originally Fort Duquesne, General Forbes secured the Point in 1758 for the British. He renamed Fort Duquesne, Pittsborough in honor of the Prime Minister of England, William Pitt.

Built in 1759 to 1761 by the British on the ashes of Fort Duquesne, Fort Pitt was the port from which the city of Pittsburgh emerged.

Research Links
Virtualology is not affiliated with the authors of these links nor responsible for each Link's content.
Fort Pitt Museum History and Story Page
... Once General Forbes secured the Point, he renamed Fort Duquesne, Pittsborough
in honor of the Prime Minister of England, William Pitt. ...
AKValley.com--Story of Fort Pitt
... after his return to Philadelphia, was succeeded by General ... appointment of Stanwix
and of the death of Forbes ... from Fort Machault for an attack on Fort Pitt. ...
EDC: General Information
... Take I-79 North to I-279 North through the Fort Pitt Tunnel and across the bridge
to the I-376/Monroeville Exit on the right, then follow I-376 to the Forbes ...
Big Mama
... General Forbes would give the name of Prime Minister William Pitt to the site,
soon to be Fort Pitt, and later the village, town, then city of Pittsburgh. ...
How to Spell Pittsburgh: Forbes' Letter to Pitt
... General Forbes' Letter to William Pitt. ... with Success over all His Enemies upon the
Ohio, by my having obliged the Enemy to burn and abandon Fort Du ...
WILLIAM PITT
... Forbes was afflicted with a mortal illness and ... The French had fired the fort and ... named
Pittsburg in honor of William Pitt ... a brother of Admiral Howe and General ...
The Olive Tree Genealogy: French-Indian Wars - Battle of Fort ...
... By late November, Forbes' officers wanted to pull back their troops and winter at
Fort Ligonier, but the General ... NB: The fort was renamed Fort Pitt. ...
Forbes, John
... he was promoted (Dec., 1757) to brigadier general ... 24), and Forbes occupied the burned
fort on ... 25 without further fighting, promptly renaming it Fort Pitt ...
Expulsion of the French from Fort Duquesne
... But it was November before General Forbes, with the artillery and ... In honor of the
great English stateman, the name of Fort Pitt was given to Fort ...
John Forbes
... He was appointed brigadier general in America, 28 December 1757, and was adjutant
general in the expedition against ... Forbes renamed the place Fort Pitt ...
bagindex
... General Forbes' detachment, William Bagnall among them, erected Fort Pitt on the
site which would eventually become the present day metropolis of Pittsburgh. ... pages
General John Forbes established Pittsburgh, PA, in 1758
... Fort Ligonier in Pennsylvania, USA, one site of his ... waters, the place, at the suggestion
of General Forbes ... to the famous English statesman William Pitt ...


Start your search on Fort Pitt.
The Congressional Evolution of the United States Henry Middleton
Unauthorized Site: This site and its contents are not affiliated, connected, associated with or authorized by the individual, family, friends, or trademarked entities utilizing any part or the subject's entire name. Any official or affiliated sites that are related to this subject will be hyper linked below upon submission and Evisum, Inc. review.
Copyright© 2000 by Evisum Inc.TM. All rights reserved.
Evisum Inc.TM Privacy Policy