Samuel Huntington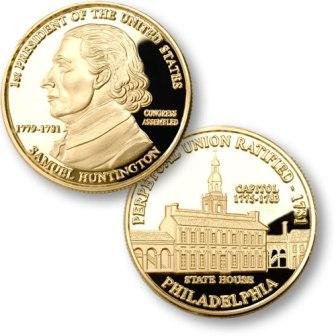 Signer of the Declaration of Independence
 
4th President of Continental Congress
of the United States of America
September 29, 1779 to February 28, 1781

1st President of the United States
in Congress Assembled
March 1, 1781 to July 6, 1781
About The Forgotten Presidents' Medallions

© Stan Klos has a worldwide copyright on the artwork in this Medallion.
The artwork is not to be copied by anyone by any means
without first receiving permission from Stan Klos.
U S Mint and Coin Act - -- Click Here
The First United American Republic
Continental Congress of the United Colonies Presidents
Sept. 5, 1774 to July 1, 1776
| | | |
| --- | --- | --- |
| | September 5, 1774 | October 22, 1774 |
| | October 22, 1774 | October 26, 1774 |
| | May 20, 1775 | May 24, 1775 |
| | May 25, 1775 | July 1, 1776 |
 Commander-in-Chief United Colonies of America
George Washington:  June 15, 1775 - July 1, 1776
The Second United American Republic
Continental Congress of the United States Presidents 
July 2, 1776 to February 28, 1781
| | | |
| --- | --- | --- |
| | July 2, 1776 | October 29, 1777 |
| | November 1, 1777 | December 9, 1778 |
| | December 10, 1778 | September 28, 1779 |
| | September 29, 1779 | February 28, 1781 |
Commander-in-Chief United Colonies of America
George Washington:  July 2, 1776 - February 28, 1781
The Third United American Republic
Presidents of the United States in Congress Assembled
March 1, 1781 to March 3, 1789
| | | |
| --- | --- | --- |
| | March 1, 1781 | July 6, 1781 |
| | July 10, 1781 | Declined Office |
| | July 10, 1781 | November 4, 1781 |
| | November 5, 1781 | November 3, 1782 |
| | November 4, 1782 | November 2, 1783 |
| | November 3, 1783 | June 3, 1784 |
| | November 30, 1784 | November 22, 1785 |
| | November 23, 1785 | June 5, 1786 |
| | June 6, 1786 | February 1, 1787 |
| | February 2, 1787 | January 21, 1788 |
| | January 22, 1788 | January 21, 1789 |
Commander-in-Chief United Colonies of America
George Washington:  March 1, 1781 - December 23, 1783
SAMUEL HUNTINGTON was born on July 16, 1731 at Scotland, Connecticut, the son of a Puritan farmer. The date of July 16th differs from the official Congressional Biography as during the restoration of the tomb a 207 year old plaque was discovered with the bodies stating:


His Excellency
Samuel Huntington Esq.
Governor of the State of Connecticut
was born July 16th AD 1731
and died January 5th AD 1796
aged 64 years


Both Martha and Samuel Huntington were re-interred on November 24, 2003 Old Norwichtown Cemetery, Norwich, New London County, Connecticut (see editorial below).
President Huntington was a self-educated man who, at age sixteen, was apprenticed to a cooper. He taught himself Latin at night and devoured every book on law he could find. At twenty-seven he was admitted to the bar and relocated to Norwich, a larger town offering more opportunity to build a law practice. Within one year he met, courted and married Martha Devotion the local minister's daughter. The law practice and the couple flourished together in Norwich.

In 1764, Huntington was elected to the provincial assembly and in quick succession became a justice of the peace, the King's Attorney for Connecticut, and a member of the colony's council. He was elected to the second Continental Congress of the United Colonies of America representing Connecticut in Philadelphia.

A deliberate man, Huntington worked methodically for independence often tempering the passions of his fellow New England Delegates. He was described by a fellow delegate as:

He is a man of mild, steady, and firm conduct and of sound methodical judgment, tho' not a man of many words or very shining abilities. But upon the whole is better suited to preside than any other member now in Congress.

After signing the Declaration of Independence, Huntington served in the Continental Congress for three more years. Huntington, who was skeptical of entrusting large powers to individual or groups. Consequently scholars have aligned him with the Adams-Lee faction in the Continental Congress who shared the same philosophy of politics. Sanders write in his Huntington biography,

"He cast his vote against half pay for seven years for officers of the army; was not in favor of recalling Izard from abroad, but voted for the recall of William and Arthur Lee, and did not believe that Jay should be instructed to abandon the free navigation of the Mississippi, if he deemed it necessary."

Huntington was elected President of the Continental Congress on September 28, 1779 as a replacement to John Jay, a staunch conservative, who sought and was granted the position of Foreign Secretary of the Continental Congress. In a September 29th letter to Clinton the former President, John Jay, approved of Huntington's election clearly indicating he did not alienate the Conservation Faction of Congress. Arthur Lee wrote to Elbridge Gerry a year later that, "Toryism is triumphant here. They have displaced every Whig but the President". Clearly the son of a Connecticut farmer made a miraculous transformation from a country lawyer to the Continental Congress Presidency.

Huntington presided over the Confederation Congress during a critical period in the War for Independence. His commitment to Independence and his Presidency is renowned among scholars as his unwavering leadership held our nation together during the following succession of military losses, sedition and unprecedented military defections:

October 10th, 1779 - American attempt to recapture Savannah, Georgia fails. Winter of 1779-80 - the coldest of the war and provisions for Washington and his army were scarce in Morristown, New Jersey, causing a mutiny. May 12, 1780 - British capture Charleston, South Carolina May 1780 - Former Continental Congress President Henry Middleton pledges his allegiance to the crown after the Fall of Charleston. May 29, 1780 - British crush American troops at Waxhaw Creek. August 16, 1780 - British rout Americans at Camden, South Carolina September 25, 1780 - Major General Benedict Arnold's plans to cede West Point to the British discovered. January 1, 1781 - Mutiny of unpaid Pennsylvania soldiers. January 14, 1781 - Benedict Arnold burns Richmond. March 15, 1781 - British win costly victo­ry at Guilford Courthouse, North Carolina April 25, 1781 - General Greene defeated at Hobkirk's Hill, South Carolina May 15, 1781 - Cornwallis clashes with Greene at Guilford Courthouse, North Carolina June 6, 1781 - British hold off Americans at Ninety Six, South Carolina July 6, 1781 - General Anthony Wayne repulsed at Green Springs Farm, Virginia
Stan Klos delivers the Keynote Address
at the Re-Entombment of Martha and Samuel Huntington
By the fall of 1780 three years had elapsed since Burgoyne's surrender at Saratoga and the subsequent treaties with France were in jeopardy. The fortunes of the Americans, instead of improving, had grown worse to the point of desperation. France's aid was waning due to States' failure to act under one constitution, the southern Continental Army had been annihilated, American money wasn't worth a "Continental" and credit abroad hung on the dwindling fortunes and talents of patriots like Robert Morris and Haym Salomon. The founding constitution passed in 1778 had yet to form the "Perpetual Union" of the United States of America due to the failure of all thirteen states to ratify the binding Articles of Confederation. Legally, the nation that sought foreign recognition and aid was not united at all.

The army, clothed in rags, half-starved and not paid, was ripe for mutiny; desertions to the British lines averaged more than 100 a month. The British launched a southern spring campaign and successfully captured the key southern ports. Even former Continental Congress President Henry Middleton surrendered with the fall of Charleston, South Carolina re-declaring his loyalty to King George III. George Washington wrote during this period "he had almost ceased to hope."

It was on March 31, 1780 that Huntington presided over another challenge to the war effort, the court-marshal of General Benedict Arnold known as the Charming Nancy Affair. Arnold had sent twelve military wagons belonging to the state of Pennsylvania on an eight day trip to get a cargo of goods from the Charming Nancy, a schooner. General Arnold entered into a business relationship with the schooner's owners that when the goods were sold in Philadelphia he would make half the profits. The Executive Council of Pennsylvania, upon learning of the profiteering, brought formal charges against Arnold before Congress. Samuel Huntington was forced to take off his legislative hat and act as "Chief Justice" presiding over the hearing took almost the entire day. The verdict was guilty on two of the eight counts.

George Washington who respected General Arnold's tenacity and courage as a fighter executed a military sentence by a gentle reprimand. It was shortly after this that Benedict Arnold sought the command at West Point through his friend General Philip John Schuyler who believed the patriot deserved an important military post in the face of the conviction. Both Schuyler and NY Delegate Livingston lobbied Huntington, the Commander-in-Chief and in August Washington approved the command with the backing of Congress. The stage was now set for a betrayal that is now legendary in American History. Benedict Arnold would use this post, granted to him by his most influential political and military benefactors including President Samuel Huntington and George Washington, as the means to betray the States and end the war in Great Britain's favor.

In the summer of 1780, as the Commander of West Point, Arnold was now in a key position to deal a cancerous blow to the Continental Army. Stung by what he believed to be military injustices to his past commands and reputation, he was suitably recruited by British Spy Major John Andre and American loyalist, Beverley Robinson. Influenced by his surroundings of what he believed incompetence, Arnold was readily persuaded that the war was lost and lives were being needlessly wasted. It was his destiny, he now believed, to act out a part in the Revolutionary War similar to General Monk who was a key player in the restoration of Charles II to the British throne. Arnold believed the surrendering of West Point would cripple the efforts of Continental Army as it was a crucial trade and supply route to the Northeast. Together with Britain's success in the southern campaign, the loss of West Point would force the Continental Congress to abandon their cause for Independence.

On July 15, 1780 General Arnold asked for 20,000 pounds and a commission as brigadier-general in return for successfully ceding West Point to Britain. Arnold wrote to British General Clinton, "A personal interview with an officer that you can confide in is absolutely necessary to plan matters." The officer Arnold requested was John Andre and the arrangement was accepted. Arnold began to devise plans to turn over West Pont and provide the British with valuable military intelligence.

On the night of September 21, 1780, Arnold met with Major Andre who came ashore from the British sloop "Vulture," anchored in the Hudson just south of West Point. Arnold turned over important documents and parted company with Andre who spent the night at the house of Joshua Hett Smith a loyalist he met years earlier. The following night the "Vulture" was detected and bombarded from the shore by American artillery, forcing its withdrawal down the river. Andre donned an American uniform for the treacherous land escape through enemy lines. Smith accompanied Andre until he deemed they were in British territory. .Soon after Smith parted; Andre was stopped by a trio of American spies, dressed in British uniform. Andre commanded them to give way and they then revealed themselves as soldiers of the Continental Army. They searched the startled Andre and discovered he had a pass signed by General Arnold. They discovered Arnold's papers of betrayal hidden in his boot and arrested Andre as a British spy. General Arnold, upon learning of Andre's capture, fled to the British at New York, a disgraced and hated traitor with West Point remaining in the Continental Army's hands. On September 26, 1780 George Washington wrote this letter to the Continental Congress:

"Robinson's House in the Highlands, September 26, 1780. Sir: I have the honor to inform Congress that I arrived here yesterday about 12 o'clock on my return from Hartford. Some hours previous to my arrival Major General Arnold went from his quarters which were at this place; and as it was supposed over the river to the garrison at West-point, whether I proceeded myself in order to visit the post. I found General Arnold had not been there during the day, and on my return to his quarters, he was still absent. In the mean time a packet had arrived from Lt. Colonel Jamison announcing the capture of a John Anderson who was endeavoring to go to New York, with the several interesting and important papers mentioned below, all in the hand writing of General Arnold. This was also accompanied with a letter from the prisoner avowing himself to be Major John André Adjt: General of the British army, relating the manner of his capture, and endeavoring to show that he did not come under the description of a spy.

From these several circumstances, and information that the General seemed to be thrown into some degree of agitation on receiving a letter a little time before he went from his quarters, I was led to conclude immediately that he had heard of Major André's captivity, and that he would if possible escape to the enemy, and accordingly took such measures as appeared the most probable to apprehend him. But he had embarked in a barge, and proceeded down the river under a flag to the vulture ship of war, which lay at some miles below Stony and Verplank's points.

He wrote me after he got on board a letter, of which the inclosed is a copy. Major André is not arrived yet, but I hope he is secure and that he will be here today. I have been and am taking proper precautions, which I trust will prove effectual, to prevent the important consequences which this conduct on the part of General Arnold was intended to produce. I do not know the party that took Major André; but it is said, it consisted only of a few militia, who acted in such a manner upon the occasion as does them the highest honor and proves them to be men of great virtue. They were offered, I am informed, a large sum of money for his release, and as many goods as they would demand, but without any effect. Their conduct gives them a just claim to the thanks of their country, and I also hope they will be otherwise rewarded. As soon as I know their names I shall take pleasure in transmitting them to Congress. I have taken such measures with respect to the Gentlemen of General Arnolds family as prudence dictated; but from every thing that has hitherto come to my knowledge, I have the greatest reason to believe they are perfectly innocent. I early secured, Joshua Smith, the person mentioned in the close of General Arnolds."

George Washington's letter arrived in Philadelphia on the 28th. Samuel Huntington responded from Philadelphia at 7pm

"I am honored with your Excellency's Despatches of the 26 Instant, which will he laid before Congress in the Morning. (1) We had before received Intelligence from General Greene that General Arnold was gone over to the Enemy. Immediately Orders were given to search & seize his Papers & Effects to be found here, which was speedily executed, but I am not yet advised of what particular Discoveries have been made. With Congratulations on your Return to the Army,"

This defection was a real blow to President Huntington as Arnold, a fellow Norwich patriot, was well loved and respected in their hometown. Benedict Arnold, on the other hand, showed no shame in what he had done and wielded propaganda through the newspapers to justify his betrayal. On October 7th Arnold was successful in publishing the following Address "in which he has the effrontery to avow, and attempt by flimsy arguments to justify, his perfidious Treachery."
To the INHABITANTS of AMERICA.
I SHOULD forfeit even in my own opinion, the place I have so long held in yours, if I could be indifferent to your approbation, and silent on the motives which have induced me to join the Kingarms.
A very few words however shall suffice upon a subject so personal, for to the thousands who suffer under the Tyranny of the Usurpers in the revolted provinces as well as to the great multitude, who have long wished for its subversion, this instance of my conduct can want no vindication, and as to that class of men who are criminally protracting the war from sinister views at the expence of the public interest, I prefer their enmity to their applause. I am therefore only concerned in this address to explain myself to such of my countrymen, as want abilities or opportunities to detect the artifices by which they are duped.
Having fought by your side when the love of our country animated our arms, shall expect from your justice and candor, what your deceivers with more art and less honestly, will find it inconsistent with their own views to admit. When I quitted domestic happiness for the perils of the field, I conceived the right of my country in danger, and that duty and honour called me to her defence. A redress of grievances was my only object and aim, however I acquiesced in a step which I thought precipitate, the declaration of independence: to justify this measure many plausible reasons were urged, which could no longer exist, when Great Britain with the open arms of a parent offered to embrace us as children, and grant the wishes for redress.
And now that her worst enemies are in her own bosom I should change my principles, if I conspired with their designs: yourselves being judges, was the war the less just, because fellow subjects were considered our foes? You have felt the torture in which we raised our arms against a brother, God incline the guilty protractors of these unnatural dissentions, to resign their ambition, and cease from their delusions, in compassion to kindred blood.
I anticipate your question, was not the war a defensive one until the French joined in the combination? I answer, that I thought so. You will add was it not afterwards necessary, till the separation of the British empire was compleat? By no means, in contending for the welfare of my country I am free to declare my opinion, that this end attained, all strife should have ceased.
I lamented therefore the impolicy, tyranny and injustice, which with a sovereign contempt of the people of America, studiously neglected to take their collective sentiments of the British proposals of peace, and to negociate under a suspension of arms, for an adjustment of differences, as a dangerous sacrifice of the great interests of this country to the partial views of a proud antient and crafty foe. I had my suspicions of some imperfection in our councils, on proposals prior to the Parliamentary Commission of 1778; but having then less to do in the cabinet than the field, (I will not pronounce peremptorily as some may, and perhaps justly, that Congress have veiled them from the public eye:) I continued to be guided in the negligent confidence of a soldier. But the whole world saw, and all America confessed that the overtures of the second commission exceeded our wishes and expectations, and if there was any suspicion of the national liberality, it arose from its excess.
Do any believe we were at that time really entangled by an alliance with France, unfortunate decaption! and thus they have been duped, by a virtuous credulity in the incautious moments of intemperate passion to give up their felicity to serve a nation wanting both the will and the power to protect us, and aiming at the destruction both of the mother country and the provinces. In the plainness of common sense, for I pretend to no casuistry, did the pretended treaty with the Court of Versailles, amount to more than an overture to America? Certainly not, because no authority had been given by the people to conclude it, nor to this very hour have they authorized its ratification. The Articles of Confederation remain still unsigned.
In the firm persuasion therefore, that the private judgment of any individual citizen of this country is as free from all conventional restraints, since as before the insidious offers of France, I preferred those from Great Britain, thinking it infinitely wiser and safer, to cast my confidence upon her justice and generosity, than to trust a monarchy too feeble to establish your independency, so perilous to her distant dominions; the enemy of the Protestant Faith, and fraudulently avowing an affection for the liberties of mankind, while she holds her native sons in vassalage and chains. I affect no disguise, and therefore frankly declare that in their principles, I had determined to retain my arms and command for an opportunity to surrender them to Great Britain, and in concerting the measures for a purpose in my opinion, as grateful as it would have been beneficial to my country: I was only solicitous to accomplish an event of decisive importance, and to prevent as much as possible in the execution of it, the effusion of blood.
With the highest satisfaction I bear testimony to my old fellow soldiers, and citizens, that I find solid ground to rely upon the clemency of our sovereign, and abundant conviction that it is the generous intention of Great Britain, not only to leave the rights and privileges of the colonies unimpaired, together with their perpetual exemption from taxation, but to superadd such further benefits as may consist with the common prosperity of the empire. In short, I sought for much less than the parent country is as willing to grant to her colonies as they can be to receive or enjoy.
Some may think I continued in the struggle of these unhappy days too long, and others that I quitted it too soon -- To the first I reply, that I did not see with their eyes, nor perhaps had so favourable a situation to look from, and that to our common master I am willing to stand or fall. In behalf of the candid among the latter, some of whom I believe serve blindly but honestly --- in the bands I have left, I pray God to give them all the lights requisite to their own safety before it is too late, and with respect to that herd of censurers, whose enmity to me originates in their hatred to the principles, by which I am now led to devote my life to the re-union of the British empire, as the best, and only means to dry up the streams of misery that have deluged this country, they may be assured that conscious of the rectitude of my intentions I shall treat their malice and calumnies with contempt and neglect.
B. ARNOLD. New York, October 7, 1780."

The Founders were enraged over Arnold's letter and ordered a thorough investigation into his service as a Continental General. In mid-October President Huntington wrote Governor Trumbull of Connecticut of the initial findings:

"The treason of Benedict Arnold hath been a topic of much conversation, and many of his scandalous transactions are brought to light that were before concealed."

More on Samuel Huntington  -- Click Here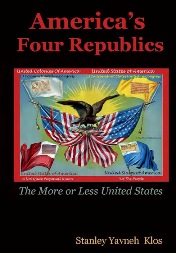 In this powerful, historic work, Stan Klos unfolds the complex 15-year U.S. Founding period revealing, for the first time, four distinctly different United American Republics.  This is history on a splendid scale -- a book about the not quite unified American Colonies and States that would eventually form a fourth republic, with only 11 states, the United States of America: We The People.