The Seven Flags of the New Orleans Tri-Centennial
Ethan Allen
Green Mountain Boys
By Kathryn M. - Gotha Middle School, Windermere, Florida.

On the day of May 10, 1775 a man named Ethan Allen and his Green Mountain Boys seized and captured Fort Ticonderoga from the British. You might ask yourself, "Who was Ethan Allen and who were the Green Mountain Boys?" Ethan Allen was a man that stood up for Vermont and made sure that it became an independent state. Without Allen we might only have 49 states. The Green Mountain Boys were a militia of about 300 men, trained by Allen himself. Although the GMB weren't really an army, they fought for their freedom and their pride.
Ethan Allen was born in Litchfield Connecticut on January 21, 1738. In 1751 he served briefly in the French and Indian War, then he settled in Vermont. While in Vermont, New Hampshire granted land to people in the west. Later the British said that the land belonged to New York. In 1770, New York also said that land in Vermont was no good unless the land was bought from them. From this, Allen and Seth Warner decided to create the Green Mountain Boys. With the GMB they did all they could to gain independence for Vermont.
With the help of colonial Benedict Arnold, the capture of Lake Champlain (Fort Ticonderoga) was an easy success. Arnold had an army of 83 men and Allen, of course, had his 300 GMB. Their armies had little trouble obtaining cannons and other weapons from British troops. By 11:00 PM on May 10, 1775 the British surrendered and Vermont was on its way of gaining its independence.
Around 1775, settlers believed that Canada should belong to them, not France. Their beliefs led Allen to seize Montreal, Canada. Allen led his men across a river about a mile south of Longueil Parish. The river was treacherous, but Allen went on. By dawn they reached the other side. Crossing the river might have been good news, but little did they know that Montreal got news that Americans had arrived and were going on their way to seize them. Montreal prepared and in the end Allen surrendered with only thirty-eight men still standing brave to fight.
Captured by Montreal, Allen sat in jail for three years. On May 6, 1778 he was released. Allen chose to repay George Washington for getting him out of jail. For about a year Allen served Washington. Later he wrote a book that contained many important parts of his captivity in Canada. He called it, A Narrative of Colonial Ethan Allen's Captivity. In his later life, he settled in Burlington, Vermont. Today, there stands a statue of Ethan Allen, which represents Vermont in Statuary Hall in Washington, D.C.
Bibliography:
1) Martin, James Kirby. "Ethan Allen." World Book Encyclopedia, 1995.
2) Hoyt, Edwin P. The Damdeft Yankees: Ethan Allen and His Clan. Stephen Greene, 1976.
3) Jellison, Charles A. Ethan Allen: Frontier Rebel. Syracuse Univ. Pr., 1983. First published in 1969.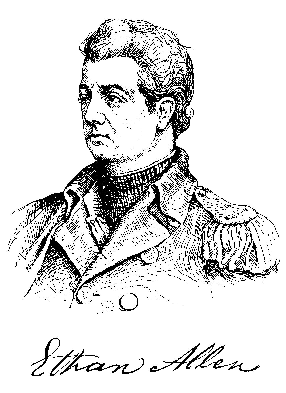 ALLEN, Ethan, soldier, born in Litchfield, Connecticut, l0 Jan., 1737; died in Burlington, Vermont, 13 Feb., 1789. In early life he removed to Bennington, Vermont, which at that time was disputed territory, known as the New Hampshire grants, claimed by the colonies of New York and New Hampshire. In 1770 he was appointed agent to represent the settlers at Albany, where litigation on the claims was pending. A decision adverse to them was rendered, and resistance to the New York authorities followed. 
Allen was made colonel of an armed force known as the "Green Mountain Boys," raised in order to protect holders of land granted by New Hampshire. He was declared an outlaw, and £150 was offered for his capture by Gov. Tryon, of New York. When hostilities with Great Britain began, after the Green Mountain Boys had proved their patriotism and efficiency by the capture of Ticonderoga and Crown Point, the continental congress granted them the same pay that was received by the soldiers of the continental army, and, after consulting Gen. Schuyler, recommended to the New York convention that they should be employed in the army to be raised in defense of America under such officers as they (the Green Mountain Boys ) should choose. 
Allen and Warner went where the New York assembly was in session, and requested an audience. Many members objected to holding a public conference with proclaimed felons. Yet there was a large majority in favor of admitting Ethan Allen to the floor of the house, on the motion of Capt. Sears. The assembly resolved, in accordance with the recommendation of congress, that a regiment of Green Mountain Boys  should be raised, not to exceed 500 men; and Allen, in a letter of thanks to the assembly, pledged his word that they would reciprocate the favor by boldly hazarding their lives in tile common cause of America. In seizing the British fortresses the Green Mountain Boys  forestalled the action of congress, who ordered Arnold to raise troops for the purpose; but before that a force was collected at Castleton, Vermont, and placed under the command of Allen. At daybreak, May 10, he effected the capture of the entire British forces, who were called upon to surrender "in the name of the great Jehovah and of the continental congress." 
The subsequent capture of Skenesborugh and of Crown Point by forces detached from Allen's command placed valuable military stores at the disposal of the Americans, and gave them the mastery of Lake Champlain. The invasion of Canada was proposed by Allen to the New York authorities, but was rejected. He then joined Gen. Schuyler's forces as a volunteer, and was sent to Canada on several secret missions to ascertain the views of the Canadians. While on his last trip he was met by Col. Brown, and a joint expedition for the capture of Montreal was proposed and eagerly accepted. 
The project proved unsuccessful, and Allen was captured on 25 Sept. and sent as a prisoner to England. He was very cruelly treated at first, and for a time was confined in Pendennis Castle, near Falmouth; then he was sent to Halifax, N. S., and later to New York, where, 6 May, 1778, he was exchanged for Col. Campbell. On his return to Vermont he was placed in command of the state militia, and he further received from congress the commission of lieutenant-colonel in the continental army. 
An unsuccessful attempt to bribe him was made by the British, through Beverly Robinson, for his influence toward effecting a union between Vermont and Canada; and, by temporizing with this offer, he was able to prevent any active demonstration by the British in that part of the country. Toward the close of the war he settled in Bennington, and subsequently in Burlington. He was a member of the state legislature, and also a special delegate to congress, where he ultimately succeeded in obtaining the recognition of Vermont as an independent state. 
He was the author of a history of the controversy between New York and Vermont, a narrative of his captivity, and several political pamphlets, and published also "Reason the only Oracle of Man" (Bennington, 1784). Sketches of his life were written by Jared Sparks (Boston, 1834), by Hugh Moore (Plattsburg, New York, 1834), and by H. W. Du Puy (Buffalo, 1853). It is believed that no portrait of Allen was ever made. The one given is copied for this work by our artist, from the ideal heroic statue at Montpelier, Vermont -- Edited Appleton's American Biography Copyright© 2000 by VirtualologyTM


The Congressional Evolution of the United States Henry Middleton
Unauthorized Site: This site and its contents are not affiliated, connected, associated with or authorized by the individual, family, friends, or trademarked entities utilizing any part or the subject's entire name. Any official or affiliated sites that are related to this subject will be hyper linked below upon submission and Evisum, Inc. review.
Research Links
Constitution of the United States of America
Copyright© 2000 by Evisum Inc.TM. All rights reserved.
Evisum Inc.TM Privacy Policy