Appleton's Cyclopedia of American Biography, edited by James Grant Wilson, John Fiske and Stanley L. Klos. Six volumes, New York: D. Appleton and Company, 1887-1889 and 1999. Virtualology.com warns that these 19th Century biographies contain errors and bias. We rely on volunteers to edit the historic biographies on a continual basis. If you would like to edit this biography please submit a rewritten biography in text form . If acceptable, the new biography will be published above the 19th Century Appleton's Cyclopedia Biography citing the volunteer editor
Virtual American Biographies
Over 30,000 personalities with thousands of 19th Century illustrations, signatures, and exceptional life stories. Virtualology.com welcomes editing and additions to the biographies. To become this site's editor or a contributor Click Here or e-mail Virtualology here.
A
B
C
D
E
F
G
H
I
J
K
L
M
N
O
P
Q
R
S
T
U
V
W
X
Y
Z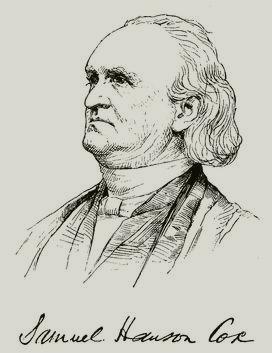 Click on an image to view full-sized
Samuel Hanson Cox
COX, Samuel Hanson, clergyman, born in Rahway, New Jersey, 25 August, 1793; died in Bronxville, Westchester County, New York, 2 October, 1881. His father, who at the time of his death, in 1801, was engaged in mercantile enterprises in New York City, was descended from a family that in the 17th century settled on the eastern shore of Maryland, where the name, diversely spelled, has been long connected with the Quakers of Talbot county. By intermarriages with other families of the peninsula, this connection was rendered nominal at different periods; but, as the father of Dr. Cox had maintained his relations with the society, he received his academic education at their high-school or College at Westtown, near Philadelphia. He also received private instruction in Philadelphia, and was a law-student in Newark, New Jersey, in 1812, when, with Southard, Frelinghuysen, and others that became eminent, he organized a volunteer corps of riflemen, which occasionally served in the war, notably at Fort Green, L.I. He studied theology in Philadelphia under Dr. Wilson, a distinguished Presbyterian clergyman. The degree of M. A. was conferred upon him by Princeton, and that of D. D. by Williams. He was ordained in 1817, and accepted the pastorate of Mendham, Morris County, New Jersey In 1821 he removed to New York as pastor of the Presbyterian church in Spring street, and thence to Laight street in 1825. His congregation here was largely composed of wealthy merchants. He took a leading part in the foundation of the University of the City of New York and in literary conventions, one of which was presided over by John Quincy Adams, called to aid in its organization. He was appointed to open the instructions of the University with the late Dr. Mcllvaine, afterward bishop of Ohio, and delivered one of the two memorable courses of lectures in the winter of 1831-'2, his department being that of moral philosophy. During the cholera season of the latter year he remained at his post until stricken down by the disease. In impaired health Dr. Cox went to Europe in 1833, where a speech, delivered at the anniversary of the British and foreign Bible society in London, gained him distinction and opened the way to honors and attentions in Europe.
The anti-slavery sentiment then predominant in England made a great impression on Dr. Cox, and he publicly defended his country, when it was gratuitously assailed on that point, and delivered a celebrated sermon against slavery, soon after his return, which, though moderate in tone, drew upon him a great share of the violence with which the agitators were then visited. He was never identified with their extreme measures, and afterward took a leading conservative position in all questions connected with the south, which for a long time disturbed the Presbyterian church. In recognition of this service to the counsels of his brethren, he received the degree of LL.D. from a southern College. In other questions his theological standing was with the new school, of which he was a prominent champion. In the order and discipline of his church, however, he maintained the highest and most thorough old-school position. He was elected professor of pastoral theology in the Theological seminary at Auburn in 1834, but in 1837 became pastor of the 1st Presbyterian congregation in Brooklyn, L. I., where he built a new church in Henry street. In 1845 Dr. Cox attended the Evangelical alliance in London. In 1852, his health declining, he visited Nassau, but with so little good effect that, against the remonstrances of his people and the most liberal proposals on their part, he resigned his charge, and retired to a pleasant property, which they enabled him to purchase, at Owego, New York He considered his career as a pastor at an end, but frequently delivered lectures and appeared in pulpits in New York for several years subsequently. He was for many years professor of ecclesiastical history in the Union theological seminary of New York. His contributions to periodicals and journalistic literature were numerous. His work on "Quakerism" (1833) is in part an autobiography. In connection with the duties of his chair, he edited Bower's "History of the Popes" (New York, 1847). He also presided for a time over the Ladies' College at Le Roy, New York For the last twelve years of his life he lived in retirement in Westchester county. Although much criticized for personal eccentricities, he was generally recognized as a man of high character and commanding talents, of great boldness in expressing his strong convictions, and of singular power as an orator. Dr. Cox was the eldest of three sons, all of whom attained professional eminence. James died prematurely in Philadelphia in 1830. Abraham Liddon, after a brilliant practice in New York, where he became professor of surgery in the medical College now connected with the New York University, of which he was one of the founders, died in the service of his country near Chattanooga in 1863.
--His son, Arthur Cleveland Coxe (he has adopted an older spelling of the family name), P. E. bishop, born in Mendham, New Jersey, 10 May, 1818. His parents removed in 1820 to New York City, where his early education and training were obtained. He was graduated with distinction at the University of the City of New York in 1838 and at the General theological seminary of the Episcopal church in 1841. He was an adherent of the Protestant Episcopal church from childhood, under the influence of maternal relatives and social connections. While still in College he became an author and contributor to periodical literature. He was ordained deacon on 27 June, 1841, and priest on 25 September, 1842. He took charge of St. Ann's church, Norrisania, New York, shortly after his ordination to the deaconate, and thence removed in the spring of 1842 to Hartford, Connecticut, where he was rector of St. John's from 1843 till 1854. He accepted the rectorship of Grace church, Baltimore, Maryland, in 1854, and two years later he was elected bishop of Texas, but declined. From an early period in his ministry he took part in the councils of his church. He was a member of the general convention in 1853, and of that which met in Richmond, Virginia, in 1859. In 1853 he moved an addition to the Litany, while Bishop Alonzo Potter made a similar motion in the house of bishops, without any concert between them, which led, in connection with Dr. Muhlenberg's "Appeal to the Bishops," to the "Memorial Papers" and the adoption of additional prayers, and finally to the movement for the revision of the Prayer-Book.
In 1863 he became rector of Calvary church, New York City, and soon afterward was elected assistant bishop of western New York. He was consecrated in Trinity church, Geneva, New York, 4 January, 1865, and on the death of Bishop De Lancey, 5 April of the same year, he succeeded as the second bishop of western New York. In 1868 he gave his assent to the formation of a new diocese out of a portion of his jurisdiction, and central New York was committed to other hands. He has taken an active part in the board of missions in behalf of the Greek mission and the extension of the missionary episcopate in the United States. In the interest of the missionary work of the church he has traveled extensively abroad, and in 1872, when the charge of the churches in Hayti was placed in his hands, he visited that island, organized churches, and ordained clergy. This oversight he held until a bishop of Hayti was consecrated in 1874. Bishop Coxe has made various valuable contributions to theological learning, biblical criticism, and church literature. He published several volumes of poems before receiving ordination. "Advent, a Mystery," appeared in 1837, followed by "Jonathan, the Lay of a Scold " (New York, 1838); and "Athwold" (1838), of which, after its suppression for forty years, a new and enlarged edition was recently published. "Athanasion, and other Poems," appeared in 1842, " Halloween" in 1844, and "Saul, a Mystery," in 1845. In 1877 he published a poem entitled " The Ladye Chace." As early as 1845 he published his best-known volume of poems, the "Christian Ballads" (reprinted in Oxford, England, 1850). Soon after the English publication of the "Ballads" the author visited at Freiburg, Germany, the distinguished Hirscher, the precursor of Dr. yon DS1-linger in the Old Catholic movement. On his return to England in 1852 he published an account of this visit by the advice of Bishop Wilberforce. This led to his active participation in the formation of the Anglo-Continental society. On his return to this country he engaged on the unpopular side of a conflict, of which the publication of revised editions of the Scriptures by the American Bible society was the subject. His "Apology for the English Bible" (1854) ultimately led to the suppression of those new and crude revisions made at great cost by that society. In 1867-'8 Bishop Coxe contributed to the " Union chretienne," a periodical published in Paris in the interest of Gallicanism by the Abbe Guettee, a series on the subject of "Anglican Orders." In 1869 he published an "Open Letter to Pius IX.," in answer to the brief convoking the Vatican council. This spirited letter was translated into various languages, and has had a wide circulation on the continent of Europe.
In 1872 appeared in Paris his work, "L'episcopat de l'occident," a new presentation of the history of the Church of England and a refutation of Roman Catholic attacks. In 1873, in collaboration with Bishop Wilberforce and others, he engaged in a serial publication, issued in Oxford, England, in defense of Anglo-Catholic principles against either extreme. He had sympathized with the Oxford movement so far as it has moved within the bounds of Anglo-Catholicity; but he had broken loose from it, as a party, after the defection of Dr. Newman, and in 1866 he had further clearly defined his position by the publication of "The Criterion," which was republished in England. Bishop Coxe attended the second Lambeth conference. He has taken an active part in opposition to the New Testament revision. Among his other writings are "Sermons on Doctrine and Duty" (1855); " Thoughts on the Services" (1859); and "Apollos ; or, The Way of God." Besides these he has published a large number of tracts, editions and translations of foreign works, sermons, letters, lectures, and pamphlets. During 1885-'6 he was engaged in editing, with large additions and notes, an American edition of the Edinburgh " Translations of the Ante-Nicene Fathers," edited by Drs. Roberts and Donaldson, of which the last volume is now (November, 1886) in press.
Edited Appletons Encyclopedia, Copyright © 2001 VirtualologyTM

Unauthorized Site: This site and its contents are not affiliated, connected, associated with or authorized by the individual, family, friends, or trademarked entities utilizing any part or the subject's entire name. Any official or affiliated sites that are related to this subject will be hyper linked below upon submission and Evisum, Inc. review.
Copyright© 2000 by Evisum Inc.TM. All rights reserved.
Evisum Inc.TM Privacy Policy