Appleton's Cyclopedia of American Biography, edited by James Grant Wilson, John Fiske and Stanley L. Klos. Six volumes, New York: D. Appleton and Company, 1887-1889 and 1999. Virtualology.com warns that these 19th Century biographies contain errors and bias. We rely on volunteers to edit the historic biographies on a continual basis. If you would like to edit this biography please submit a rewritten biography in text form . If acceptable, the new biography will be published above the 19th Century Appleton's Cyclopedia Biography citing the volunteer editor
Virtual American Biographies
Over 30,000 personalities with thousands of 19th Century illustrations, signatures, and exceptional life stories. Virtualology.com welcomes editing and additions to the biographies. To become this site's editor or a contributor Click Here or e-mail Virtualology here.
A
B
C
D
E
F
G
H
I
J
K
L
M
N
O
P
Q
R
S
T
U
V
W
X
Y
Z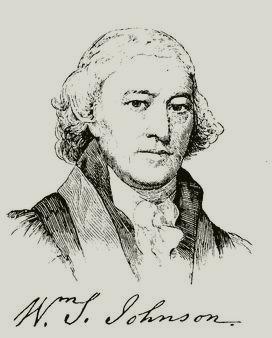 Click on an image to view full-sized
Samuel Johnson
JOHNSON, Samuel, educator, born in Guilford, Connecticut, 14 October, 1696; died in Stratford, Connecticut, 6 January, 1772. His great-grandfather, Robert, came from Kingston-upon-Hull, England, to New Haven, about 1637. Samuel was graduated at Yale in 1714, and in 1716, when the college was removed from Saybrook to New Haven, he became one of its tutors. He resigned in 1719, having meanwhile studied theology, and in March, 1720, was ordained pastor of the Congregational church in West Haven. During his residence at New Haven several circumstances occurred to give him a predilection for episcopacy, and he would have preferred Episcopal to Congregational ordination, but deemed it prudent to conform to the prevailing ecclesiastical usages of the country. In 1722 he met Mr. Pigot, an Episcopalian clergyman, who was settled at Stratford, and introduced him to his college friends. A series of meetings that followed resulted in the conversion of President Timothy Cutler, Tutor Daniel Brown, and himself to episcopacy, and he sailed with his friends for England, where all three were ordained. On his return to Connecticut, Mr. Johnson was assigned to the mission at Stratford. Soon after the arrival of Dean Berkeley in this country, Mr. Johnson made his acquaintance, and began a correspondence with him which continued throughout life. When Berkeley was about to return to Europe, Mr. Johnson suggested to him the gifts to Yale that he afterward made. (See BERKELEY, GEORGE.) Mr. Johnson had not been long settled at Stratford when he felt called upon to engage with his pen in the defence of episcopacy. In 1725 he was brought into a controversy with Reverend Jonathan Dickinson, of Elizabethtown, New Jersey, and afterward with the Reverend Thomas Foxcroft, of Boston. In 1732 a similar controversy began between him and Reverend John Graham, of Woodbury, Connecticut, which did not end until 1736. During the revival in connection with Whitefield's labors, he published a pamphlet for the times, containing his views on the divine sovereignty (Boston, 1745), which was replied to by Mr. Dickinson, and later, to counteract what he deemed the dangerons views that were then spreading, he issued a work on moral philosophy, entitled "A System of Morality" (1746). In 1744 his congregation had so increased that it was considered necessary to find a new place of worship. In 1752 Benjamin Franklin published in Philadelphia an enlarged edition of Dr. Johnson's "System of Morality," under the title of "Elementa Philosophica," for the use of the college that was about to be established in that city, and the author was urged to become the president of the institution, but declined. In the following year several residents of New York, chiefly Episcopalians, invited him to remove to that city preparatory to becoming president of a college (King's, afterward Columbia), for which an act of assembly had been obtained. This invitation he accepted, and began his labors on 17 July, 1754, with a class of ten pupils, of whom only seven were graduated. Under his rule the institution was guided through its early troubles, subscriptions were obtained for its endowment, and its policy and course of study regulated. He continued to hold office until early in 1763, when he resigned on account of family troubles and his advanced age. He then returned to Stratford to reside with his son, and the following year was again appointed to the charge of his old parish, where he remained until his death. Dr. Johnson received the degree of M. A. from both Oxford and Cambridge in 1723, and that of D.D. from the former in 1743. His published works, besides those already mentioned, include "A Letter from a Minister of the Church of England to his Dissenting Parishioners" (New York, 1733); "A Second Letter" (Boston, 1734); "A Third Letter" (1737); "A Sermon Concerning the Obligations we are under to Love and Delight in the Public Worship of God" (1746); "A Demonstration of the Reasonableness, Usefulness, and Great Duty of Prayer" (New York, 1760); "A Sermon on the Beauty of Holiness in the Worship of the Church of England" (1761); and "An English and Hebrew Grammar" (London, 1767; 2d ed., 1771). See his "Life," by Reverend Dr. Thomas B. Chandler (1805, London, 1824), and "Life and Correspondence," by Reverend E. Edwards Beardsley, D. D. (New York, 1874). --His son, William Samuel, jurist, born in Stratford, Connecticut, 7 October, 1727; died there, 14 November, 1819, was graduated at Yale in 1744, studied law, and, when admitted to the bar, took high rank in his profession. In 1761, and again during two sessions in 1765, he represented Stratford in the general assembly, and in the latter year was sent as a delegate to the Stamp-act congress in New York. In May, 1766, he was chosen to the upper house or governor's council, and at the ensuing" October session of the assembly was appointed a special agent at the court of Great Britain, to present the defence of the colony with regard to its title to the territory that was occupied by the remnant of the Mohegan tribe of Indians. He accepted the mission, but so many were the delays interposed by his opponents that he was unable to return to this country until the autumn of 1771. In the following year, after resuming his seat in the council, he was appointed one of the judges of the superior court of the colony, but retained the office for only a few months. After the battle of Lexington he and another colonist were deputed to wait on General Gage, with a letter frown the governor of Connecticut, the object of which was to stay hostilities and to inquire if means could not be adopted to secure peace; but the embassy was unsuccessful. He retired from the governor's council before the Declaration of Independence, and, not being able conscientiously to join in a war against England, lived in retirement in Stratford until the conclusion of peace, he then resumed the practice of his profession, and from November, 1784, till May, 1787, served as a member of the Continental congress. In the latter year he was placed at the head of the Connecticut delegation to the convention for the formation of a Federal constitution, and was chairman of the committee of five appointed to revise the wording of the instrument and arrange its articles. Among other suggestions he proposed the organization of the senate as a separate body. In the same year he resumed his place in the upper house of the Connecticut assembly, and he held it until 1789, when he was elected the first United States senator from that state. He rendered important service in drawing up the bill for the judiciary system, but resigned in March, 1791, in order to devote his entire time to the discharge of the duties of president of Columbia college, to which office he had been elected in May, 1787. Resigning this office also, in 1800, on account of failing health, he retired to Stratford, where he remained until his death. When in England he made the acquaintance of many eminent men, including Dr. Samuel Johnson, whose correspondent he became on his return to the United States. He received the degree of D. C. L. from Oxford in 1776, and that of LL.D. from Yale in 1788. He was the earliest graduate of the latter college to receive an honorary degree in laws, as his father had been the first to receive a similar degree in divinity. Dr. Johnson added to superior mental endowments a fine personal presence and a musical voice. His oratory was deemed by his contemporaries as well-nigh perfect. Forty-three of his letters, written during his sojourn in Great Britain, have been published by the Massachusetts historical society in the "Trumbull Papers." See a "Sketch" by , John T. Irving (1830), and "Life and Times of W. S. Johnson," by Reverend E. Edwards Beardsley, D.D. (Boston, 1876). -William Samuel's great-grandson, Woolsey, physician, born in New York city. 8 February, 1842; died there, 21 June, 1887, was graduated at Princeton in 1860, and studied medicine for a year at the Albany medical school, and subsequently at the New York college of physicians and surgeons, where he was graduated in 1863. He then spent three Years in the further study of his profession in Paris, London, Berlin, and "Vienna, and on his return began to practise in New York city. He was surgeon of the Eve and ear infirmary, and consulting physician at the New York hospital. In 1881 he was appointed by Mayor Grace health-commissioner of the city of New York, his term expiring 1 5lay, 1887. During this period Dr. Johnson did effective work.
Edited Appletons Encyclopedia, Copyright © 2001 VirtualologyTM

Unauthorized Site: This site and its contents are not affiliated, connected, associated with or authorized by the individual, family, friends, or trademarked entities utilizing any part or the subject's entire name. Any official or affiliated sites that are related to this subject will be hyper linked below upon submission and Evisum, Inc. review.
Copyright© 2000 by Evisum Inc.TM. All rights reserved.
Evisum Inc.TM Privacy Policy