Appleton's Cyclopedia of American Biography, edited by James Grant Wilson, John Fiske and Stanley L. Klos. Six volumes, New York: D. Appleton and Company, 1887-1889 and 1999. Virtualology.com warns that these 19th Century biographies contain errors and bias. We rely on volunteers to edit the historic biographies on a continual basis. If you would like to edit this biography please submit a rewritten biography in text form . If acceptable, the new biography will be published above the 19th Century Appleton's Cyclopedia Biography citing the volunteer editor
Virtual American Biographies
Over 30,000 personalities with thousands of 19th Century illustrations, signatures, and exceptional life stories. Virtualology.com welcomes editing and additions to the biographies. To become this site's editor or a contributor Click Here or e-mail Virtualology here.
A
B
C
D
E
F
G
H
I
J
K
L
M
N
O
P
Q
R
S
T
U
V
W
X
Y
Z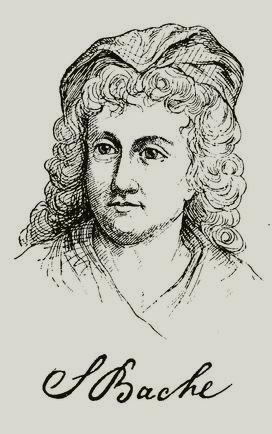 Click on an image to view full-sized
Theophylact (baitch) Bache
BACHE, Theophylact (baitch), merchant, born in Settle, in the West Riding of Yorkshire, England, 17 January 1734; died in New York, 30 October 1807. He landed in New York 17 September 1751, took charge of the business of Paul Richard, who died in 1756, became the owner of merchant vessels, and engaged in privateering. He was identified with the resistance to the crown in 1765, and in 1770 was one of the committee to carry out the resolutions of nonintercourse. In 1774 he was one of the committee of correspondence appointed when the port of Boston was closed. He supported the first continental congress: but when hostilities actually began he remained so far neutral as to incur the suspicions of the committee of safety. He remained in New York during the British occupation of the City, and befriended American officers held there as prisoners of war. In 1777 he was chosen the fifth president of the New York chamber of commerce.-His brother, Richard, born in Settle, 12 September 1787, died in Berks County, Pennsylvania, 29 July 1811, was the eighteenth child, and followed Theophylact to the colonies. He went to Philadelphia in 1770, and established himself in business as his brother's agent, underwriting marine insurance risks, and accumulating a handsome fortune. At the beginning of the revolution he was chairman of the Republican Society in Philadelphia. He married Sarah, the only daughter of Benjamin Franklin, 3 October 1767. Franklin appointed him secretary, comptroller, and register-general, to date from 29 September 1775; and this office he held until November 1776, when he became postmaster-general, and continued as such till 1782. He was an earnest patriot during the revolutionary struggle.*Sarah, philanthropist, born in Philadelphia, 11 September 1744, died 5 October 1808 was the only daughter of Benjamin Franklin and the wife of Richard Bache, who succeeded Dr. Franklin as postmaster-general. She was the chief of the patriotic band of ladies who made clothing for the half-clad soldiers and sought to mitigate their sufferings during the severe winter of 1780. More than 2,200 women were at one time employed under her direction in sewing for the army. For this work she collected large sums, Morris and other patriots being among the contributors. The Marquis de Chastellux, then visiting Philadelphia, was charmed with the appearance of Mrs. Bache, and recommended her to the ladies of Europe as a model of domestic virtues and feminine patriotism. On other occasions she collected medicines and delicacies for the soldiers in the hospitals, and nursed the sick and wounded with her own hands. She had eight children.*Benjamin Franklin, son of Richard, journalist, born in Philadelphia, 12 Aug,'., 1769; died there, 10 September 1798. He accompanied his grandfather, Benjamin Franklin, to Paris, and received his education in France and Geneva. While in Paris he learned printing and type-founding at the publishing house of the brothers Didot. He returned to the United States in 1785, and studied for a time in the College of Philadelphia. In 1790 he began publishing the "General Advertiser," afterward known as the "Aurora," which violently opposed the administrations of both Washington and Adams, and was one of the best and most influential journals of the time.*Alexander Dallas, son of Richard, scientist, born in Philadelphia, Pc., 19 July 1806" died in Newport, Rhode Island, 17 February 1867. He early showed an unusual aptitude for learning, and his first instruction was received at a classical school in Philadelphia. At the age of fourteen he was appointed to the United States Military Academy, where, although the youngest member of his class, he was at its head when graduated in 1825. His failure to receive a demerit during the four years is cited as one of the few instances of that character in the history of the academy, so noted for its rigid discipline. On his graduation he was appointed lieutenant in the corps of engineers, but was retained at the academy as assistant professor of engineering during 1826, when, until 1829, he served as assistant engineer in the construction of Fort Adams, at Newport, Rhode Island, under Colonel J. G. Torten. Here he met Miss Nancy Clarke Fowler, who afterward became his wife and also his associate in the preparation of much of his published material. In 1828 he was called to the chair of natural philosophy and chemistry at the University of Pennsylvania, which he occupied until 1841. His resignation from the army is dated 1 June 1829. Soon after his arrival in Philadelphia he became a member of the Franklin Institute, and at once actively participated in its work, as its "Journal " between 1826 and 1836 abundantly testifies. His most important labor at this time was undoubtedly the investigations relating to the bursting of steam boilers. His valuable researches in various branches of physics and chemistry, published in the "Transactions of the American Philosophical Society," of which he was a prominent member, belong to these years, and his first meteorological investigations date from this period. In 1836 he was entrusted with the organization of Girard College, Philadelphia, became its first president, and was sent to Europe to study the systems of education and methods of instruction and discipline adopted there. On his return in 1839 the results were era-bodied in a report made to the trustees, which did much to improve the theory and art of education in this country. Owing to the unfinished condition of the College, and in consequence of some delay in the adjustment of its funds, it was not deemed advisable to organize it at once for active operations; therefore Professor Bache offered his services to the municipal government. He became principal of the high school, and during 1841-'2 was superintendent of the public schools. The system developed by him while in office has since been generally regarded as a model, and has been introduced in several cities of the union. While in Philadelphia he established, and for some years directed, a magnetical and meteorological observatory, which was largely supported by the American Philosophical Society. In 1842, having satisfactorily completed his labors in the cause of public instruction, he returned to his chair at the University, where he remained until November 1843, when he was appointed to succeed the late F. g. Hassler as superintendent of the coast survey, which place he held until his death. The survey originally recommended to congress by President Jefferson in 1807 was not definitely established until ten years later, when, by the appointment of Mr. Hassler as superintendent, its actual existence began. Under his direction it flourished at times, and the work, though limited in scope, continued until his death but with the advent of Professor Bache the undertaking assumed larger proportions, and improved plans for extended operations were put into execution. During his able administration the practical value of the survey was thoroughly demonstrated. In the accomplishment of his designs he was not only aided by congress, but his efforts were likewise greatly encouraged by the approval of scientific societies and their leaders. During the civil war he greatly assisted the naval and military forces by placing the resources of the coast survey at their disposal, and from June to December 1863, he was chief engineer for devising and constructing the defenses of Philadelphia, when it was threatened by the invasion of Pennsylvania. In addition to his work on the coast survey, he was ex-officio superintendent of weights and measures, and served, until his death, on the light-house board. He was one of the incorporators of the Smithsonian Institute, 1846, and annually during his life was reelected by congress. He was active in its direction and in the shaping of its policy. During the civil war he was elected a vice-president of the United States Sanitary Commission, and rendered efficient aid in its work. The University of New York in 1836, the University of Pennsylvania in 1837, and Harvard in 1851, conferred upon him the degree of LL.D. He served as president of the American Philosophical Society, and of the American Association for the Advance-meat of Science, and was the first presiding officer of the National Academy of Sciences, as well as one of its incorporators and most active members. The Royal Society of London, the Institute of France, the Royal Academy of Turin, the Imperial Geographical Society of Vienna, and many similar organizations, included him among their honorary members. The excellence of his work on the coast survey was acknowledged by different foreign governments, and he was the recipient of several reed-als for his prominence in the field of science. His published papers include more than 150 titles and include various topics in physics, chemistry, and engineering. His most extensive work was the "Observations at the Magnetic and Meteorological Observatory at the Girard College" (3 vols., 1840-'7). His property, to the extent of $42,000, was left in trust to the National Academy of Sciences; the income is to be devoted to physical research. See the "Memoir of Alexander Dallas Bache," by Joseph Henry, with a list of his papers published in Volume I. of the "Biographical Memoirs" of the National Academy of Sciences. This memoir appears in the Smithsonian Report for 1870, and also as a special issue in the publications of the Smithsonian Institute.*Franklin, son of Benin-rain Franklin Bache, physician, born in Philadelphia, 25 October 1792; died there, 19 March 1864. He was graduated at the University of Pennsylvania in 1810, and received his medical diploma from the same University in 1814. In 1813 he entered the army as assistant surgeon, and in 1814 was appointed surgeon. In 1816 he resigned, and began the practice of his profession in Philadelphia. From 1824 to 1836 he was physician to the Walnut street prison; from 1826 to 1832, professor of chemistry in the Franklin Institute; from 1829 to 1836, physician to the Eastern penitentiary; from 1831 to 1841, professor of chemistry in the Philadelphia College of Pharmacy; and from 1841 to his decease was professor of chemistry in Jefferson Medical College. In 1854 and 1855 he was president of the American Philosophical Society, and at the time of his death president of the deaf and dumb asylum corporation. In 1819 he published a " System of Chemistry for the Use of Students of Medicine," and in connection with Dr. George Wood he prepared, in 1830, a " Pharmacopoeia" that was adopted by a national convention of physicians, and became the basis of the present U° S. Pharmacopoeia and United States Dispensatory. Of the latter work he was the editor, with Dr. Wood, from 1833 till his death. He published . "Supplement to Henry's Chemistry" (1823); Letters on Separate Confinement of Prisoners (1829-'30); and " Introductory Lectures on Chemistry" (1841-'52). He also edited several works, from 1823 to 1832 was one of the editors of the " North American Medical and Surgical Journal," and contributed largely to scientific journals. A memoir of him was published by Dr. George born Wood (Philadelphia, 1865).*Hartman, another son of Benjamin Franklin Bache, engineer, born in Philadelphia, Pennsylvania, in 1797; died there, 8 October 1872. He was graduated at West Point in 1818, and made brevet captain of staff, and assistant topographical engineer. For forty-seven years he was constantly employed on topographical surveys and works of hydrographic and civil engineering, under the direction of the war department, till 7 March 1867, when he was placed on the retired list. He became brevet major of engineers, 24 July 1828; major, 7 July 1838; Lieutenant-Colonel, 6 August 1861; colonel, 3 March 1863; and on 13 March 1865, he received the brevet of Brigadier-General, the highest grade in the engineer corps, for long, faithful, and meritorious services. Among his engineering works of conspicuous merit were the construction of the Delaware breakwater and the successful application of iron-screw piles for the foundation of light-houses upon sandy shoals and coral-reefs. He was engineer of the 4th light-house district from 1859, and a member of the light-house board from 1862 to 1870.*Benjamin Franklin, great-grandson of Benjamin Franklin, surgeon, born in Monticello, Virginia, 7 February 1801; died in New York City, 2 November 1881. He was graduated at Princeton in 1819, and at the medical department of the University of Pennsylvania in 1823, entered the navy as assistant surgeon in 1824, and became surgeon in 1828. From 1832 to 1836 he was stationed at Pensacola navy yard, and, while on leave from 1838 to 1841, he was professor of natural science and natural religion in Kenyon College, Ohio. He was fleet-surgeon of the Mediterranean squadron in 1841-'4, and of the Brazil squadron in 1847-'50. From 1850 to 1854 he was at the New York naval hospital, and then organized at New York the laboratory that furnishes all medical supplies to the navy. He was director of this from 1853 to 1871, and in 1861 did great service to the government by restocking the laboratory on his own responsibility, in 1863 he was placed on the retired list, but continued to act as superintendent of the laboratory until 1871, when he was appointed medical director, with the relative rank of commodore, and retired from active service.*Henry W., engineer, born in 1839 ; died in Bristol, Rhode Island, 7 November 1878. He was a descendant of Sarah Bache, and a son of Professor Henry Bache, of the United States coast survey. He was engaged in the same work, and while on duty in Florida contracted a malarial fever which resulted in his death
Edited Appletons Encyclopedia, Copyright © 2001 VirtualologyTM

Unauthorized Site: This site and its contents are not affiliated, connected, associated with or authorized by the individual, family, friends, or trademarked entities utilizing any part or the subject's entire name. Any official or affiliated sites that are related to this subject will be hyper linked below upon submission and Evisum, Inc. review.
Copyright© 2000 by Evisum Inc.TM. All rights reserved.
Evisum Inc.TM Privacy Policy