Appleton's Cyclopedia of American Biography, edited by James Grant Wilson, John Fiske and Stanley L. Klos. Six volumes, New York: D. Appleton and Company, 1887-1889 and 1999. Virtualology.com warns that these 19th Century biographies contain errors and bias. We rely on volunteers to edit the historic biographies on a continual basis. If you would like to edit this biography please submit a rewritten biography in text form . If acceptable, the new biography will be published above the 19th Century Appleton's Cyclopedia Biography citing the volunteer editor
Virtual American Biographies
Over 30,000 personalities with thousands of 19th Century illustrations, signatures, and exceptional life stories. Virtualology.com welcomes editing and additions to the biographies. To become this site's editor or a contributor Click Here or e-mail Virtualology here.
A
B
C
D
E
F
G
H
I
J
K
L
M
N
O
P
Q
R
S
T
U
V
W
X
Y
Z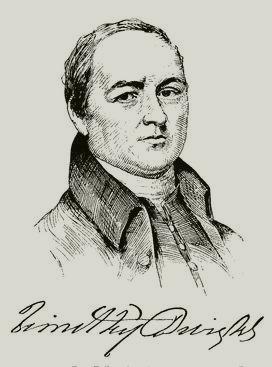 Click on an image to view full-sized
Timothy Dwight
DWIGHT, Timothy, educator, born in Northampton, Massachusetts, 14 May 1752; died in New Haven, Connecticut, 11 January 1817. He was the great-grandson of Nathaniel, who was brother to Captain Henry Dwight, of Hatfield (see DWIGHT, Joseph). His father, Maj. Timothy Dwight (Yale, 1744), was a lawyer by education, and became a prosperous merchant of Northampton ; his mother was Mary, third daughter of the Rev. Jonathan Edwards, a lady of great mental ability an(1 force of character. During the boy's earlier years she devoted herself to his education. At twelve he was sent to the Rev. Enoch Huntingdon's school in Middletown, where he was fitted for College, matriculating at Yale in 1765.
He was graduated in 1769, having but one rival in scholarship, Nathan Strong. After leaving College he was principa1 of the Hopkins grammar school in New Haven for two years. In the autumn of 1771 he was given the post of tutor in his alma mater, and in the same year began his ambitious epic, "The Conquest of Canaan." He was made M. A. in 1772, and on taking his degree delivered a dissertation on the "History, Eloquence, and Poetry of the Bible," which attracted much attention. While a tutor, he studied law, with the intention of adopting it as a profession; but in 1777, there being a great dearth of chaplains in the Continental army, he was licensed to preach, and soon afterward became chaplain in Parsons's brigade, of the Connecticut line.
While holding this office he wrote several stirring patriotic songs, one of which, "Columbia," became a genera.1 favorite. His father's sudden death in 1778 recalled him to the care of his widowed mother and her family, with whom he remained at Northampton, Massachusetts, five years, tilling the farm and preaching occasionally in the neighboring Churches. He also kept a day school for both sexes, in which Joel Barlow, the poet, was a teacher; and after the capture of New Haven by the British he had under his care severa1 of the students of Yale.
In 1782 he was a member of the Massachusetts legislature, but refused a. nomination to congress. Receiving a call from the Church at Greenfield Hill, a beautiful rural parish in Fairfield, Connecticut, he removed thither in 1783; and shortly afterward he established an academy, which soon acquired a national reputation, students being attracted from all parts of the country and from the West Indies. In this school Dr. Dwight became the pioneer of higher education for women, assigning his female students the same advanced studies as those pursued by the boys, and earnestly advocating the practice. The College of New Jersey gave him the degree of S.T.D. in 1787, and Harvard that of LL.D. in 1810. In 1799 he declined a call from the Dutch Reformed Church at Albany. During this period he proposed and agitated, until he secured, the union of the Congregationa1 and Presbyterian Churches of New England.
In 1795, on the death of Dr. Stiles, he was called to the presidency of Yale College, an office that he held until his death in 1817. On this long and successful administration of the affairs of Yale College Dr. Dwight's claims to distinction largely rest. When he assumed control there were but 110 students; the curriculum was still narrow and pedantic; the freshmen were in bondage to the upper-class men, and they in turn to the faculty. President Dwight abolished the primary school system, and established among the classmen, and between them and the faculty, gentlemen in socia1 intercourse usually observe such rules.
He introduced the study of oratory into the curriculum, and he gave lectures on style and composition. He also abolished the system of fines for petty offences. At his death the number of students had increased to 313. In politics he was a federalist of the Hamilton school, and he earnestly deprecated the introduction of French ideas of education. His published works fill thirteen large octavo volumes, and his unpublished manuscripts would fill almost as many more. While he was a tutor in College, imprudence in the use of his eyes had so weakened them that he could use them neither for study nor writing, and he was afterward obliged to employ an amanuensis very frequently, His most ambitious work was his epic, "The Conquest of Canaan." A critic, writing in the" North American Review" (vii., 347), said its author had invented a medium between absolute barbarism and modern refinement. "There is little that is really distinctive, little that is truly oriental, about any of his persons or scenes .... It is occasionally animated, and in description sometimes picturesque and poetica1." His pastoral poem, " Greenfield Hill" (1794), in which was introduced a vivid description of the burning of Fairfield by the British in 1779, was much more popular.
In 1800 he revised Watts's Psalms, adding translations of his own, and a selection of hymns, both of which were adopted by the genera.1 assembly of the Presbyterian Church. The best known of these is the version of the 137th Psalm, beginning, "I love thy kingdora, Lord, the house of thine abode." His "Travels in New England and New York" (4 vols., New Haven, 1821; London, 1823) was pronounced by Robert Southey the most important of his works. His "Theology Explained and Defended in a Course of 173 Sermons" (5 vols., Middietown, Connecticut, 1818; London, 1819; new ed., with memoir by his son, Rev. Sereno E. Dwight, New York, 1846) has gone through a score of editions in this country and at least one hundred abroad, and on it rests his reputation as a theologian. Besides these works and numerous discourses he published " America, a Poem" (1772); "The Genuineness and Authenticity of the New Testament" (1793); " Triumph of Infidelity, a Satire" (1797); "Discourse on the Character of Washington" (1800); " Observations on Language" (1816); and " Essay on Light" (1816). See, besides, the memoir by his son, and the life in vol. xiv. of Sparks's "American Biography," by Rev. William B. Sprague. Dr. Dwight married, in March 1777, Mary, daughter of Benjamin Woolsey, of Long Island, who bore him eight sons.
His brother, Theodore Dwight, journalist, born in Northampton, Massachusetts, 15 December 1764 ; died in New York City, 12 June 1846, studied law in New Haven with his cousin, Judge Pierrepont Edwards, and began practice at Haddam, Connecticut, but removed to Hartford in 1791, and became eminent in his profession. He at one time removed to New York to become the law partner of his cousin, Aaron Burr, but disagreed with the latter's political opinions and returned to Hartford, where he edited the " Courant " and the "Connecticut Mirror," the organ, in that state, of the Federal party, in which he had become prominent. He was also an active member of a club of young poets known as "the Hartford wits," and is said to have been a principal contributor to the " Political Greenhouse" and the "Echo." In 1806 he was chosen to congress to fill the vacancy caused by John Cotton Smith's resignation, serving till 3 March 1807, and declining a renomination.
While in congress he had several sharp passages of wit with John Randolph. He was a member of the state council in 1809'15, and secretary of the celebrated "Hartford Convention" of 1814. In 1815 he removed to Albany and established the "Daily Advertiser," but relinquished it after two years, to found the New York "Daily Advertiser," a journal which he conducted until 1836, when, retiring from active life, he removed to Hartford, but returned to New York three years before his death. Mr. Dwight was a brilliant writer as well as able debater. Although he wrote too much and too rapidly for lasting fame, his political articles were bright and spicy, and his satirical and sketchy " New Year's Verses," in the "Mirror," were always looked for with eagerness. Mr. Dwight was a man of unflinching integrity and an outspoken opponent of slavery. In person he was tall and fine looking. He published a "History of the Hartford Convention" (New York, 1833), and " Character of Thomas Jefferson, as exhibited in his own Writings" (Boston, 1839). The latter is written with a strong Federal bias. An outline of this "Life and Writings" was published by the New York historical society (1846), and a sketch of his character by Dr. Francis appeared subsequently under its auspices.
His son, Theodore Dwight, author, born in Hartford, Connecticut, 3 March 1796 ; died in Brooklyn, New York, 16 October 1866, was graduated at Yale in 1814, and began to study theology with his uncle, President Dwight, but illness forced him to abandon it in 1818, and he visited Europe for his health. Me removed to Brooklyn in 1833, and engaged in various public and philanthropic enterprises, becoming a director of many religious and educational societies, and being active from 1826 till 1854 in multiplying and perfecting Sunday Schools. In 1854'8 he engaged with George Walter in a systematic effort to send free soil settlers to Kansas, and it is estimated that, directly or indirectly, they induced 9,000 persons to go thither. Mr. Dwight was a prolific writer, and at various times was on the editorial staff of the New York "Daily Advertiser," his father's paper, the "American Magazine," the " Family Visitor," the " Protestant Vindicator," the " Christian Alliance," the " Israelite Indeed," and the " New York Presbyterian." of which he was at one time chief editor and publisher. In his later years he was employed in the New York customhouse. Mr. Dwight was familiar with six or eight languages. At the time of his death, which was the result of a railroad accident, he was translating educational works into Spanish, for introduction into the Spanish-American countries. He published "A Tour in Italy in 1821" (New York, 1824); " New Gazetteer of the United States," with William Darby (Hartford, 1833); " President Dwight's Decisions of Questions discussed by the Senior Class in Yale College in 1813'4" (New York, 1833); " History of Connecticut" and "The Northern Traveler" (1841); " Summer Tour of New England " (1847); " The Roman Republic of 1849" (1851); "The Kansas War; or the Exploits of Chivalry in the 19th Century" (1859); and the "Autobiography of General Garibaldi," edited (1859). He was also the author of numerous educational works.
Nathaniel Dwight, physician, another brother of President Dwight, born in Northampton, Massachusetts, 31 January 1770; died in Oswego, New York, 11 June. 1831, studied medicine in Hartford, Connecticut, and after practicing there became assistant surgeon in the U. S. army, and was stationed at Governor's Island, New York harbor. He afterward practiced in Westfield, Massachusetts, and New London and Wethersfield, Connecticut, but in 1812 entered the ministry, and was settled at Westchester, Connecticut, till 1820. He then resumed the medical profession, practicing at Providence, R. I., and Norwich, Conn. Dr. Dwight was one of the first, probably the first, to propose the present system of retreats for the insane. As early as 1812, when demented persons were still confined in cellars, and exhibited like wild beasts, he proposed, in a communication to the Connecticut medical society, the establishment of "a hospital for lunatics." He prepared school geography; the first published in this country, and was the author of " The Great Question Answered" and a "Compendious History of the Signers of the Declaration of Independence." President Timothy Dwight's eldest son, Timothy, born in Stratford, Connecticut, 29 March 1778; died 13 June 1844, was for over forty years a merchant in New Haven, and gave $5,000 to endow the "Dwight professorship of didactic theology" at Yale.
President Dwight's second son, Benjamin Woolsey Dwight, physician, born in Northampton, Massachusetts, 10 February 1780; died in Clinton, New York, 18 May 1850, was fitted for College by his father and graduated at Yale in 1799. He studied medicine in Philadelphia under Dr. Rush and Dr. Physic, and practiced in Catskill, New York, in 1803'5, but left the profession on account of his health, and became a merchant in New York and afterward in Catskill. He retired to a farm in Clinton, New York, in 1831, and lived there till his death. He was treasurer of Hamilton College in 1831'50. Dr. Dwight published, in the " Memoirs of the Connecticut Academy" for 1811, the first article ever published in this country on " Chronic Debility of the Stomach," which was highly praised end republished in England.
Benjamin Woolsey's son, Benjamin Woodbridge Dwight, educator, born in New Haven, Connecticut, 5 April 1816, was graduated at Hamilton College, Clinton, New York, in 1835, and at Yale theological seminary in 1838. He was tutor at Hamilton in 1839'42, founded the 1st Congregational Church at Joliet, Illinois, in 1844, but gave up pastoral work on account of failing health, and established a private school in Brooklyn, which he removed in 1858 to Clinton, New York, and in 1863 Mr. Dwight removed to New York City. In 1867 he returned to Clinton and devoted himself to literary work, having educated over 2,000 pupils. For five months in 1872 he was editor of the Chicago " Interior." He received the degree of Ph.D. from New York University in 1862. Dr. Dwight has contributed largely to the literature of education, theology, philology, and genealogy, and has published " Higher Christian Education" .(New York, 1859); "Modern Philology" (2 vols., 1864); " History of the Strong Family" (2 vols., Albany, 1871); and " History of the Dwight Family" (2 vols., New York, 1874); and has ready for publication (1887) " Higher Culture of Woman" and " The True Doctrine of Divine Providence."
Another son of Benjamin Woolsey, Theodore William Dwight, jurist, born in Catskill, New York, 18 July 1822, was graduated at Hamilton College, Clinton, New York, in 1840, and studied at Yale Law School in 1841'2. He was tutor at Hamilton in 1842'6, and in 1846'58 held there the chair of law, history, civil polity, and political economy. In connection with his professorship he also established a department of law, and in 1858 was elected professor of municipal law in Columbia College, New York. On the organization of Columbia Law School, he became its warden. Professor Dwight has made a reputation as one of the most successful living teachers of law. He has given courses of lectures on law at Cornell in 1869'71, and at Amherst in 1870'2. He was a member of the State constitutional convention of 1867 and of its judiciary committee, vice president of the State board of public charities in 1873, president of the State prison association in 1874, and an active member of the New York "Committee of Seventy."
On 30 December 1873, Governor Dix appointed him a member of the commission of appeals, which in 1874'5 aided the court of appeals to clear its docket. He is an associate editor of the " American Law Register," published in Philadelphia, and several of his contributions have been published separately, including " Trial by Impeachment" (1867). In 1886 he was counsel for five professors of Andover theological seminary, against whom complaints of heterodoxy had been made before the board of visitors, and his argument was published (Boston, 1887). He has also published "Charitable Uses," embodying his researches in the Rose will case, argued in New York in 1863 (2 vols., 1863), and other legal arguments, and wrote the first elaborate report of the State board of charities, exhibiting the abuses of the poor law system at that time in force. He is author of a pamphlet on the "Influence of the Writings of James Harrington on American Political Institutions" (Boston, 1887), and has edited Henry Sumner Maine's " Ancient Law" (New York, 1864).
President Dwight's third son, James Dwight (1784 - 1863), was a successful merchant; and his son, Timothy Dwight, educator, born in Norwich, Connecticut, 16 November 1828, was graduated at Yale in 1849, studied theology there in 1850'3, was a tutor in the College in 1851'5, and studied at Bonnand Berlin, Germany, in 1856'8. In the latter year he was chosen professor of sacred liter Testament Greek in Yale theological seminary. He has taken an active interest in the affairs of Yale University, and its financial growth has been largely due to his personal efforts. In 1886 he was chosen the successor of Noah Porter as president, and was formally installed into the office on 1 July delivering an inaugural address, which was published, with an account of the ceremonies at his induction, in pamphlet form (New Haven, 1886).
President Dwight has been one of the editors of the "New Englander" since 1856, and in 1870'1 published a series of articles in it on "The True Ideal of an American University," which was afterward issued separately, and attracted much attention. He was a member of the American committee for the revision of the English version of the Bible, from 1878 till its completion in 1885.
The elder President Dwight's fifth son, Sereno Edwards Dwight, educator, born in Greenfield Hill, Connecticut, 18 May 1786: died in Philadelphia, Pennsylvania, 30 November 1850, was graduated at Yale in 1803, and after teaching in Litchfield, Connecticut, and acting as his father's amanuensis, was tutor at Yale in 1806'10. He studied law at the same time, and practiced in New Haven with success in 1810'16. In 1812, a dose of mercury, given him during a fever, caused a painful eruption, from which he suffered all his life. Deciding to become a clergyman, he was licensed to preach in 1816, and was chaplain of the U. S. Senate in 1816'7. He was then ordained pastor of the Park Street Church, Boston, and continued there till 1826, when he resigned on account of failing health and returned to New Haven, where he engaged in literary work, and conducted, with his brother Henry, in 1828'31, the New Haven gymnasium, a boarding school for boys.
He was chosen president of Hamilton College, Clinton, New York, in 1833, but illness and pecuniary considerations forced him to resign in 1835. He was agent for the Pennsylvania colonization society in 1838, and in the same year removed to New York, where he spent his remaining years "among books by day, and in a lonely boardinghouse by night," a prey to the distressing malady that finally ended his life. Yale gave him the degree of D. D. in 1835. Dr. Dwight published "Life of David Brainerd" (1822); "Life and Works of Jonathan Edwards," his great-grandfather (New York, 10 vols., 1830); " The Hebrew Wife," designed to show the unlawfulness of marrying a deceased wife's sister (New York, 1836; republished in England); a memoir of his father, President Dwight, prefixed to the latter's "Theology"; and various sermons and addresses. His "Select Discourses," with a memoir by his brother, the Rev. William T. Dwight, D. D., appeared after his death (Boston, 1851).
His wife, Susan Edwards Dwight (1788 - 1839), daughter of David Daggett, of New Haven, aided her husband in preparing the works of Jonathan Edwards, and published an "Abridgment of the Memoirs of Mrs. Susan Huntington.
"A seventh son of President Timothy Dwight (the first of the name), William Theodore Dwight, clergyman, born in Greenfield Hill, Connecticut, 15 June 1795; died in Andover, Massachusetts, 22 October 1865, was graduated at Yale in 1813. He was his father's amanuensis for a year, and was a tutor at Yale in 1817'19. He then studied law with Charles Chauncey, of Philadelphia, was admitted to the bar in 1821, and practiced until 1831, when he decided to enter the ministry, and in 1832 was ordained pastor of the 3d Congregational Church of Portland, Maine, where he remained till the year before his death. He was one of the most prominent and influential clergymen in the state, and a popular preacher. Bowdoin gave him the degree of D.D. in 1846, and he was for some time one of its board of overseers. Dr. Dwight was frequently moderator of ecclesiastical councils, and a member of many charitable and religious associations. He published sermons and addresses, besides the memoir of his brother Serene, mentioned above.
An eighth son, Henry Edwin Dwight, author, born in New Haven, 19 April 1797; died there, 11 August 1832, was graduated at Yale in 1815, and after serving as clerk in the stores of his brothers Benjamin in Catskill, and Timothy in New Haven, studied divinity at Andover in 1823'4. Feeble health induced him to give up the idea of entering the ministry, and, after studying at the University of Gattingen in 1824'8, he returned and established, with Rev. Cornelius Tuthill and Nathaniel Chauncey, a weekly magazine called the " Microscope," to which James G. Percival, Professor Fisher, and President Dwight were occasional contributors, but which was soon discontinued from want of pecuniary support. In 1828'31, with his brother Serene, he conducted a boarding school called the "New Haven Gymnasium." Mr. Dwight lectured in New York and Philadelphia on his European experiences, and just before his death declined a professorship in the New York University. He published "Travels in the North of Germany" (New York, 1826).
Edited Appletons Encyclopedia, Copyright © 2001 VirtualologyTM

Unauthorized Site: This site and its contents are not affiliated, connected, associated with or authorized by the individual, family, friends, or trademarked entities utilizing any part or the subject's entire name. Any official or affiliated sites that are related to this subject will be hyper linked below upon submission and Evisum, Inc. review.
Copyright© 2000 by Evisum Inc.TM. All rights reserved.
Evisum Inc.TM Privacy Policy