Appleton's Cyclopedia of American Biography, edited by James Grant Wilson, John Fiske and Stanley L. Klos. Six volumes, New York: D. Appleton and Company, 1887-1889 and 1999. Virtualology.com warns that these 19th Century biographies contain errors and bias. We rely on volunteers to edit the historic biographies on a continual basis. If you would like to edit this biography please submit a rewritten biography in text form . If acceptable, the new biography will be published above the 19th Century Appleton's Cyclopedia Biography citing the volunteer editor
Virtual American Biographies
Over 30,000 personalities with thousands of 19th Century illustrations, signatures, and exceptional life stories. Virtualology.com welcomes editing and additions to the biographies. To become this site's editor or a contributor Click Here or e-mail Virtualology here.
A
B
C
D
E
F
G
H
I
J
K
L
M
N
O
P
Q
R
S
T
U
V
W
X
Y
Z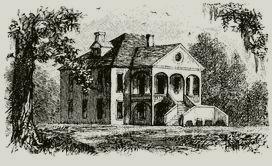 Click on an image to view full-sized
William Gilmore Simms
SIMMS, William Gilmore, author, born in Charleston, South Carolina, 17 April, 1806; died there, 11 June, 1870. He was a precocious child, and his passion for writing, which continued unabated till his death, manifested itself as early as his seventh year. His whole academic education was received in the school of his native city, where he was for a time a clerk in a drug and chemical house. Though his first aspirations were for medicine, he studied law at eighteen, but never practised to any extent. In 1827 he published in Charleston a volume of "Lyrical and other Poems "--his first attempt in literature. In 1828 he became editor and partial owner of the "Charleston City Gazette," which took the Union side in politics in nullification days. In 1829 he brought out another volume of poems, " The Vision of Cortes," and in 1830 "The Tricolor." His paper proved a bad investment, and through its failure, in 1833, he was left in poverty. Thenceforth he determined to devote himself to literature, and he began that long series of volumes which did not end till within three years of his death. Accordingly, he published a poem entitled "Atalantis, a Tale of the Sea" (New York, 1832), the best and longest of all his poetic works. But Mr. Simms is mainly known as a writer of fiction. His pen was never idle. The scene of his novels is almost wholly southern, and marked invariably with local color; many of them are historical, but for the most part they aim to reproduce the various types of southern and southwestern life. He spent half of the year on his plantation, "Woodlands," near Midway, South Carolina, seen in the illustration, where he had a beautiful home, amid the live-oaks and the long-leaved pines peculiar to his native state. Here he dispensed a wide hospitality, and wrote most of his works. He was for many years a member of the legislature, and in 1846 was defeated for lieutenant-governor by only one vote. Mr. Simms had immense fertility, a vivid imagination, and a true realistic handling of whatever he touched. But he was not a finished scholar, and, although Edgar A. Poe pronounced him the best novelist America had produced after Cooper, his style Jacked finished elegance and accuracy. Yet he has done much in preserving the early history and traditions and local coloring of his native state. "The Yemassee" is considered his best novel. A fine bronze bust of Simms by Ward was unveiled at White Point garden, Charleston, 11 June, 1879, but he rests in an unmarked grave in Magnolia cemetery near the same city. Besides the works already mentioned, he published "Martin Faber" (New York, 1833); " The Book of My Lady, a Melange" (Philadelphia, 1833) ; " Guy Rivers " (2 vols., New York, 1834) ; "The Yemassee" (2 vols., 1835) ; "The Partisan" (2 vols., 1835); " Mellichampe" (2 vols., 1836); "Richard Hurdis" (2 vols., Philadelphia, 1838) ; "Palayo" (New York, 1838) ; "Carl Wernet, and other Tales" (2 vols., 1838);" Southern Passages and Pictures," poems (1839) ; "Border Beagles " (2 vols., 1840) ; " The Kinsman " (Philadelphia, 1841; republished as "The Scout," New York, 1854) ; "Confession, or the Blind Heart" (2 vols., 1842) ; " Beauchampe " (2 vols., 1842); " Helen Halsey " (1845) ; " Castle Dismal " (1845) ; "Count Julian" (2 vols., 1845) ; "Grouped Thoughts and Scattered Fancies," poems (Richmond, 1845) ; "The Wigwam and the Cabin, or Tales of the South" (two series, Charleston, 1845-'6) ; "Areytos, or Songs and Ballads of the South" (1846) ; "Lays of the Palmetto" (1848); "Katherine Walton" (New York, 1851); "The Golden Christmas" (1852) ; "Marie de Berniere" (1853): " Father Abbott, or the Home Tourist" (1854); "Poems" (2 vols., 1854); " The Forayers " (1855) ; "The Maroon, and other Tales" (1855); " Charlemont " (1856) ; " Utah" (1856); and "The Cassique of Kiawah" (1860). In 1867 he edited "War Poetry of the South." He wrote a "History of South Carolina" (Charleston, 1840) and "South Carolina in the Revolution" (1854), and lives of Francis Marion (New York, 1844), Captain John Smith (1846), Chevalier Bayard (1848), and General Nathanael Greene (1849). He wrote two dramas, "Norman Maurice" and "Michael Bonhum, or the Fall of the Alamo," which was acted in Charleston. He also wrote a "Geography of South Carolina" (1843). He edited "Seven Dramas ascribed to Shakespeare," with notes and introductions (1848), and contributed many reviews to periodicals, two volumes of which were afterward collected (New York, 1845-'6). A collected edition of part of his works has been published (19 vols., New York, 1859). His life has been written by George W. Cable in the "American Men of Letters" series(Boston, 1888).
Edited Appletons Encyclopedia, Copyright © 2001 VirtualologyTM